We awoke to our first of many days in Germany, at the enormous Nurburgring racing complex. We're staying at a hotel right on the racetrack, and it was cool to see cars and trucks speeding around the track while we were having breakfast in the hotel restaurant. 
Fortunately, we have a late "call time" today (the time we're supposed to gather to get to work) – 2:45 pm.  At that point, we'll get shuttled to the festival area on the infield of the track to do our sound check, and Jessica has an autograph signing there in the afternoon too. 
Until then, we had what most might consider a dull day – just hung around our hotel rooms and relaxed. But with an often-busy schedule, and a full show tonight, we take our rest and quiet time when we can. So we did. 
And as scheduled, we met and were shuttled over to the festival stage. There's always an air of excitement when arriving at a site like this….so many crew guys working on the huge stage; the testing of video projection gear; drums and such on rolling risers being moved around for the different bands; and standing on that stage looking out on a huge empty field that will be filled with bodies later on.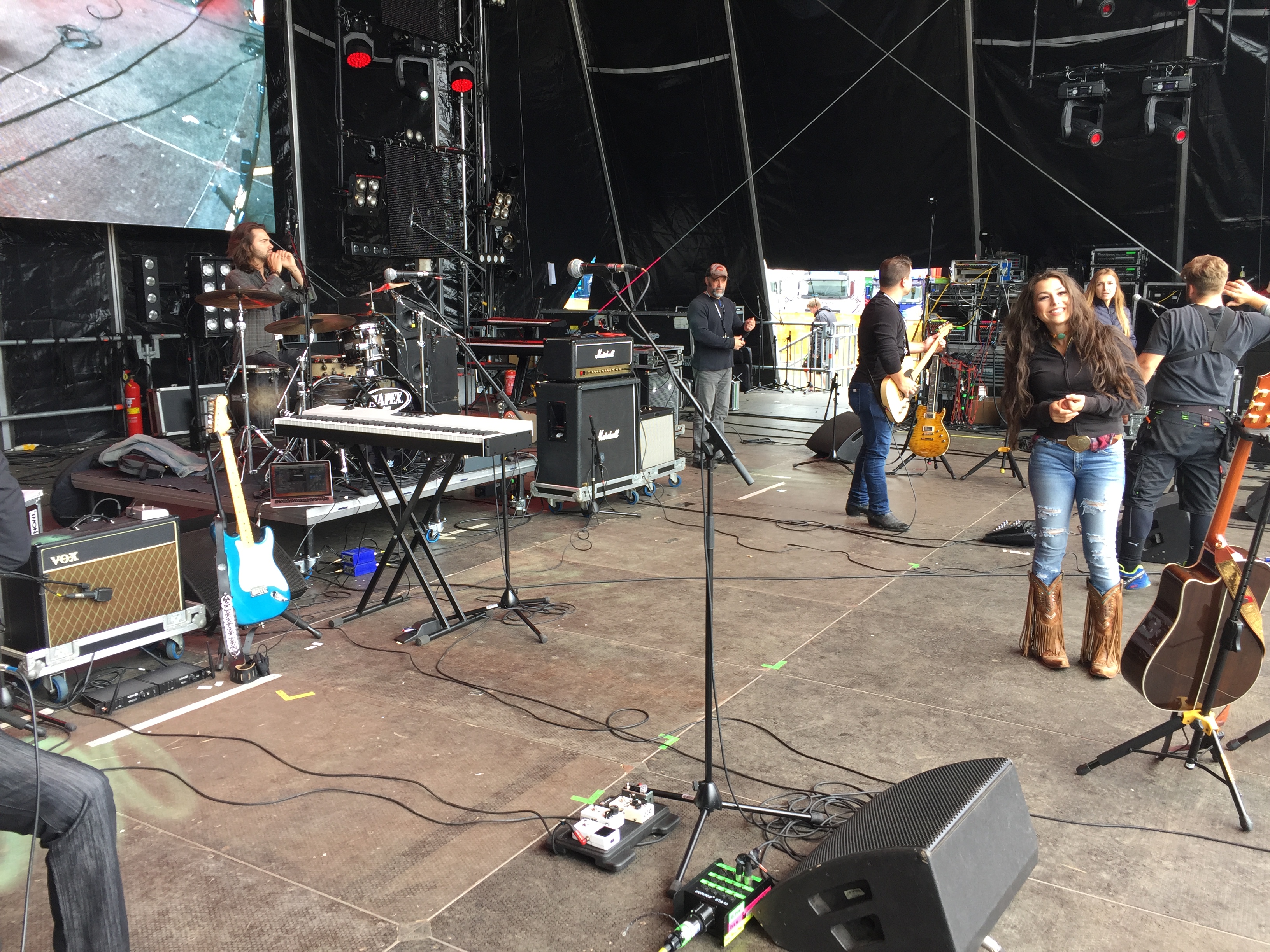 Sound check went smoothly, and we went to the hospitality tent to have a bite (and a German Bitburg beer, which we decided we don't care for too much, after having a few of them since we've been here), and then just relaxed in our trailer. 
The Germans seem to run everything with precision here, and prior to the show we were told that our sound check ran too long (not our fault though!), so we had to cut a few songs from our set. We talked it over and made the decision which few to chop, and then it was showtime. 
Unfortunately, the weather here has been lousy…highs in the mid 50's and raining. So of course this affected attendance (I, for one, wouldn't have wanted to stand out there), but we still had a good crowd (many of whom were under umbrellas) who were with us from the very first song. Great audience. And the production at this event was first-class, from the staging to the sound to the lights to the video. Here are a few pics from the show…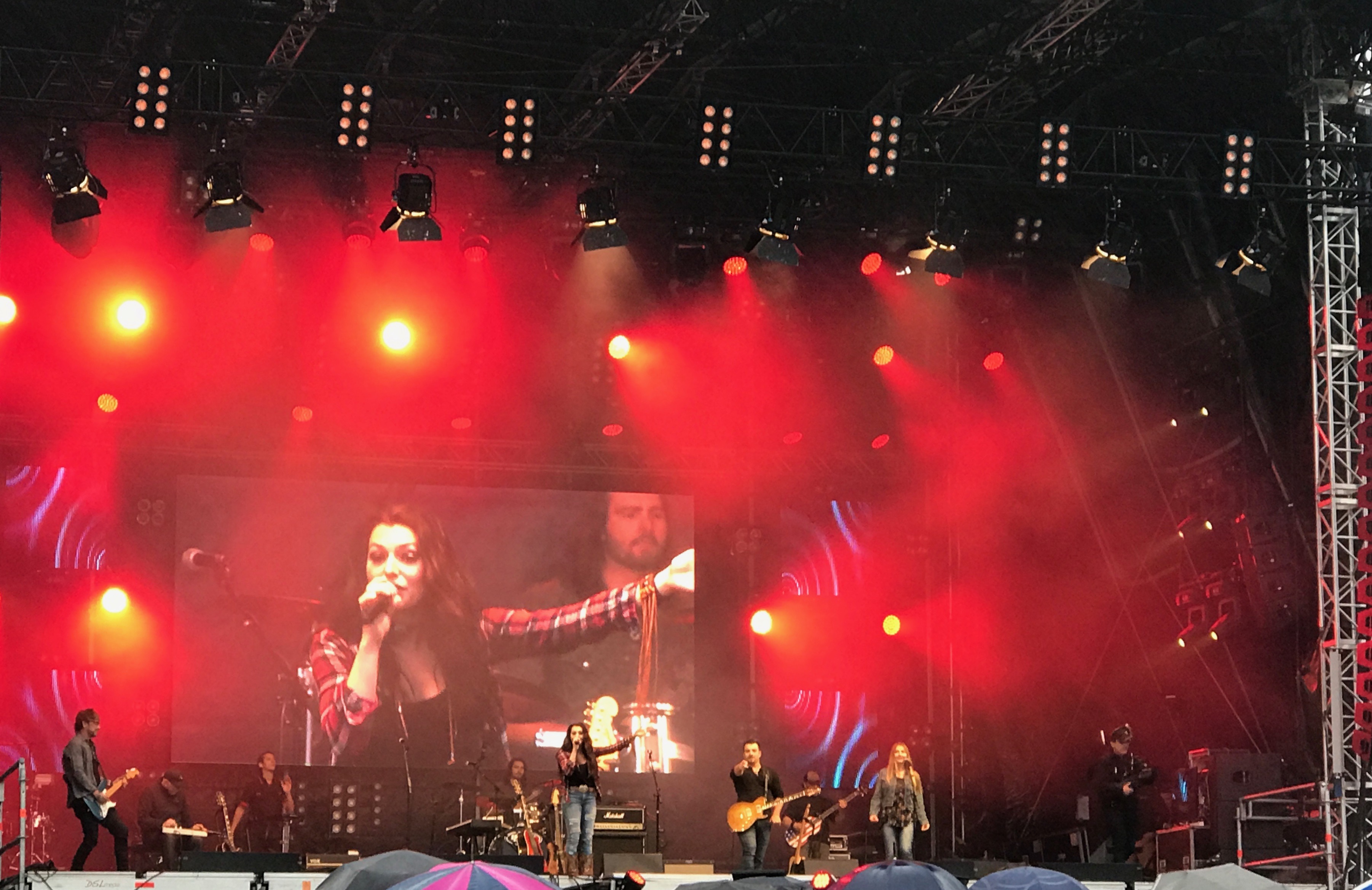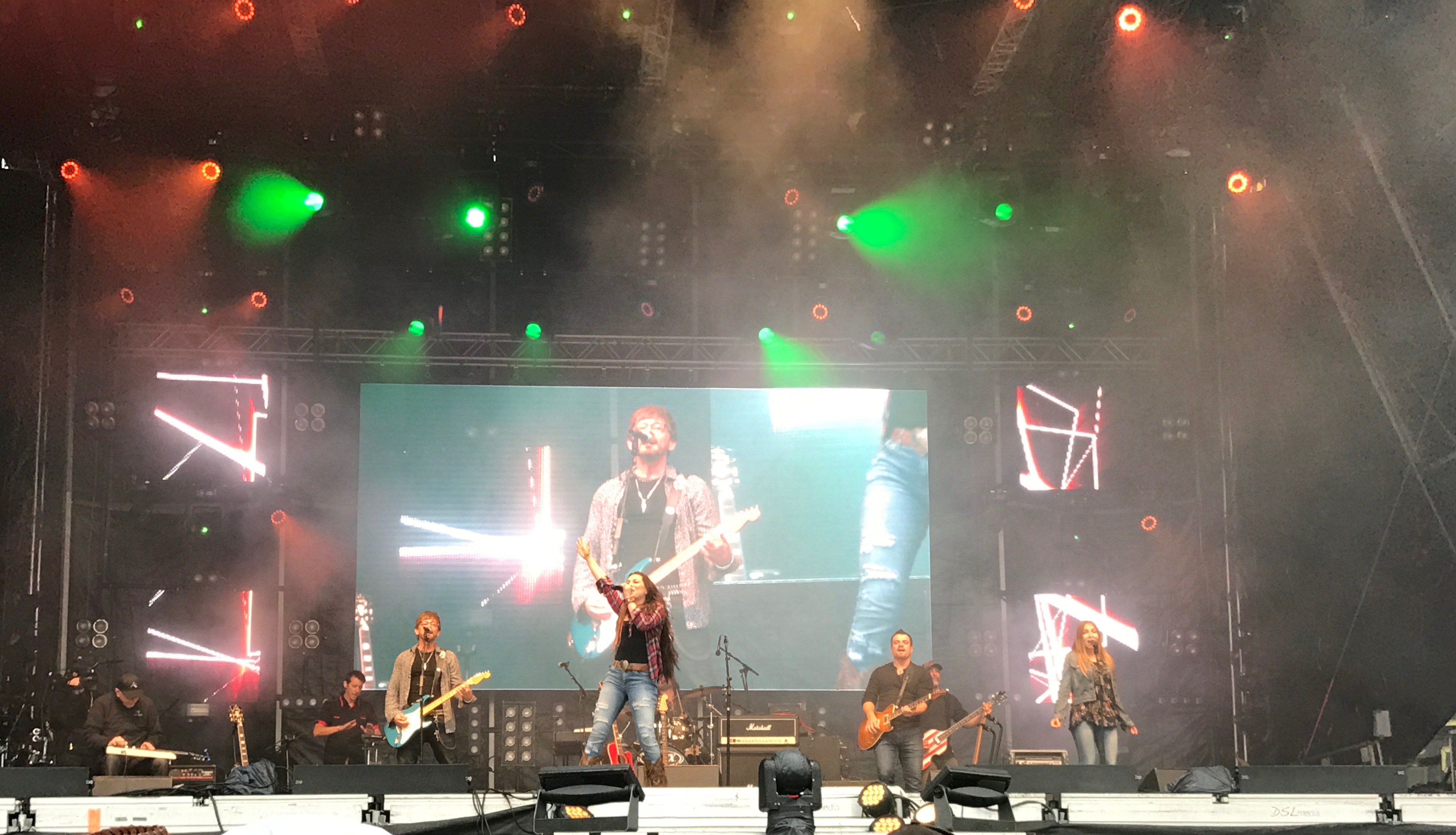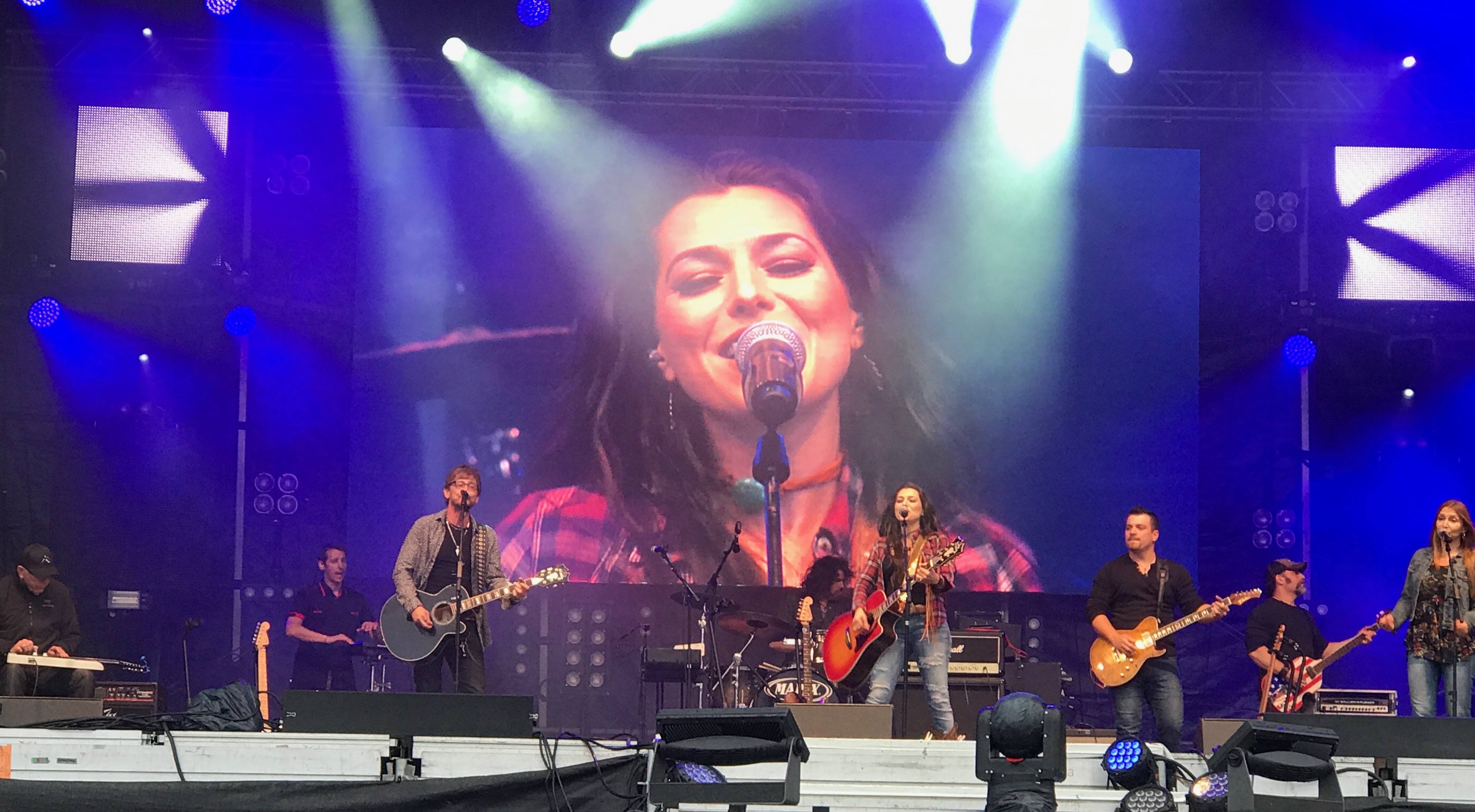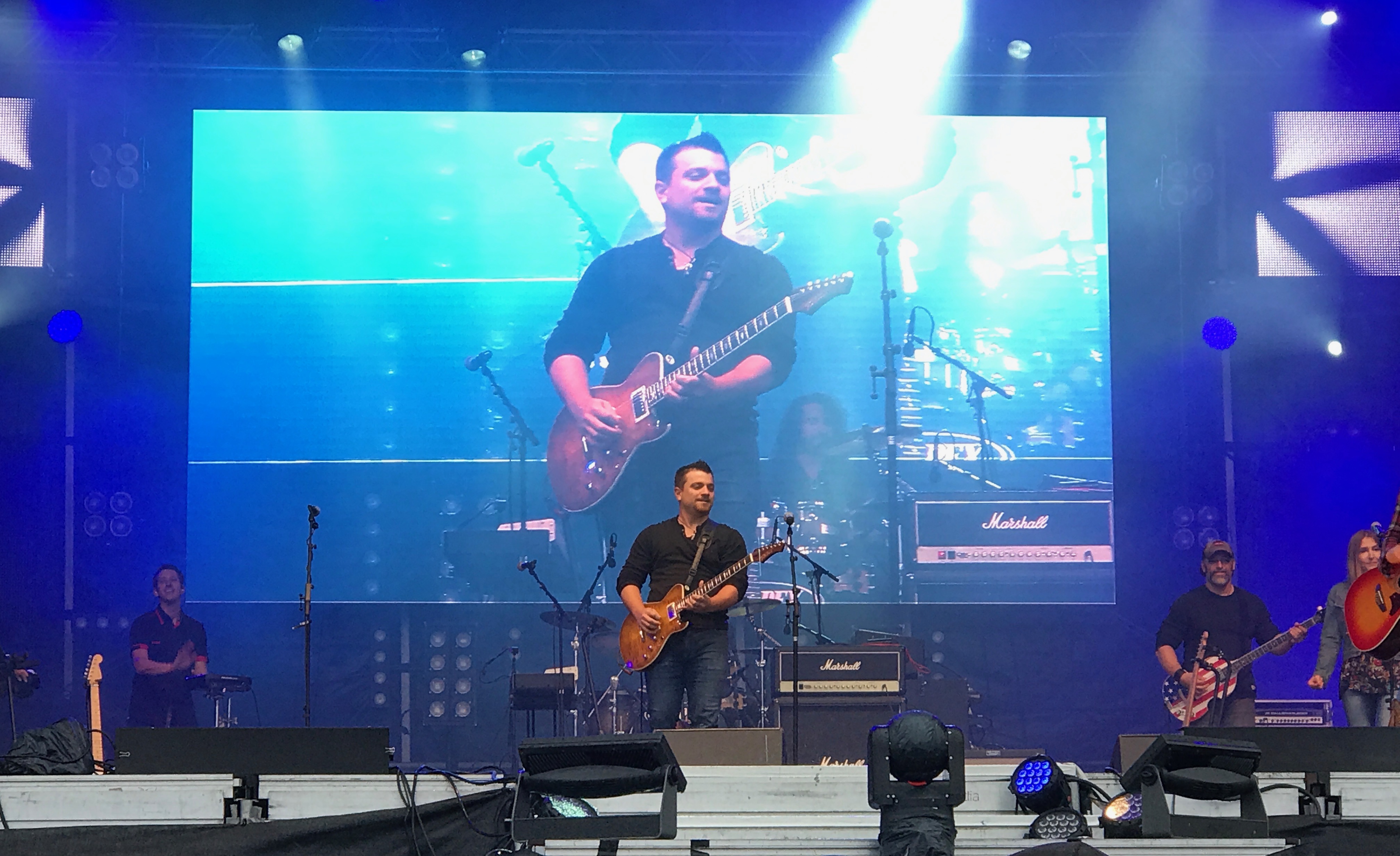 Afterwards, Jessica first did a long meet-and-greet near the stage, and then it turned into quite the party backstage –beer flowing, more food, lots of laughs with the other bands and their entourages, and the whole thing wrapped up with fireworks. As we were being driven from the show site back to the hotel, we drove through more of the festival grounds, and it was a scene unlike anything I've ever seen before…literally thousands of truck cabs with horns honking and lights flashing parked side by side, with attendees walking the grounds checking it all out. 
When we got back, a group of people recognized us from show and insisted we meet them in the hotel bar for a drink. Who are we to say "no?" We met for a beer, and schnapps (which everyone had to drink while wearing a white glove, for some reason that I never understood), and it was a fun way to cap the evening.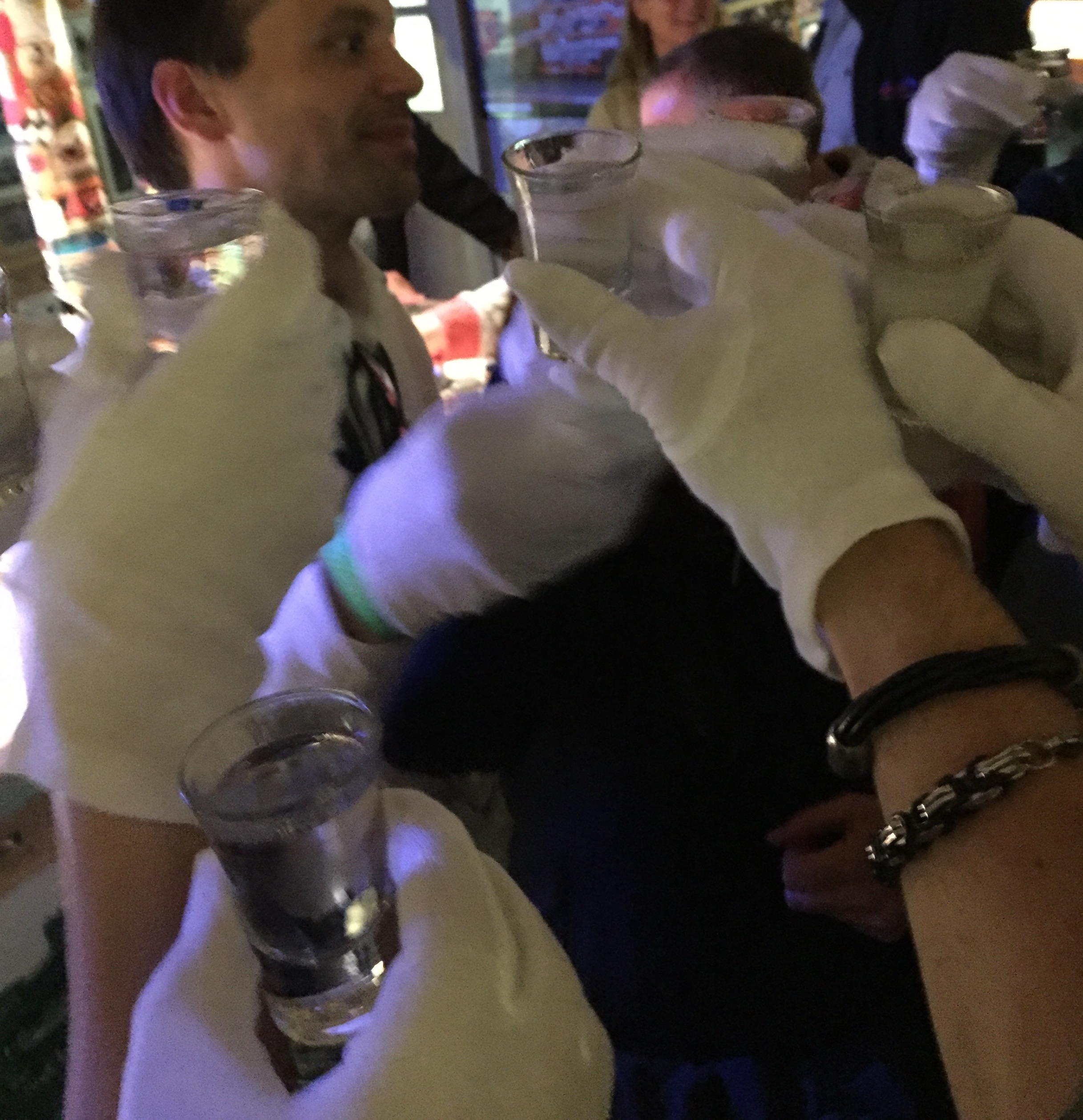 After some more shenanigans in the hallway (hey, I DID say there was lots of beer flowing), we all went into our rooms and passed out. Hard. It was a long day, and a good one at that.  And...a day off tomorrow, when we'll have a chance to watch the races and explore the grounds.