I'm back in NY for a bit more than 24 hours after a long trip to CA...both for fun, and for NAMM (which is fun enough on its own).  If you're at all into any sort of musical gear, NAMM is probably the closest thing you'll find to heaven on earth.  This is an annual convention where just about all of the companies who make instruments, amps, pedals, gadgets, software and services gather to show off their latest developments.  This means being the first to try out everything that's going to be arriving in music stores between now and Christmas.
With nearly 100,000 people there and hundreds of companies occupying the entire Anaheim Convention Center,
NAMM
is enormous...and exhausting.  I walked a minimum of 4 miles each day, on top of playing 12 shows in three days with
Jessica Lynn
and the band.   Most of these shows are in the convention center itself, at the booths of many companies with whom we have the great fortune of working...so we played "booth shows" at
D'Angelico Guitars
(although their presence at the show is actually a huge showroom upstairs at the venue),
RCF Speakers
,
Iconic Custom Guitars
,
Klotz Cables
,
Reunion Blues
, and
TASCAM
.
Here's a shot of us at the D'Angelico Showroom, where I got to be among the first to play a teardrop-shaped solid body from their new Deluxe line (strung with their new
"Electrozinc" strings
created with
D'Addario
)...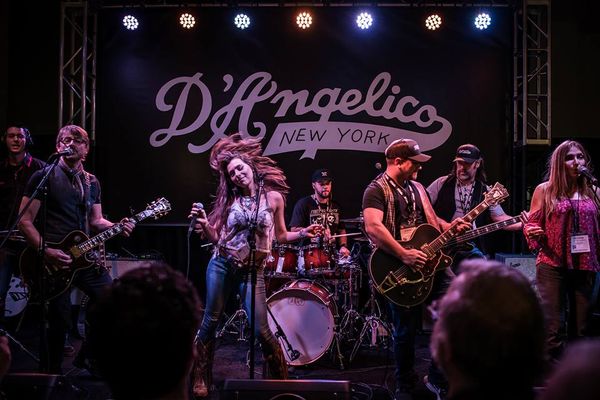 Cool new stuff I saw that impressed me include the new line of
Taylor acoustics
(particularly the new 800 Deluxe series),
Fishman's "Loudbox" acoustic guitar amps
, new
Gibson
and
Fender "American Professional" electrics,
pedals from
Keeley
(in particular, the
Red Dirt distortion pedal
, which I've already added to my pedalboard), JHS (the
Ruby Red
Butch Walker signature pedal)  and Walrus Audio (
385 Overdrive
) ,
Shure's new digital wireless systems
, and Creation Music's
new line of amps
.   And a lot more than that - it's just way more than I can mention here.
But it's not all work!  There's lots of "play time" built into NAMM too, and we certainly had our fair share, including "happy hour" in the Gibson showroom, D'Angelico's annual NAMM party, which this year featured a private performance by none other than Bob Weir (joined onstage by Robert Randolph, Jeff "Skunk" Baxter and drummer Matt Sorum), and of course - the insane NAMM after-party at the Hilton Anaheim (which we played late Saturday night for hundreds of fun, and likely intoxicated, members of the industry).
I've gotta say...I feel extremely fortunate to be in the middle of this every year, and although I'm hurting like I was run over by truck -- it's completely worth it.  Already looking forward to next year.
Were you at NAMM?  If so, what caught your eye (and ears)?  Let me know...