It's been a few days since I've posted a new diary entry, and decided to take a little break and cover a few days in a single post.  Because after Monday night's show at The Watering Hole in Amsterdam, we found ourselves with 3 entire days off...and I took those days off from writing too.  Since we'd done a couple of gigs in a row and lots of traveling, it felt great to be stationary with no place to have to be for a little while. 
Which meant that everyone slept late on Tuesday, and met for lunch at our favorite new outdoor restaurant at the hotel. Then it was a trip to the Zoo on the hotel property – quite large and much nicer than I expected. I made it through some of it (got to see some very cool owls and other birds), but I had to get back to my room to get some work done…so I parted from the group to do that. 
But I heard they had a great time, and a lemur even jumped on Steve's back. Very friendly! (The lemur, that is…not Steve. Don't pet him. Ever.)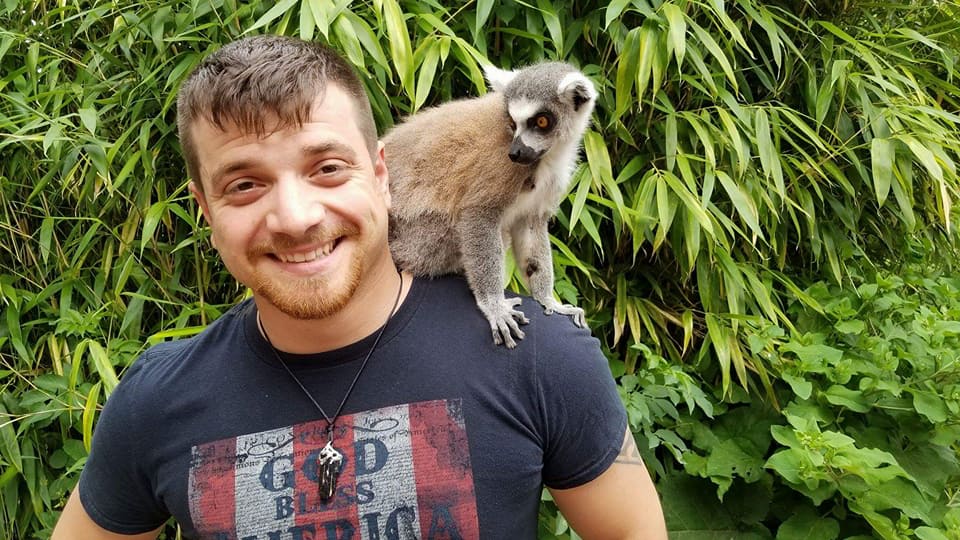 When it was time for dinner,  we looked up a few places online. We found a place we liked, punched the address into our GPS (if you've been following my posts, you can see where this is going already, can't you?), and took off. It seemed like we were driving a very long time, but we finally pulled into a nice residential neighborhood. We found the address, which was a residential building housing a holistic medical practitioner. Definitely not an eatery. 
GPS screwed up again. But for some stupid reason, we still trusted it and had it search for nearby restaurants. After a couple of additional missteps (including it bringing us to a supermarket which was closed), we finally found a restaurant. Parked, went in…but were told they were only open for drinks. SO…back in the car. 
At this point it was already after 9 pm and most restaurants near our hotel stop serving by then (was surprised that this town shuts down so early). So it became a race to the only place we knew that might be open….McDonalds. 
But we made it, and yeah, we totally confused the nice cashiers with our complicated orders in English, but they figured it out, we got our food. Maybe I was just starving, and I'm not really proud to say I came across the Atlantic just to eat in McDonalds, but you know what? It was really great. Fresher than anything I've had in the US. 
Made it back to the hotel without getting lost (for once), and was surprised to find that the bar was still open. So we got a beer, and sat outside in front of a fire. A great way to unwind and finish a day off. 
On Wednesday, we met for breakfast, and then hit the road at noon to head into Amsterdam. We had been there on Monday to play our show, but that took all of our time and we didn't have a chance to explore…and this is what we were going to do today. 
After our experience driving in Amsterdam on Monday, we vowed NEVER to do that again, so we opted to take the train. Like most places in Europe, the train system here is excellent…clean, reliable, on time and easy to navigate. We hopped aboard the local station, changed trains in Utrecht, and an hour later arrived in Amsterdam. 
The station there is massive, but we met up with one of Wilma's old friends, Marischka, who is from the area and accompanied us to help show us around. We walked down a long street to the Palace, and the New Church, and took in the unique beauty of this city. The streets were mobbed with tourists like us though, which gave the place a feel that was a little too much like Times Square, for my liking. But that's just what happens when there's a cool place that many visitors want to see. 
As we were walking, we decided we wanted to try to visit the Anne Frank House. We were unable to purchase tickets online, so we had to try to get them at the house itself. Well….as we got closer we noticed a mob of people snaking around a curved block, and realized that this was the line to try to buy tickets. It was already getting later in the afternoon by this point, and we didn't know if we'd get in. 
So we walked to the front of it, saw the façade, took a few pictures, and went on our way.  It's a shame – I would have loved to see the museum. Have to do some better planning next time.
But at this point, everyone wanted to do separate things, so we split into 2 different groups. Peter, Victoria, Wilma, Bob and Marischka went to the area where we played on Monday. The rest of us decided to do the touristy "Heineken Experience Tour." (Hey…it came highly recommended.) 
We found a cab to take us there, and saw another mob outside. But we quickly figured out that we could buy tickets online and get in right away…so we did that. But it seemed very disorganized from the outside.  There was no orderly line to get in, and as we walked through with crowds of people, we'd stumble upon a presentation that was already around halfway through, and difficult to hear. We looked at a lot of large empty copper tanks, saw a pen with a couple of horses (this was supposed to represent how they made deliveries back in the day), and then were faced with another huge line going up 3 flights of stairs. 
When we got to the top (and we were now going through this place and not seeing much of anything for 40 minutes), we were told that reason for the delay which was that the ride broke down, and we were being diverted to the tasting room. And the ride is the main attraction.   We quickly figured out that we just paid too much money to wait on a long line simply to get a taste of Heineken. So we asked to be taken from the line, brought to the ticket desk, and given refunds. They understood and complied without an issue, but wow – what a waste of time. 
Once outside, Steve and Jessica wanted to grab a bite to eat, but Matt, Brian and I wanted to explore the town a bit more, which we wound up walking for hours. I loved that no matter where we went, there were beautiful streets, buildings and canals everywhere.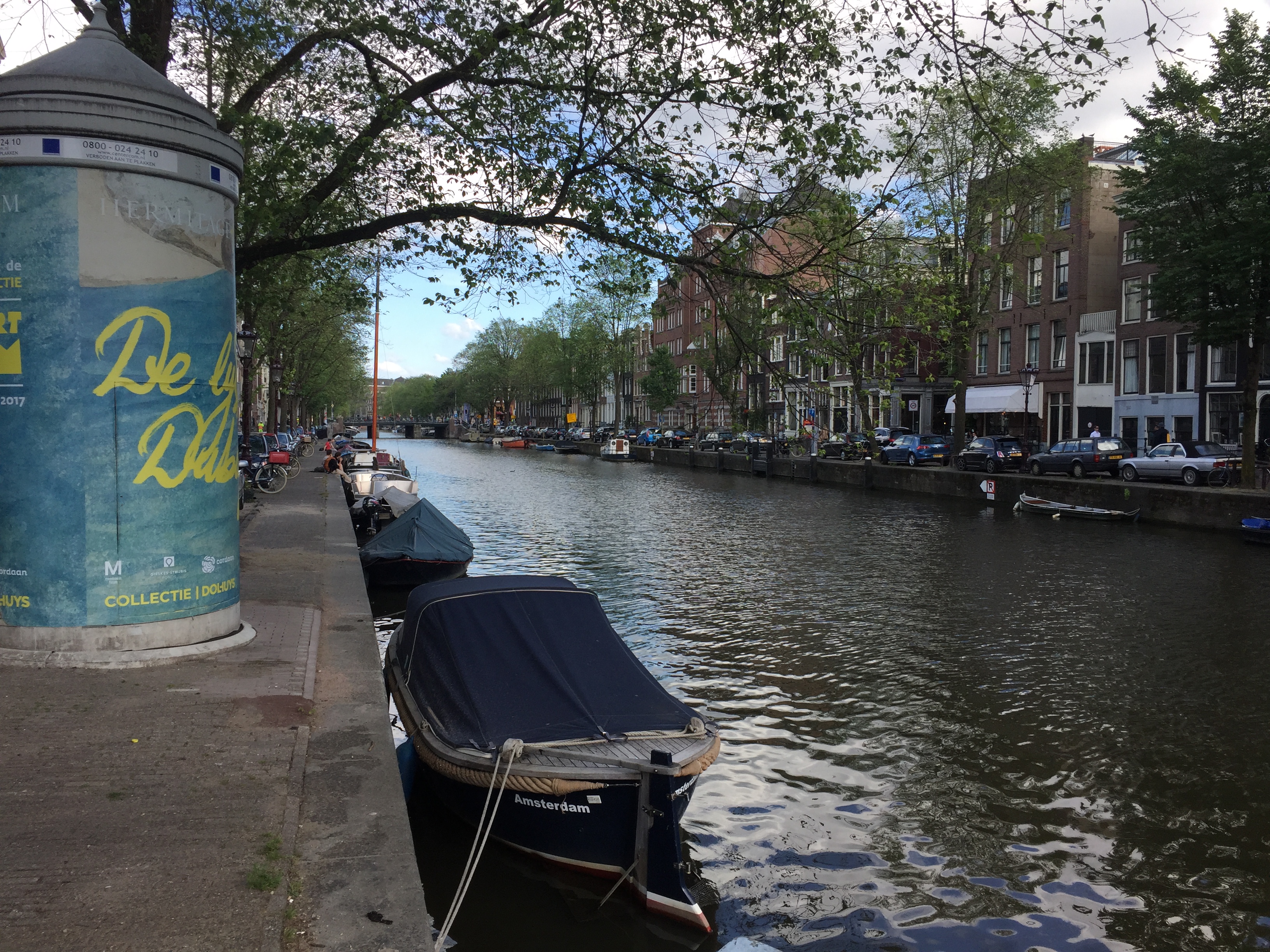 We hug out in a coffee shop, had a great Italian dinner, and then took the train back "home" and met up with others at the hotel.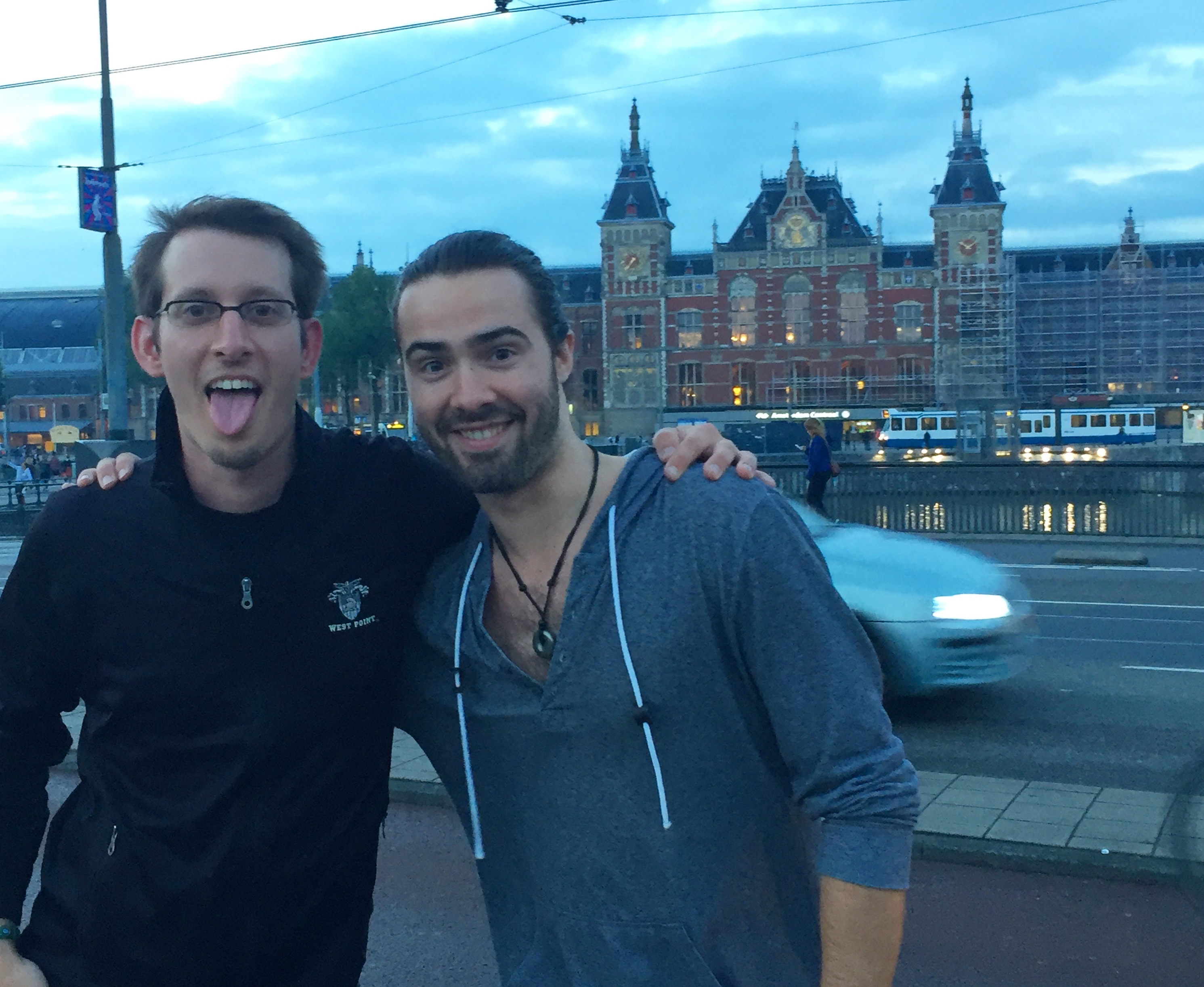 Which brings us to Thursday – yet another day off (and I have to be honest here…I'm looking forward to playing again.). Guy Balbaert, who is one of the co-writers on Jessica's new EP, met us for breakfast and we spent the day together – went on a very relaxing boat ride, walked around the zoo a little, and had an afternoon marketing meeting. Cool stuff happening in the Jessica Lynn camp!
Dinner brought us to the home other friends of Wilma…Herman and Janny…who made us a lovely dinner, and we had a nice relaxing evening with them (and thanks for that!).  Once back at the hotel, we sat outside by the fire pit again with a final drink on our last night in Holland.
And on Friday morning, we hit the road for Germany for the next adventure...playing the big Nurburgring racetrack on Saturday. Till then…