After our show on Sunday with ZZ Top, and our "After Party Tour" after party at the hotel, Monday was the first of three days off!  So we gathered for breakfast around 10 am, as we were to check out to get to our next destination (more on that later). Peter and Steve were getting picked up at 11 to go to Enterprise, where we were getting our next vehicles for the remainder of the tour. 
If you've been reading this blog, then you know the problems we had with Enterprise in Paris at the start of the tour. Well, I guess the only good thing I can say about them is that they are consistent…that is, consistent in completely screwing up. Because just like last time, despite confirmations, calls and assurances, on the morning of the pickup they didn't have EITHER of the vehicles we needed. Again. 
I'll spare you the details, but we wound up sitting around the hotel lobby (we had to check out of our rooms) for FOUR HOURS while we waited for them to find appropriate cars (which they should have done before Steve and Peter got there). And the large passenger van had manual transmission…and no one in our entourage drives a stick. So, get this…the Enterprise rep was giving Steve manual driving lessons in the parking lot. I'm not kidding. It's ridiculous…but I have to say that Steve rose to the occasion and is now doing a great job with his newly-learned skill. Thanks, Steve!
Once we finally got our gear and instruments loaded, we were on the way to a place that Jessica, Steve, Peter and Victoria have visited before on prior trips to the area…the Manoir de Louis XXI. They have raved about this place…its beauty, the setting, the wonderful owners Thierri and Patrice – so we couldn't wait to see it. 
We arrived an hour later, and I have to say that their praise was not overstated. This place is simply incredible…almost magical. It's exactly what you'd think a French Manor would look like, and the vibe here is just so tranquil. Jessica really wanted us to experience this place, and I can see why (thanks, Jess!). I could get used to a lifestyle like this.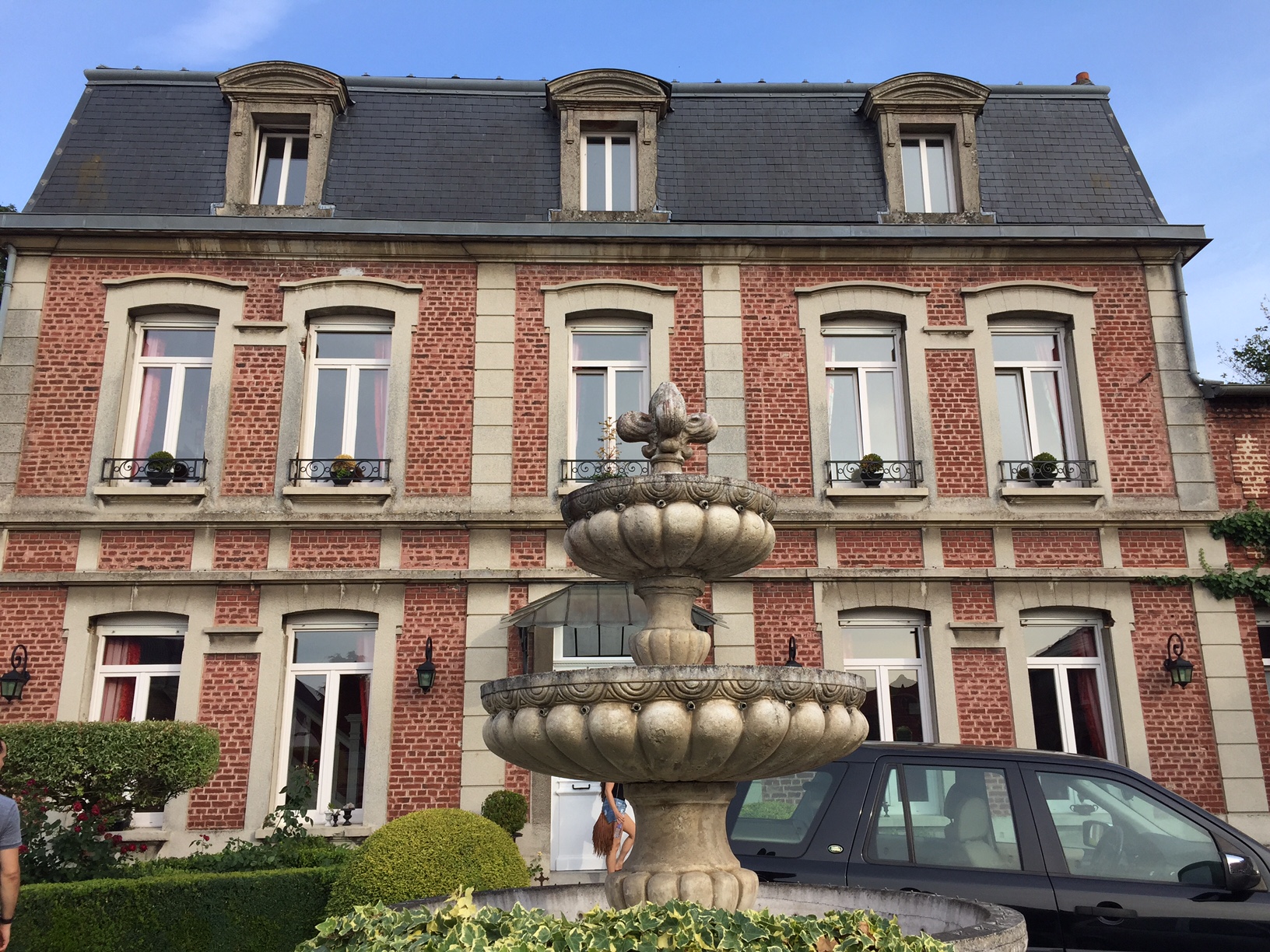 We settled in when we arrived and all hung out on the beautiful grounds. Later in the day we met our French friends Jean-Marc, Melina and Ben, Brandon (who made the trip with us from Valenciennes so we could all hang together a bit longer here), and Ed and Carol from NY, and all went to a huge group dinner that Jean-Marc incredibly wound up picking up. SO generous, and what a fun evening. 
When we got back to the Manor, Jessica cracked open a bottle of very special Armagnac (a bit like a cognac) that was presented to her, with her name on the label and wood box that enclosed it, at our show in Mirande. We had a few cigars too, courtesy of Ed…and it was quite a special moment, sitting there in the beauty of this place, sipping our drinks and having a smoke. 
Tuesday morning, we awoke to a legendary Manor breakfast that the guys who have stayed here before have told us about. At a gorgeous table setting (which changes daily), we were served fresh-squeezed fruit juices, bread and pastries picked up that morning from a local French bakery, jams made right here from fruit grown on the property, excellent coffee and more. It was absolutely heavenly. Did I mention I could get used to this lifestyle?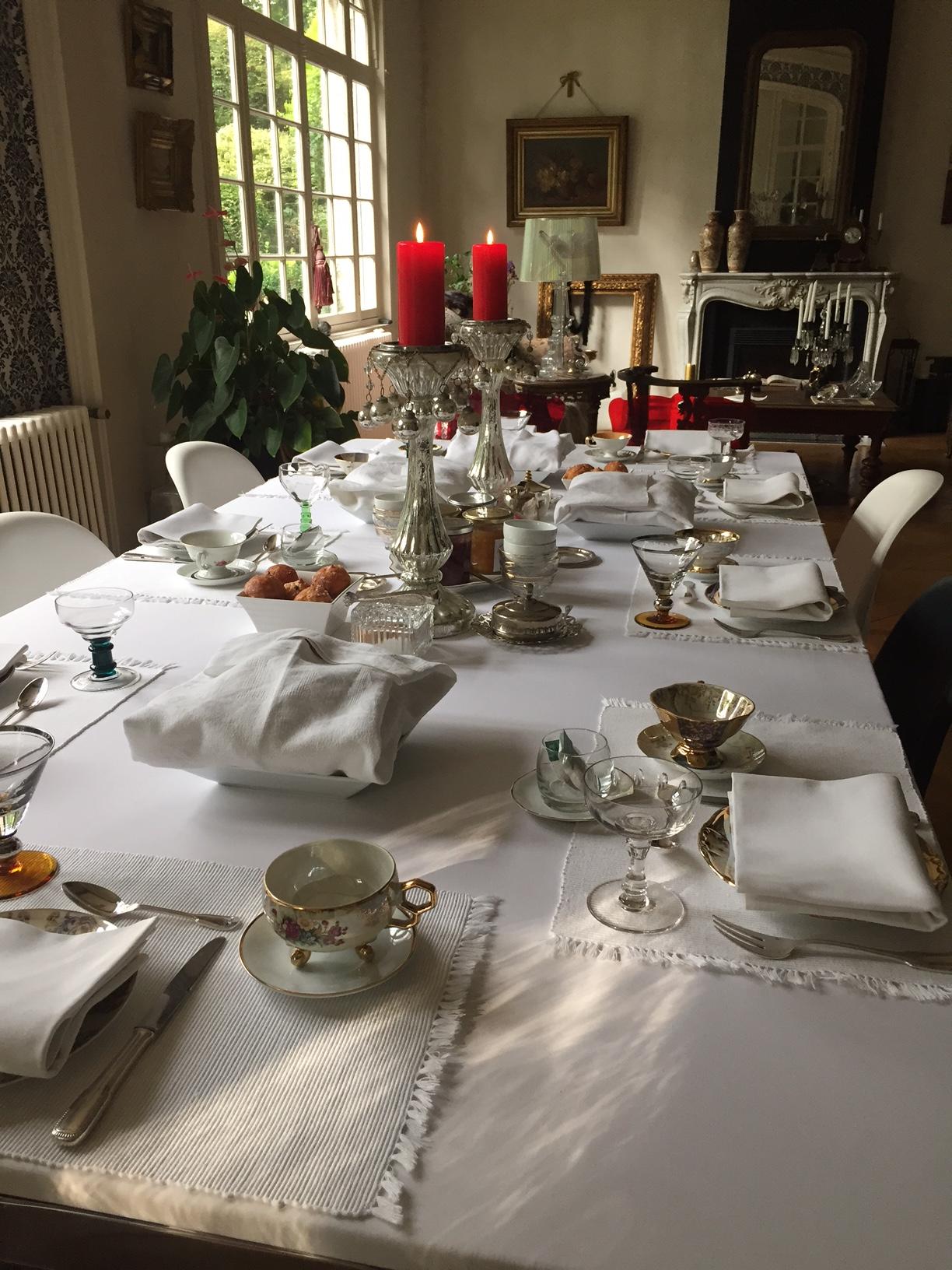 And, Thierri and Patrice are incredible hosts. And, so much fun to hang around with! I feel like we're spending a long weekend at a friend's house. If you're ever in the north of France and want to have an unforgettable experience, I highly recommend looking into staying here.  I'd certainly come back (and I hope I get to do so).
But after breakfast - I had work to catch up on Tuesday, the girls went shopping in town, some of the guys went to see a tank that was unearthed here from a historic battle, and other just spent the day hanging around a relaxing. A few went out to dinner, and some of us (including me) stayed behind to simply have a quiet night 
On Wednesday, we had planned to go to Paris, but we hadn't really looked into the logistics earlier. It turned out to be a longer trip than we thought, and with thunderstorms in the forecast for the day, it was decided to forgo the trip. I have to admit I was disappointed, as I've never spent any time in Paris…but I suppose this is a good reason that I'll have to return and explore the town another time. 
Instead, after another exquisite breakfast, we took a journey to Lille, a nice town about an hour from here. We had a group lunch outdoors in an old section of town, and then split up (girls went clothes shopping, guys visited a few guitar shops). We then left for a barbeque being hosted by Stephanie and Greg at their home, who are involved with some of the shows we're doing here, and who we met at the ZZ Top show the other night. 
Others from the events were there too – Jean-Marc (who made a great salad!), Lise and Didier, our NY friends Ed and Carole, and about 20 people all together. We just hung out in their large backyard, played some games, drank wine and beer, and ate a feast (and I mean a FEAST) prepared by everyone. Stephanie is an incredible cook and hostess, and her mother made some delicious desserts. 
The time flew quickly – we were there from 8 pm until 1 am! – but we finally said our "goodnights" and returned to the manor to get some sleep. And well need it after running around all day, with a show tomorrow…with details to follow.