We had quite the late night party with friends in northern France last night, but had to be up fairly early today so we could hit the road for an afternoon show in Eppe-Sauvage. After yet another delicious breakfast (this time with the freshest papaya I've ever had), we got ourselves together and started on our way around noon. 
The venue, which was about an hour-and-a-half away, is a vacation spot for families, and they do regular concerts there over the summer. We knew this show wasn't going to be as big as some of the others we've done on this tour, nor was it a cool small club gig (like we did in Amsterdam and Munich)…so this looked like it was going to fall in between. 
But as we were driving and just about 20 minutes away, Peter (who had gone in advance with our friend/promoter Jean-Marc to deal with the backline) called us to break the news…the show was cancelled. 
WHAT? WHY? It seems that when the two guys showed up, they learned that the outdoor show was to be moved indoors to a convention center, because of the threat of rainstorms. (Bad weather has definitely plagued us at certain stops on this tour). So they went to the indoor venue, which was locked up. They found the person in charge, and, there's really no other way to put this…the guy was a belligerent asshole. 
He said he refused to open the facility until he felt like it, insulted both Peter and Jean-Marc, and then proceeded to go sit down and eat lunch with his buddies. Jean-Marc approached him again to tell him that we needed to start setting up, at which point the guy jumped up and started screaming, getting in Jean-Marc's face, cursing at him insulting them further, screaming that he didn't know why they booked "this shit band"…and they knew we were in a bad situation. 
Now, Jean-Marc has produced many other events here, and has a great relationship with the people who run the venue, but he never encountered this jerk before. Unfortunately, all of his other contacts weren't there today…so he had to deal with this guy. And after this serious confrontation, Jean-Marc and Peter decided that this wasn't going to go well when the guy in charge is hostile and hates us from the start. And he wouldn't even let us in to set us anyway.  So they pulled the plug on the show. 
When the rest of us arrived a little while later, we met at "Willy's Frites" ("frite" places are incredibly popular here) and talked it all over. Jean-Marc was really shaken by the incident (I felt really badly for him), and we were in disbelief that a venue would book a band on tour, and then treat them like this. 
The news of what happened took to Facebook, with Jean-Marc posting the true story about what happened, and getting lots of support from fans who were planning to come and were expressing their disappointment.  And that's a shame, because we hate disappointing anyone, but this was really out of our control.
But after having lunch and talking this over, we decided to head back to the Manor to do some other things. We got back in the van, and I immediately fell asleep (still exhausted from overall lack of sleep). And, I was so tired that I missed the excitement on the ride home – slept right through it. 
From what I heard afterwards,  Steve was driving down the highway, when he suddenly started staying "Oh my God, Oh my God!" No one knew what was wrong until he pointed at what got his attention…a HUGE spider that was crawling across the top of the windshield, on the inside. And I mean extremely large. 
It only made a quick appearance, and quickly scurried back to where we've discovered that it's living…in a space just above the rear-view mirror. Once we got back to the Manor, we tried to get coax it out, but with no luck. I was awake then, and did see it peak out for a moment, and yeah - holy crap - that thing is big. So…yeah, we're now driving around with an extra passenger, in the form of a giant spider. Perfect! 
But since we didn't have to do this show today, we had some extra time now and had been meaning to shoot some video at the Manor, because the backdrop is just so beautiful. So today, we finally got to do so! We shot a few scenes for the video being produced for Jessica's new single, "Crazy Idea," and even did some live acoustic things too. Very productive, and lots of fun.. 
And on a side note, we're getting daily updates from radio stations in the US who are adding the single to their rotation, and featuring Jessica on their websites. A few days ago we received this chart of the daily streams by radio stations, and the single was at #4...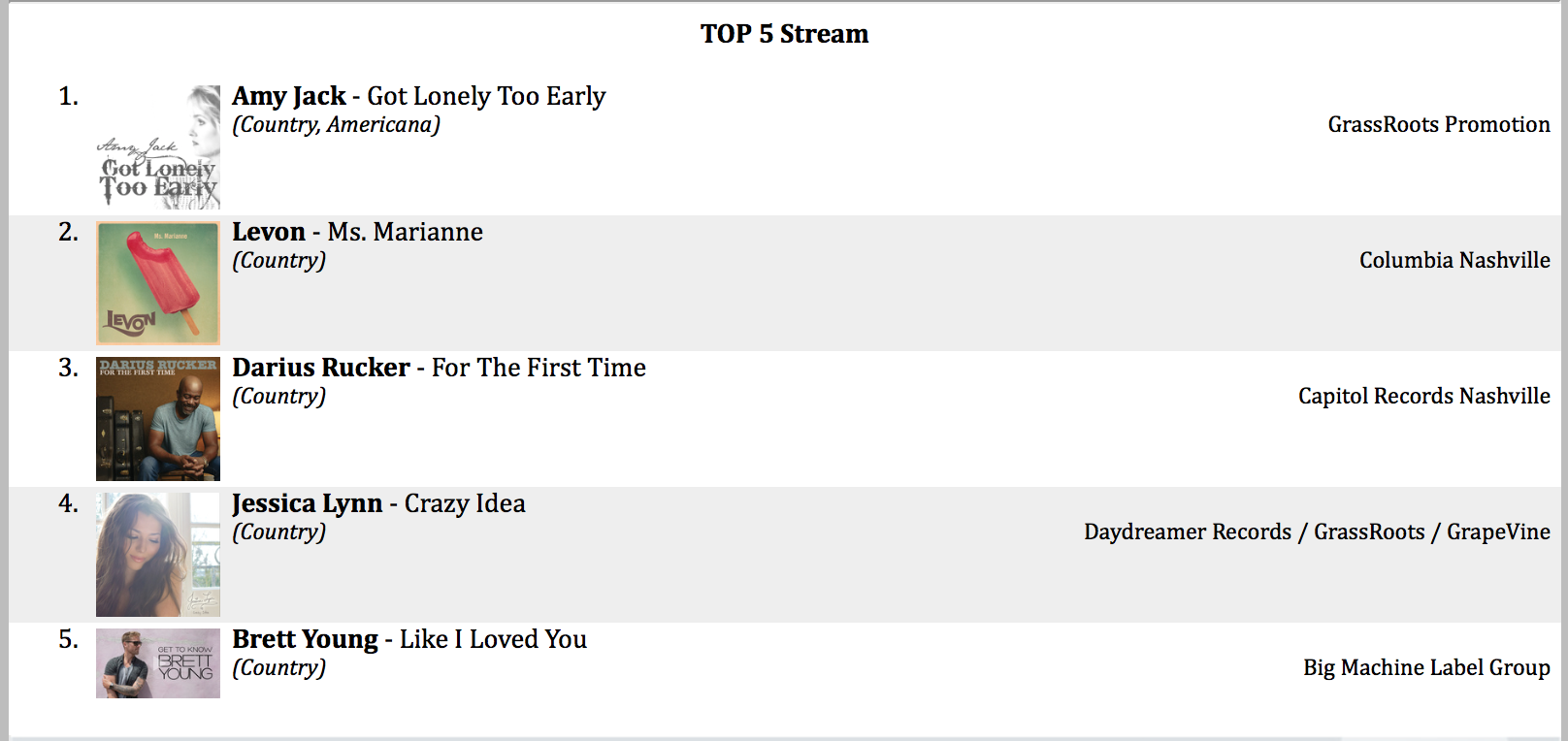 It's great to see such a positive reaction from the industry!  It would be awesome if you'd call your local country radio station and request it...
Anyway – at this point it was already approaching 9 pm, so we all went out to dinner at a great restaurant in the nearby town of Cambrai. When we returned to our last night at the Manor, we all gathered outdoors in the backyard with our host Thierri, sipping French champagne…talking and laughing until the wee hours. It was a perfect way to spend our final night here. 
And also sadly, this was our last night with Bob's wife, Wilma, who has been on this tour since the start, and has been doing SO much to help out…handling merch sales, taking video and photos during our shows, giving us sound advice from house during sound checks, and of course…keeping Bob in line (the hardest job of all! We don't call him "Tiger Bob" for nothin'. ;-) ) 
Thanks for everything, Wilma! We're going to miss you on the rest of this journey. 
On early Friday morning, Wilma took a car to the airport, and the rest of us met for our last incredible breakfast here, And during breakfast, Thierri came in to tell us that one of the cats who live there (and there are many) just had kittens! We ran outside and there was Patrice, holding two tiny, newborn kittens.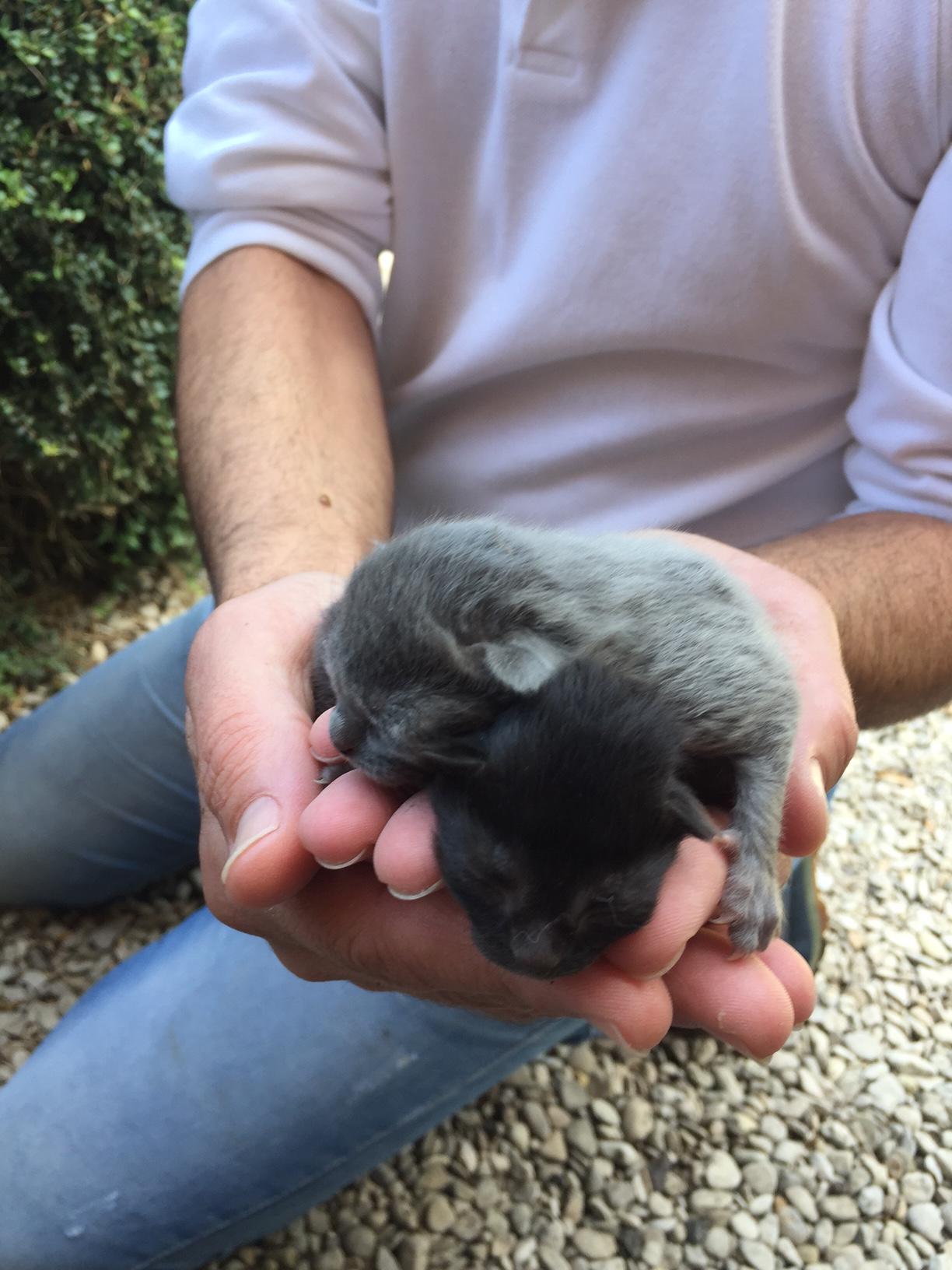 We then packed up, and sadly said our goodbyes. I can't even really express just how special this place is, and how wonderful both Thierri and Patrice are…so it was truly hard to leave. Here's a shot of all of us right before we left...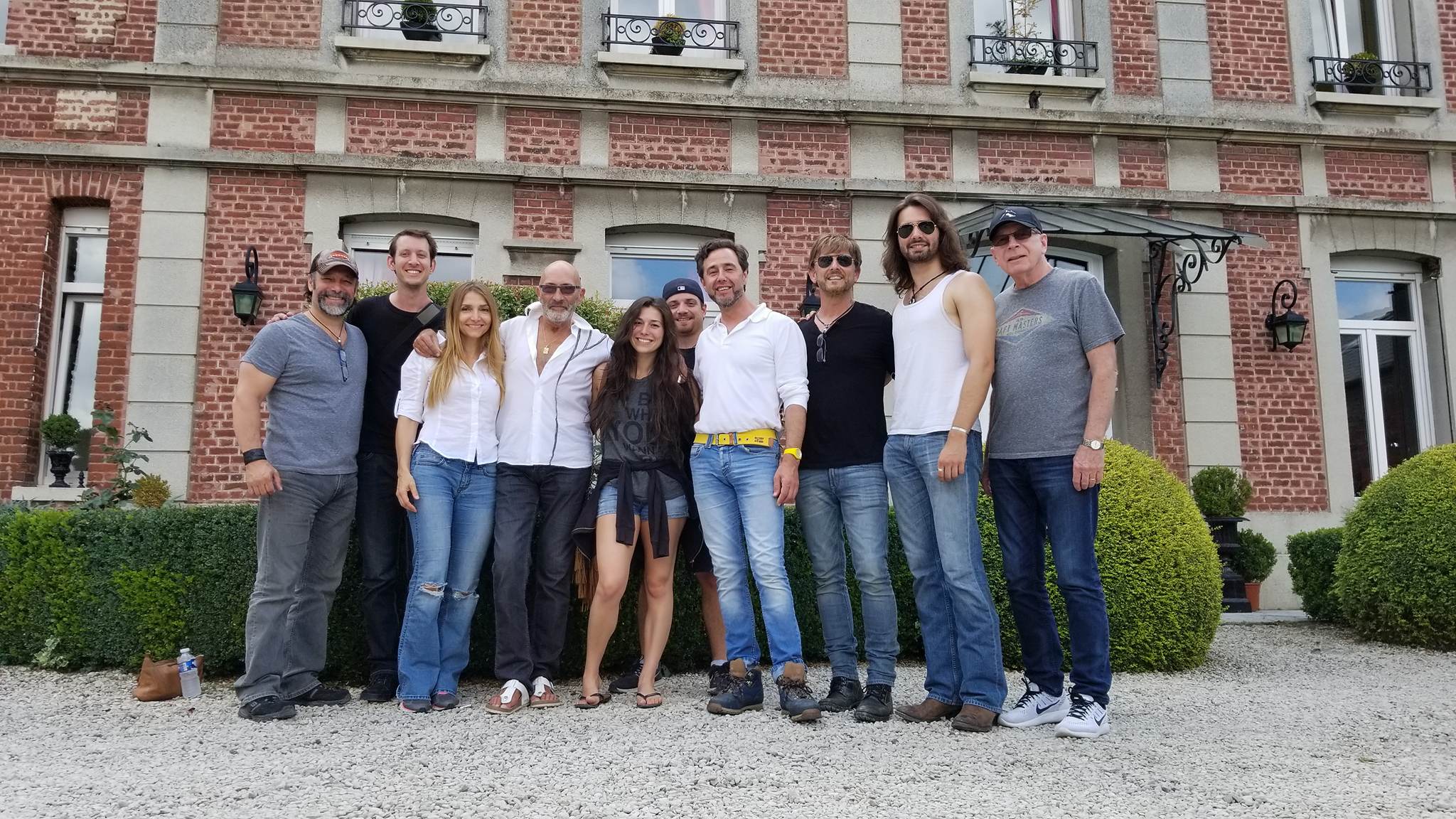 But as much as we didn't want to, we had to go…and headed down the road to our new hotel, which is actually also quite beautiful, with flowers everywhere.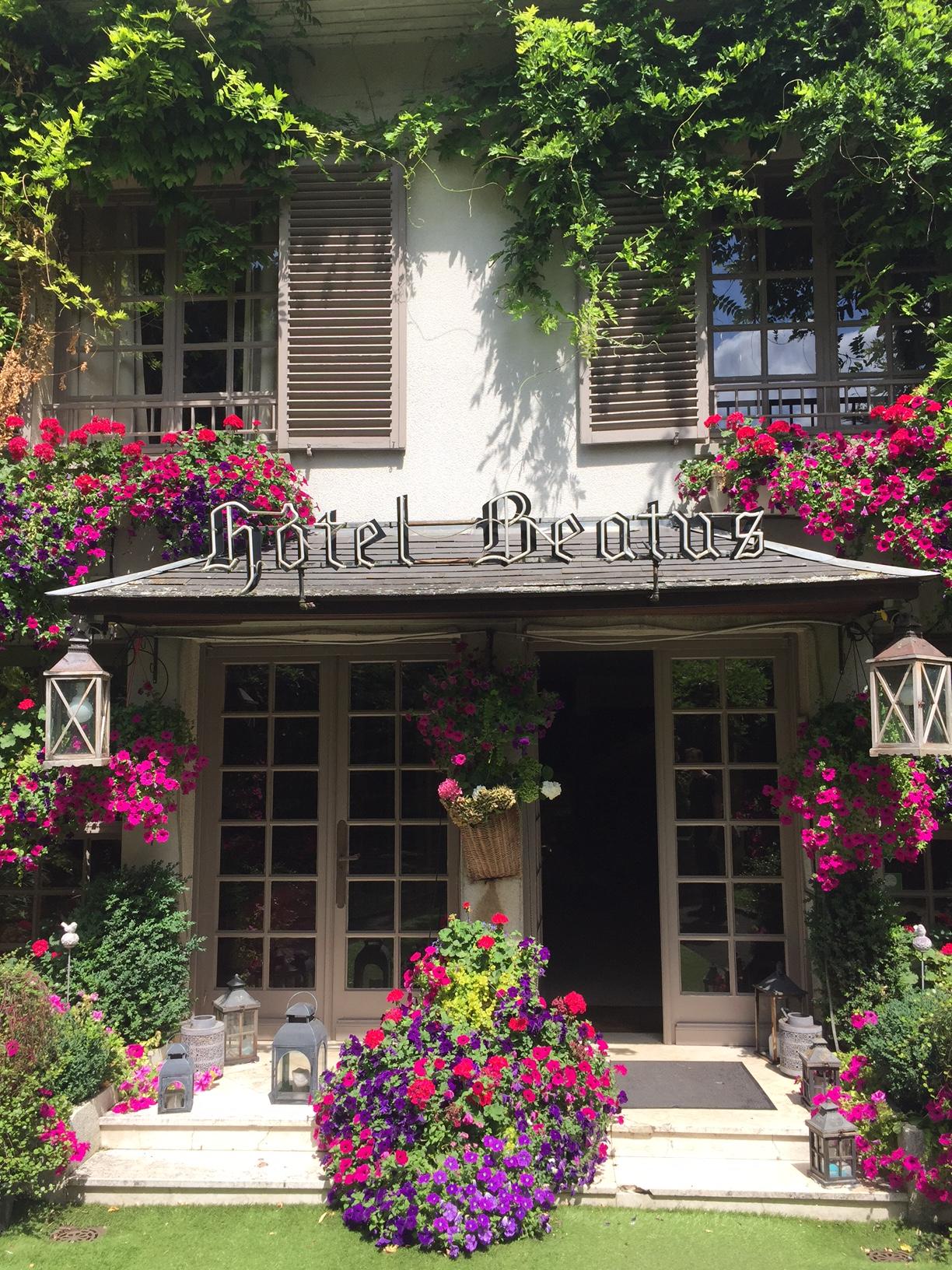 Once we checked in, we took this day again to rest, change strings, catch up on work, and just relax (and I wrote this blog post).  We again met for dinner to go to one of Jessica's favorite places here, and I could see why she likes it so much.  Fresh, delicious food, great wine, and our good friend Jean-Marc joined us once again too.
Once back at the hotel, we gathered on the beautiful outdoor desk to just enjoy the rest of this summer night.  It was also Ed and Carol's last night with us, so we then said our goodbyes and went up to our rooms to pass out.
Tomorrow is our last European show for the moment, playing an Aerodrome here in France, before we leave for the UK on Sunday.  Will have a show-day report soon...