One of the things I love doing the most is getting to work with young musicians and bands, which I've had the opportunity to do in the studio a couple of times this year.  
So it's my pleasure to introduce you to Harsh Crowd...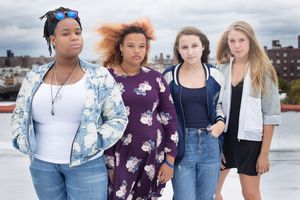 They're a group of 14-year-old women with whom I've been producing an EP - Better - which is out now. They write powerful and catchy songs that are well beyond their years, and what's really cool is that people are starting to take notice.  Check this out...
All of this has just been in the past week - excited to see what's ahead for the band.  And tonight, I'm heading to Irving Plaza in NYC to see them open for
The Julie Ruin
(what a great pairing -going to be an awesome show). 
And finally - here's where you can
find Harsh Crowd on iTunes
-
https://itunes.apple.com/us/album/better-ep/id1170297270
If you like what you hear, I'd like to ask that you please support independent music and download their EP.   It's only $4.99...you'd spend that on a latte, but instead you get some awesome new music, and the knowledge that you helped support a young band as they start their career.  Truly a "win-win."
Thanks - you rock...