For me, one of the best things about being a working musician is getting to travel the world.  I love exploring everything from small towns to big cities, and meeting so many local residents.   And the reason I'm writing about this today is that I (along with
Jessica Lynn
and the rest of the band) just returned from Bermuda, where we headlined two dates at the annual
Bermuda Festival for the Performing Arts
.
On the day we arrived, we attended a dinner party at a gorgeous home that was hosted by members of the Festival's board, supporters, sponsors and more.  It was great getting to know our hosts over a few rum cocktails (made with excellent local Goslings Black Seal Rum), and then having a delicious home-cooked dinner...which, trust me, is something that's quite rare when touring.  (The week before, when we were CA, I wound up eating fast food every single day. Yeah...I know, I know.)   After a few hours, we had made new friends, and were excited about the next couple of days ahead.
We spent most of the next morning working with sound engineer John and his awesome crew, getting our stage set, gear wired up, and doing a good, solid sound check. Here's a shot of us on stage just prior to opening the house on our first night...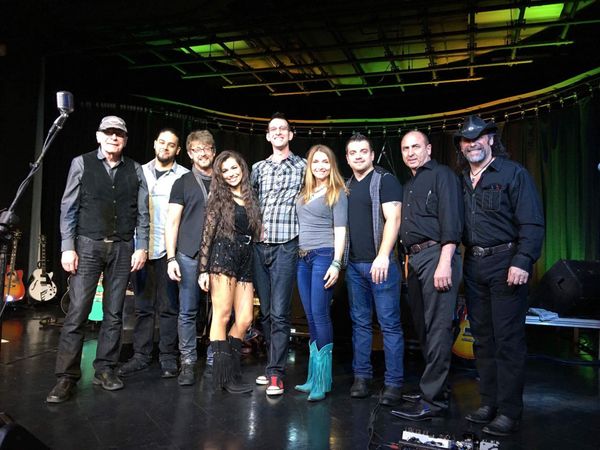 The shows themselves went as well as possible.  Opening night was actually my first night singing a full-length show of backing vocals, so between that, juggling guitars and keyboards, there was lots to remember (and I think I got like 95% of it).  Other than almost taking out guitar tech John Boggi's eye when I spun around to change guitars, smacking him squarely in the eye with my headstock, it was a strong show.  I definitely felt more comfortable singing the set by the 2nd night, but that show had a couple of hiccups too...including the loss of stage power to our amps, and the loss of the lighting system for a short period of time.  But - the show went on after those were corrected, and what made it all worthwhile were the audiences (which on night 2 included Bermuda Governor John Rankin).
We had been advised that the Bermuda audiences can be a bit subdued, and yes, although most everyone was in their seats politely applauding when the shows started...by the middle of each show they were up out of their seats, dancing, singing along, making a whole lot of noise, and generally turning the Mid-Ocean Amphitheater into quite the party.   Seems Bermuda definitely loves their country music -- all they needed was a little encouraging, and we all had a great time together.  
Afterwards, we were rewarded with an
excellent review
in Bermuda's daily newspaper - The Royal Gazette, who also did a
feature on an educational session
that Jessica conducted at a local school.  
Coupled with a little beach time in those impossibly turquoise waters, I think I can speak for everyone in the band and say that we loved our time there, and hope to return to play Bermuda again one day soon.  But for now, we're going to be in NY for the next few months prior to our summer tour...working in the studio, playing a couple of local shows, and working on the show that we can't wait to bring to you later this year.
Updates from the studio to come soon!