Our long run in Germany came to an end on Monday, after a final breakfast at what was one of my favorite hotel so far on this trip in Bad Salgau. It was a great finish to an amazing time we had here. Still buzzing from all the fun of the Biker Days Fest this weekend, we hit the road for a fairly long ride today, which took us along beautiful, scenic roads and into Switzerland. Since they are not part of the EU, this was the first checkpoint we hit on our trip where we were pulled over and asked for our passports. 
After checking us out and realizing we were not a threat (silly Swiss), we got through, and for me, it was a bit of a trip down memory lane. I used to go skiing in Switzerland with my family when I was a kid, and we passed through towns I remembered visiting way back then. 
And as long as we were here, we decided to take a break from the driving, and stop for lunch in the city of Bern, Switzerland. This place is simply gorgeous…old buildings, lovely architecture, cobblestone streets…I felt as if I took a step back in time.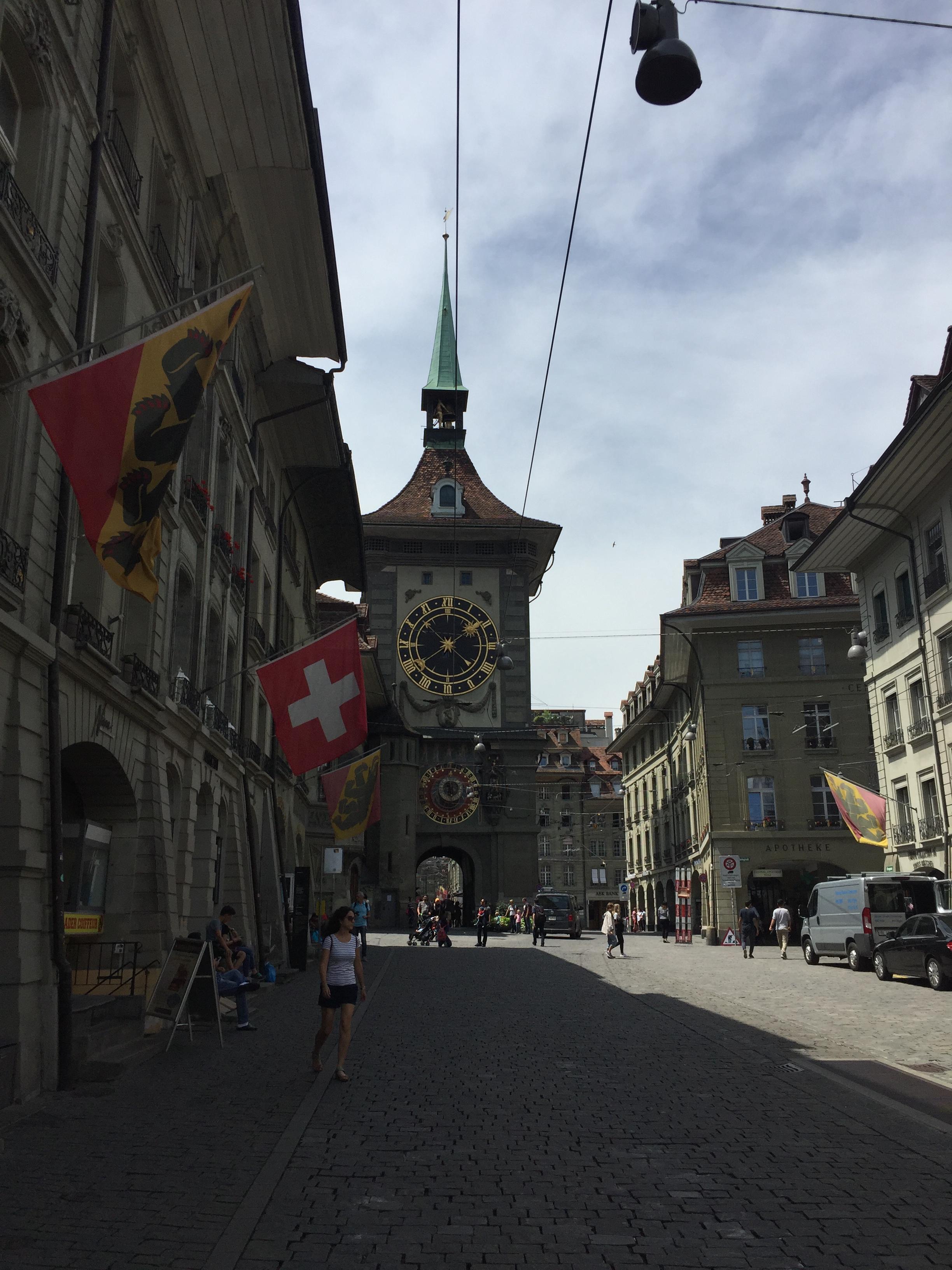 After eating at a nice outdoor restaurant, we browsed a few shops, bought some chocolate, got some great coffee, and had to hit the road again too soon. 
The next part of the drive was truly breathtaking, and we made our way through quaint, old towns in the French part of Switzerland, right on a lake with the mountains rising in the distance. There's a certain beauty here that simply does not exist in the United States (which, of course, has its own unique beauty).  Wish I could have shared some pictures, but they're hard to get from the window of a speeding car.
After a couple of hours we arrived in Evian-les-Bains, France (literally right down the road from where the famous water is bottled), where we're camping out for two days, as we make our way further into the south of France over the rest of this week. We arrived at our hotel, which is nestled in the hillside, and checked into a couple of apartments here. 
But although the hotel looks nice on its website, and it's in a beautiful area…this place leaves a lot to be desired. Dirty rooms, stained sofas, musty smells. And once again, it's a battle to just stay connected to a Wifi network…constantly getting kicked off, and terribly slow (a real pain when there's work do to). Especially after the wonderful accommodations we had over the last two days, this is a stark contrast.  But again, that's touring…you win some, you lose some. 
After getting settled in, we drove down the mountain into town, and took in the spectacular waterfront views, right after the rain subsided.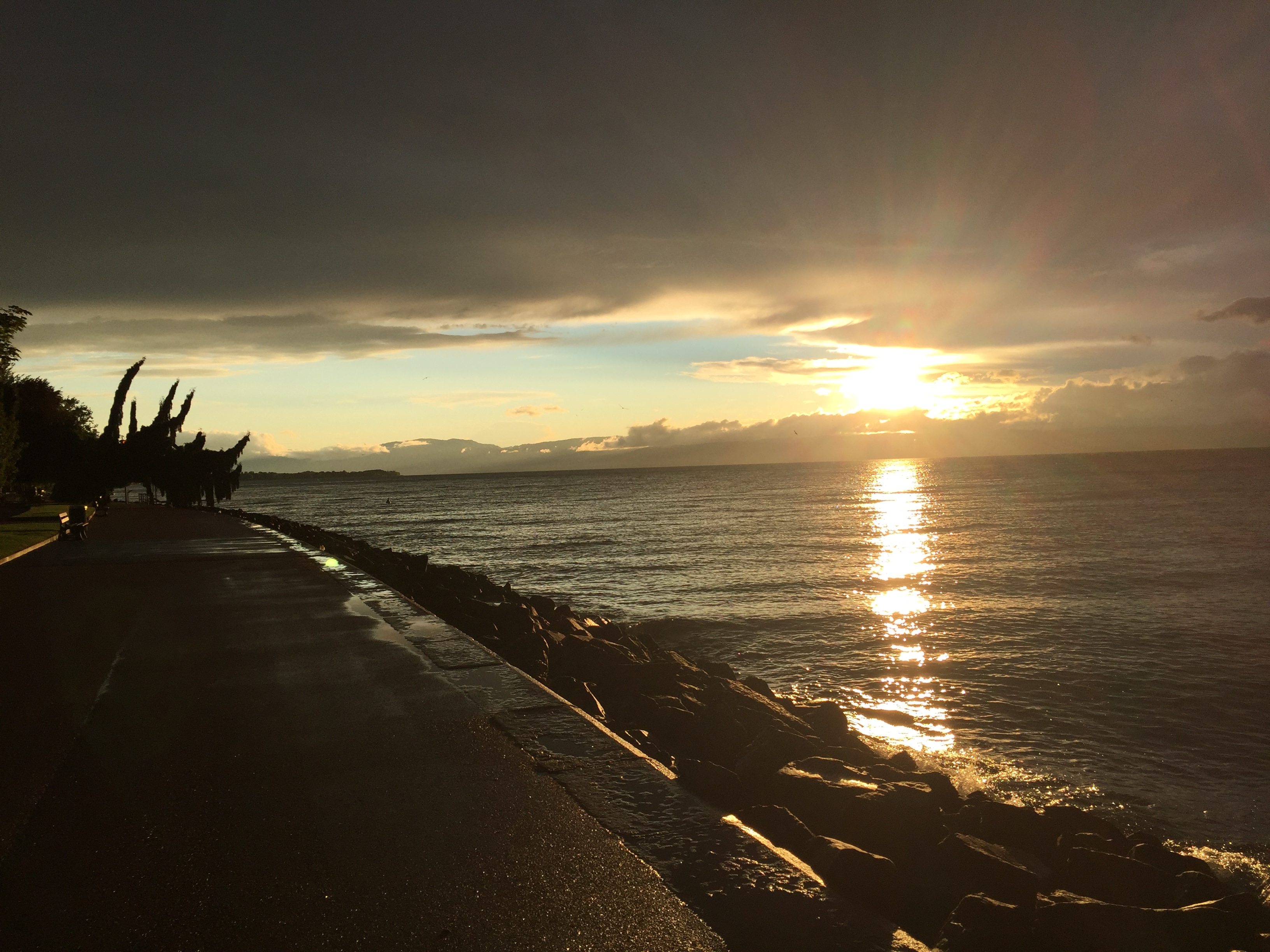 We even got another rainbow, this time over the Casino that's right across the street from the lake...
We attempted to get into a couple of restaurants, but it was already late….some were closing down, some were going to do so soon and didn't have any tables, so we eventually wound up at an Italian place. Yes, I would have preferred a French bistro, considering our location, but this was our only option …and it turned out to be a great one. After some wine and delicious pizza, we headed back to our temporary homes...happy, satisfied, and tired from our long journey today. 
On Tuesday, I'm sorry to say that there's nothing exciting to report, and this was another one of our "chill" days. No outings, no adventures….just everyone doing their own thing – a visit to the local supermarket, laundry, work, exercising, a few sitting poolside…but it was good to once again recharge and catch up on everything.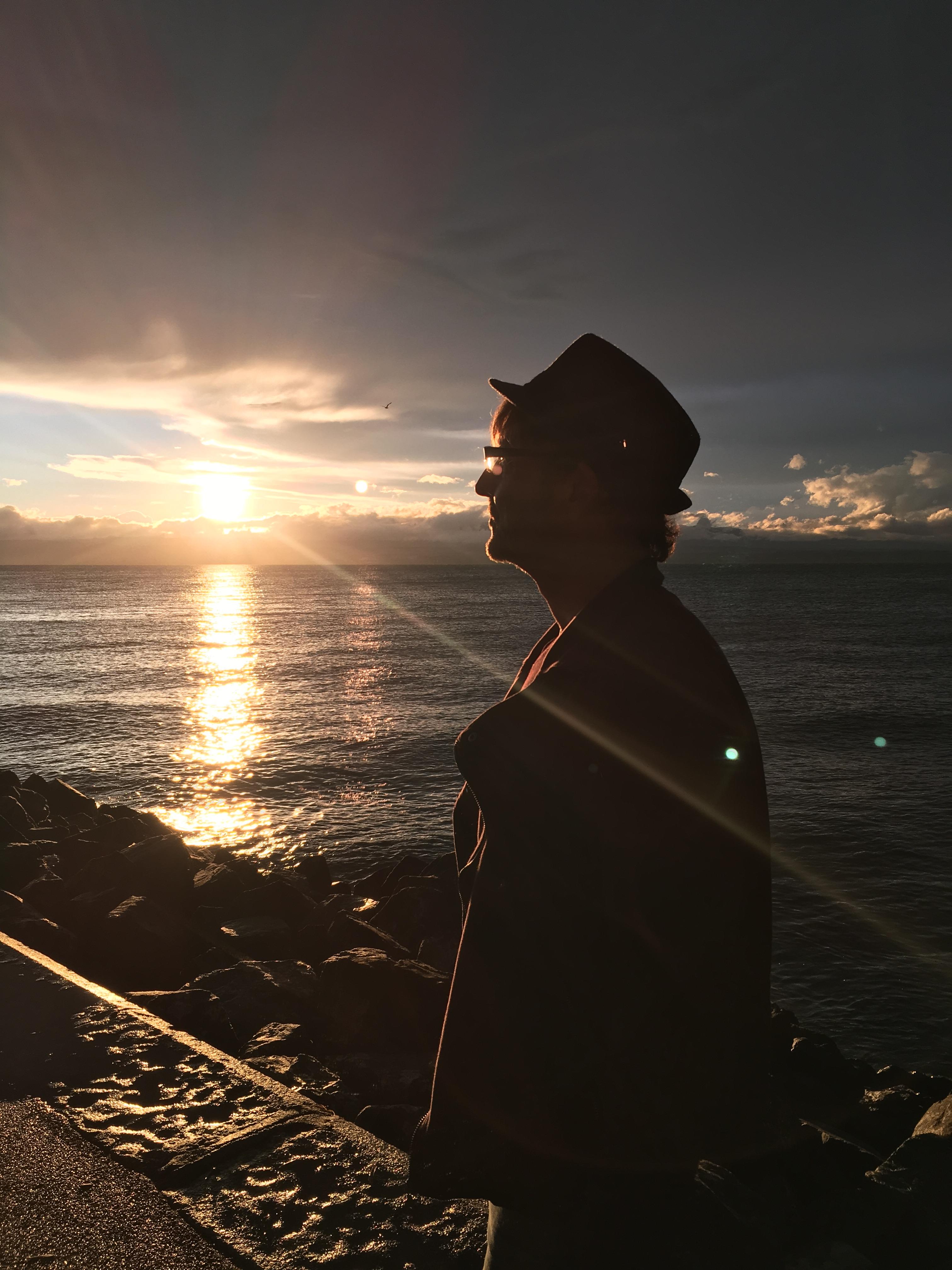 There also shouldn't be much to report on Wednesday either, as we'll be on the road again for around 6 hours as we head to our next destination in Saint-Jean-de-Vedas, where we'll be for a couple of days.  I'll post my next update from there -- until then!