It was a show day on Saturday, as we're playing the Mirande Country Festival. And we were pretty excited to do it too, since Jessica was on the cover of two local newspapers, we had just received the news about our Top 10 entry in the radio download charts, and besides that, we hadn't done a show in a few days.  But since the show site is not too far from our hotel, we didn't have to leave too early to get there. And since we're right outside of the beautiful town of Auch in France, some of us decided to take a little sightseeing trip in the morning. 
Peter, Victoria, Bob, Wilma and I (I always seem to be either the 3rd, or 5th, wheel) piled into our Citroen and drove to town. We parked right by a canal, and walked to the famous Auch Cathedral (also known as the Cathedral of Saint-Marie), built in the 1500's.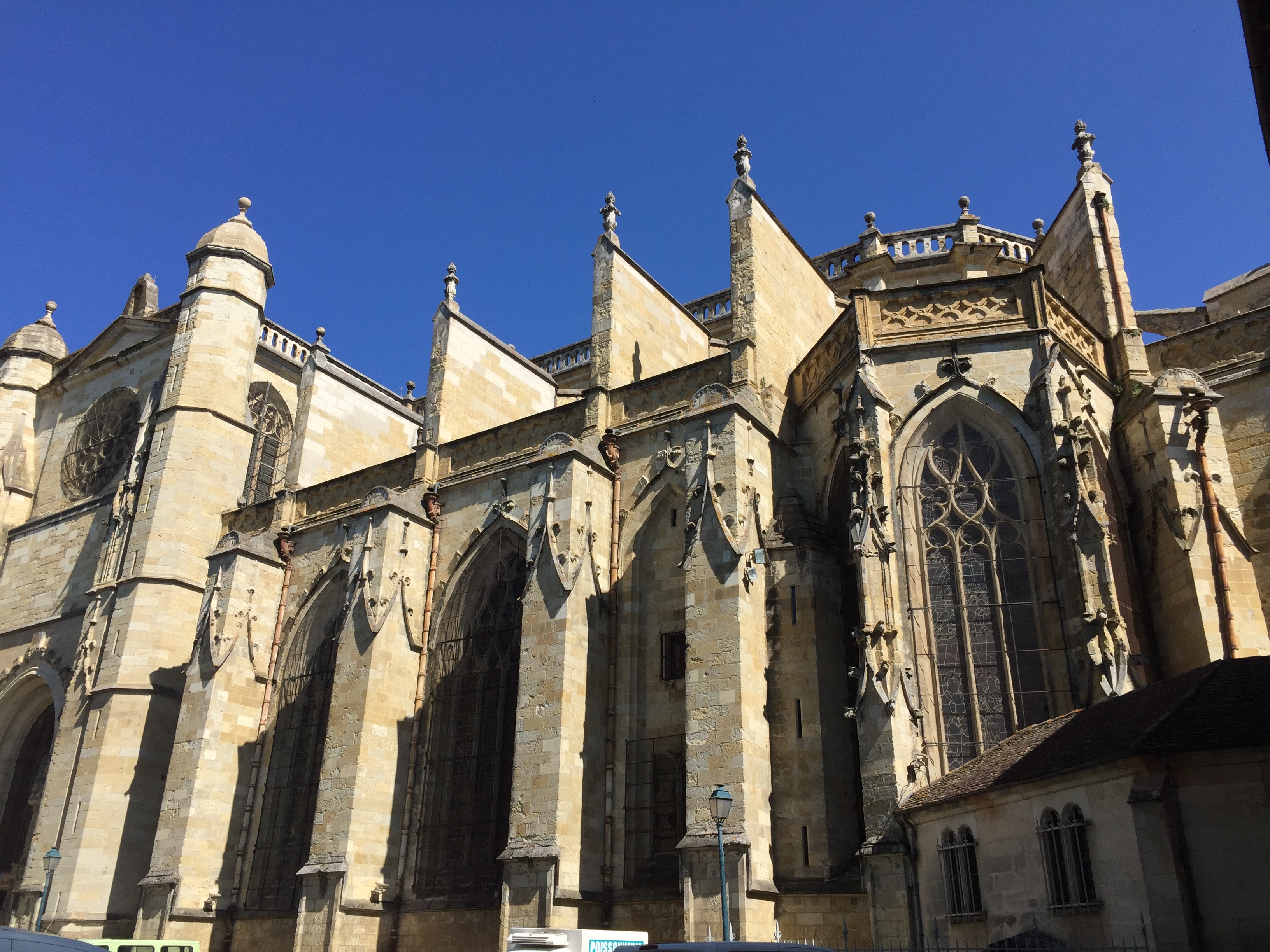 Since D'Artagnan was born 30 km from here, there's a statue of him as you climb the large, majestic stairway to the church. Here's our own Three Musketeers...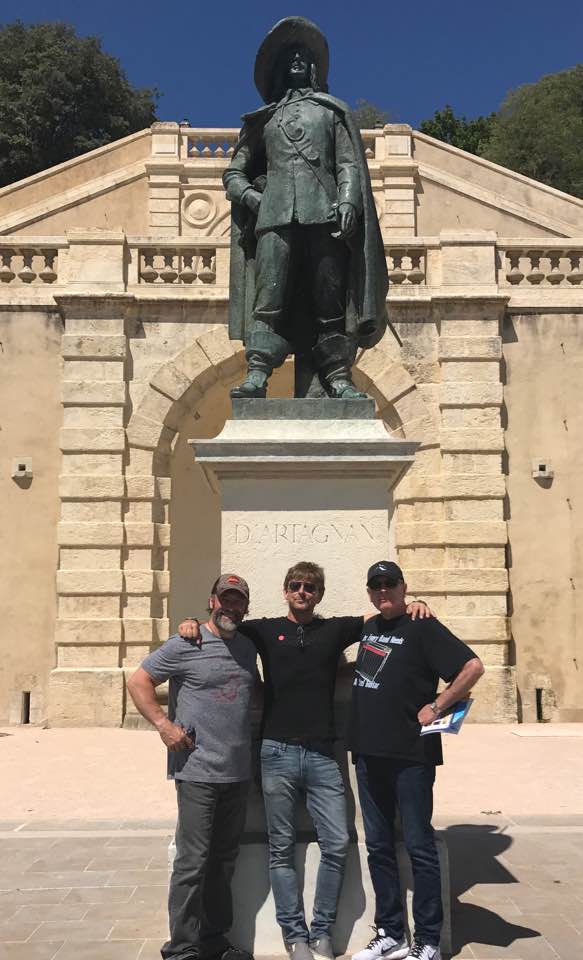 As you make your way up, there are impressive views of the town below. And perched high upon the hill is the cathedral itself.  I could go on and on about how beautiful it was – the stained glass, the ornate wood carvings, the paintings, the structure of the building itself and its rich history…but this tour diary ain't a history lesson! If you're interested, check out the link above…but suffice to say, we spent an hour inside and were mesmerized. Very glad we made this trip.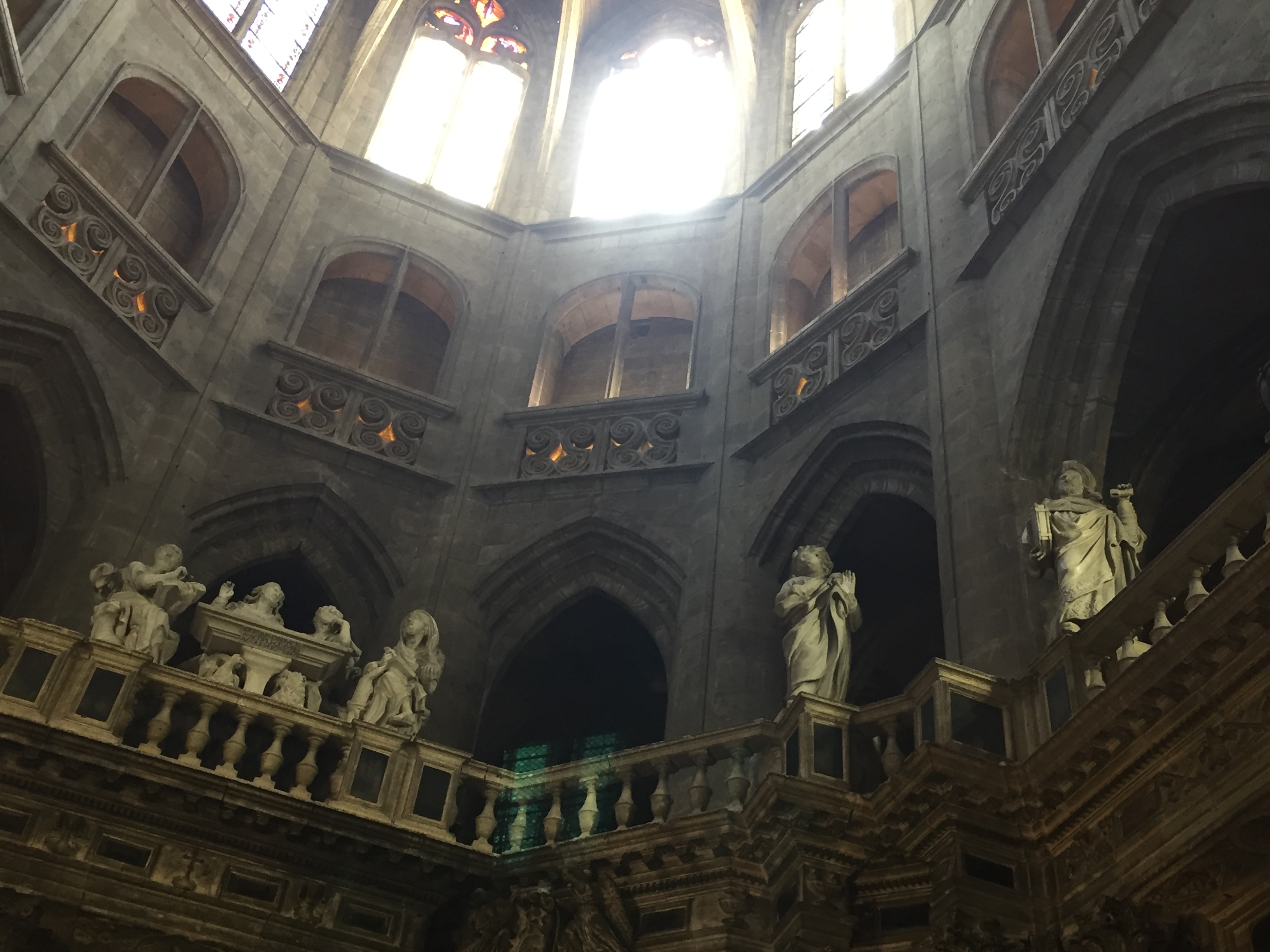 But then it was back to the hotel to get ready for the show, which we did, and got to the show site around 4 pm. As often happens, production was running late, so we had about an hour to kill, which we spent visiting vendors at the festival. 
When it was time for sound check, we did encounter a few issues, including a loud, rapid clicking sound that was coming from my amp, from Bob's amp, and even Jessica's wireless vocal mic. The sound crew was trying to isolate the problem, and eventually got it under control…but this extended our sound check into a nearly two-hour affair. 
We had dinner outside in the hospitality tent, and although everyone was so kind and gracious, I have to be honest…the food was pretty inedible. The information we advance to the shows lets them know that two people in our entourage are vegetarians (Jessica and Victoria), and all they had that they could eat were hard boiled eggs, tomatoes and French fries. For the rest of us, we had steak which was so tough it was impossible to chew, and was first served almost completely raw (we had to send it back, but it was pointless). 
See? As I've said before, it's not all glamour and spotlights out here on the road! 
But none of that really mattered, because we were there to play, and just a little after our 9 pm show time, the MC came out and introduced us as "Jessica LINE." That was good for a laugh. But once we started playing…we discovered that this was probably the best crowd we played for so far on this tour. Clapping along with the start of every song, big reactions, dancing, and a very loud chant for an encore when our set was over. The sound and lights were also among the best we had so far.  Here's a snapshot of Jessica and I taken from backstage during the show...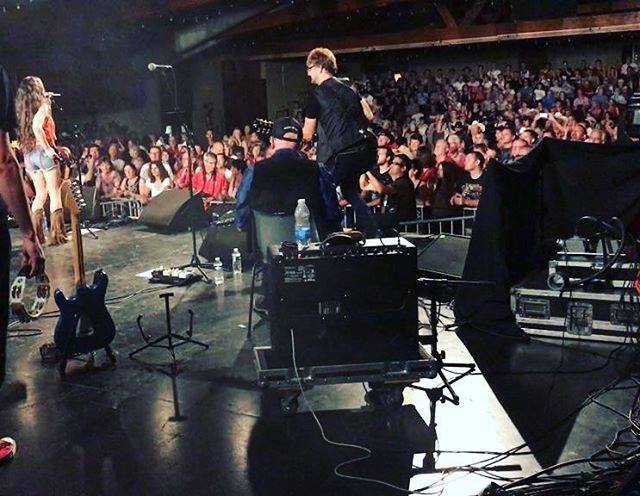 After the set, Jessica met a bunch of new fans at the merch table, but although we usually like to hang out with the producers and other bands after our shows, we had to get out of there as quickly as possible. It was already after midnight, and we were scheduled to meet at 5:30 in the morning to catch a flight to Paris, for our show opening for ZZ Top on Sunday night. 
I'll file my next report from there…