It was another lazy today, with everyone sleeping late and then grabbing food in different places for a quick lunch. Once again, the only place open right near our hotel was McDonalds. It's unreal to me that restaurants spend so much time closed, when they could be serving food and making money. And it was also disappointing to me that it was yet another meal at an American fast food restaurant. 
When we got there, we discovered they were doing a promotion day for the new Minions movie, and the place was mobbed and swarming with kids to see the costumed characters they had here. Took forever to get our food, and it sounded like a kindergarten playground at recess. Oh, and I knocked over a large display by accident, almost knocking Steve in the head. (I should mention that I frequently am the "bull in the china shop" – the band calls me "Wreck-It Wright-Mark"….pretty accurate.) 
Once we finally got the hell outta there, we went back to the hotel to get ready for the show, and met at 4 pm to head over to the Aerodrome in Cambrai. It's famous as the place where Louis Blériot frequently flew out of - who is known for making the first flight across the English channel from France to Great Britain in an airplane.
And being an aerodrome, we were playing in an airplane hangar, and if you know anything about sound there's almost no worse place to put a band. With the high ceilings and hard reflected surfaces, sound bounces around like crazy and it's difficult to get a good mix.  Our sound check was riddled with feedback, low frequency hums and other trouble. It took quite a while, and although we weren't really satisfied with the results at the end of it, there's a limit to what you can do in a venue like that, so we stopped around 7:30.  Although, I should mention that our sound man Philippe did as good a job as possible, given the fact that he was trying to mix 8 people playing multiple instrument in this airplane hangar.  It's a thankless job, so I just want to say "thank you!"
After sound check, we were taken backstage and had the best catering we've had at any show so far. So many fresh and delicious salads, different types of fish, freshly-baked French bread, apple tarts and more. We hung out there until show time, and when we reentered the hangar to play, we saw that the place was mobbed with people. 
Most of the crowd was behind barricades around 20 feet back from the band, with other VIPs allowed in the front. It was a little strange as most of those VIPs were seated off to the sides, but the main crowd was completely getting into the show from the very start.  Despite a bit of a rough stage mix, I thought we played well…there was a lot of energy both on stage and in the audience.  I think this is a cool shot from the show...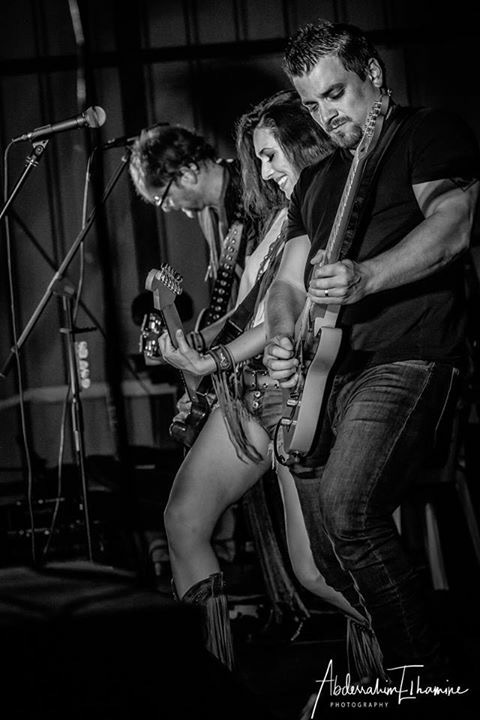 As we were approaching the end of the set, Peter asked someone if they would open the barricades and let everyone up front…and they did. At that point everyone rushed forward…and this is when the place really started going crazy. It was an absolute blast.
When the show was over, there was an hour-long meet-and-greet that Jessica had to do, because so many people wanted to meet her, take photos, and get autographs. We signed quite a few ourselves and posed for lots of pictures with fans (which it's fun to see surface on Facebook the next day).  Here's one with some of us and our new photographer friend, Remo...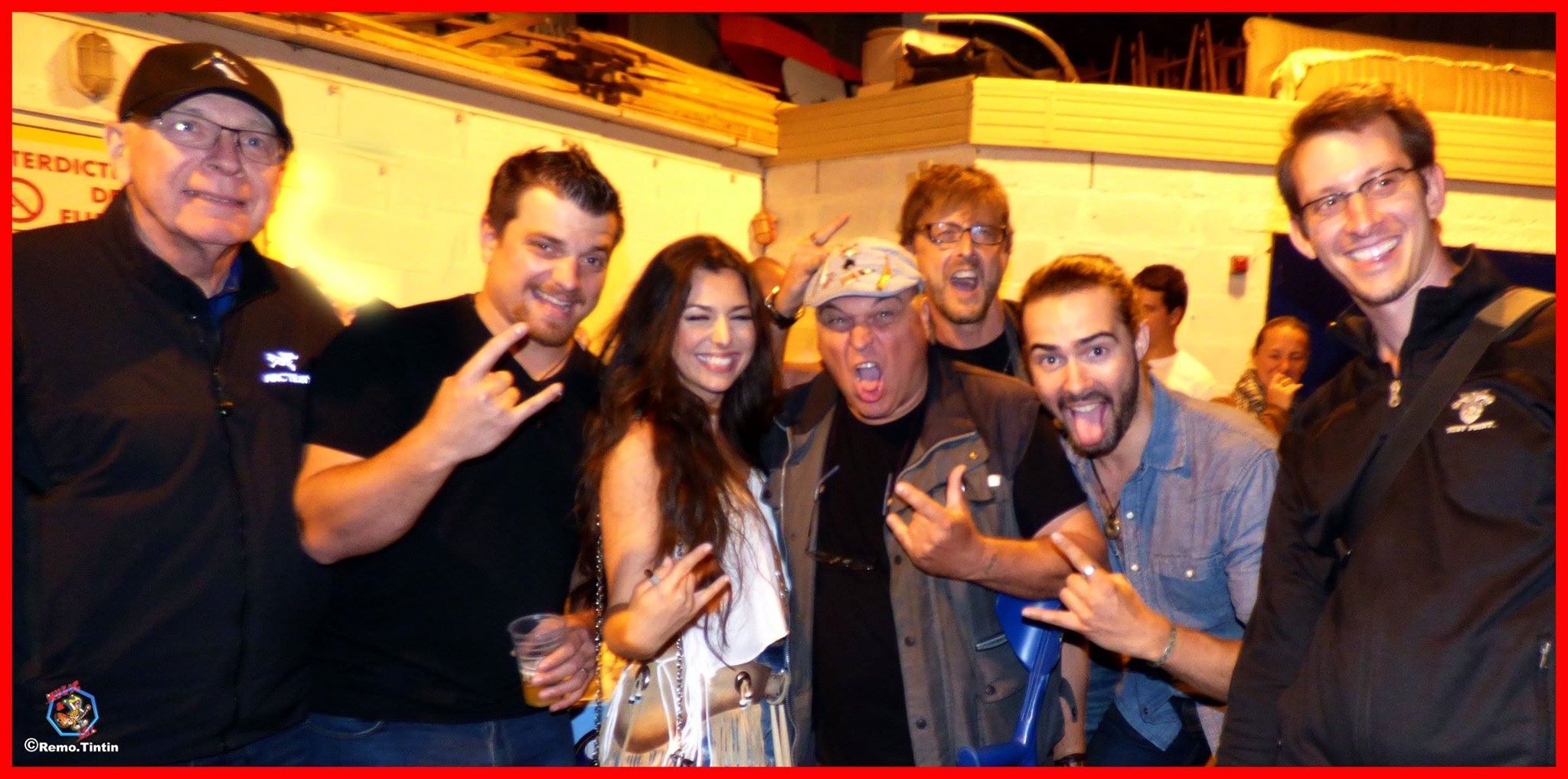 And I have to say…the French fans are incredibly warm and generous. Jessica was given so many gifts – photos books, DVDs of other performances we did in France, frame pictures with lovely sentiments written on them. It was clear they genuinely loved Jessica and the band…and visa versa. 
Once that was over, we once again went backstage for the after party, and it was quite the bash. Champagne flowed…and I mean FLOWED…bottle after bottle came out, there was never an empty glass, and all the VIPs and promoters were there were us carrying on, having a ton of laughs, acting completely silly…it was a ridiculous amount of fun.  Oh, and did I mention lots of champagne?
They also gave us all more gifts…special candy from the region, wine, beer and more. Their generosity and hospitality were overwhelming, and it was among the most fun times we've had on the tour. My face actually hurt from continually laughing. 
But at around 1 am, we had to leave as we have a long journey in the morning…driving from Cambrai to Calais, then ending our long stay in Europe (over a month!), getting on the Channel Tunnel train, taking us across the English Channel to the UK, followed by a nearly 10 hour trip north and west to our next destination.
We left for our trip on Sunday at around 10:30 am, and drove an hour-and-a-half until we reached the Channel Tunnel, which was a very interesting experience. Upon arrival, there were long lines of cars having their tickets checked (it's like buying an airline ticket, and about as expensive, for a vehicle).  And then there's UK border control.  Since we're a traveling band, we had work visas so we had to be pulled over to the side and go into an immigration office where they checked all of our papers, passports, and asked questions about the shows we're playing in the UK, how long we're staying, etc.
Once we cleared that, we drove to the loading area, and you drive your vehicles on to a train. Definitely an odd experience, but it was really cool. It was a quick 35 minute ride...and then we were in the UK!  And being in the UK, that meant driving on the left side of the road.  If you've been reading my blog, you know that Steve (who is driving our large van) just learned how to drive a stick shift here, and now he was suddenly faced with the extra task of navigating the roads, driving the "wrong way."  And I have to once again say...he nailed it.  He said he just had to think more about where to go when making turns, but he already seems like an old pro at this.  Great job, brother!
It was a long, nearly 6 hour drive to Liverpool, where we're staying for a couple of nights.  I had no idea what to expect of this city, as I had heard it had been a bit of a depressed industrial/shipping area.  Well, I was wrong, and very pleasantly surprised.  Liverpool is actually a vibrant, hip, young community, and we're staying in an area that reminds me a bit of Soho or the East Village in NYC.  Once we got settled in our hotel, we hit the streets for dinner, and although it was late on a Sunday night, all the bars and clubs in the area were rocking -- jamming with young, good looking crowds.  
We had dinner at an English pub with some great local draft beer, and the headed back to the hotel to pass out after our long day on the road.  We have a day off tomorrow, which some of us are going to spend doing all of the touristy Beatle things here in Liverpool.  I'm a huge Beatle fan, so for me this is a pilgrimage to the holy land...and I can't wait.