After a great day off in Liverpool on Monday, we awoke on Tuesday to a long travel day…a 5 hour drive north to head towards Glasgow. As we got further north in the U.K., the landscape suddenly changed to the rolling hills that might associate with Scotland. But as is typical for the weather here, it was colder, grey and rainy. 
But because Glasgow is a long drive, we broke up the trip and stayed the night in the small town of Wishaw. The hotel too was a tiny, and not at all guest-friendly in terms of policies and services. It also looked like what you'd expect a typical small Scottish town to be, but I have to be honest…it's really not my thing. Kind of decrepit, and all grey and brown. Here's a pic from my window…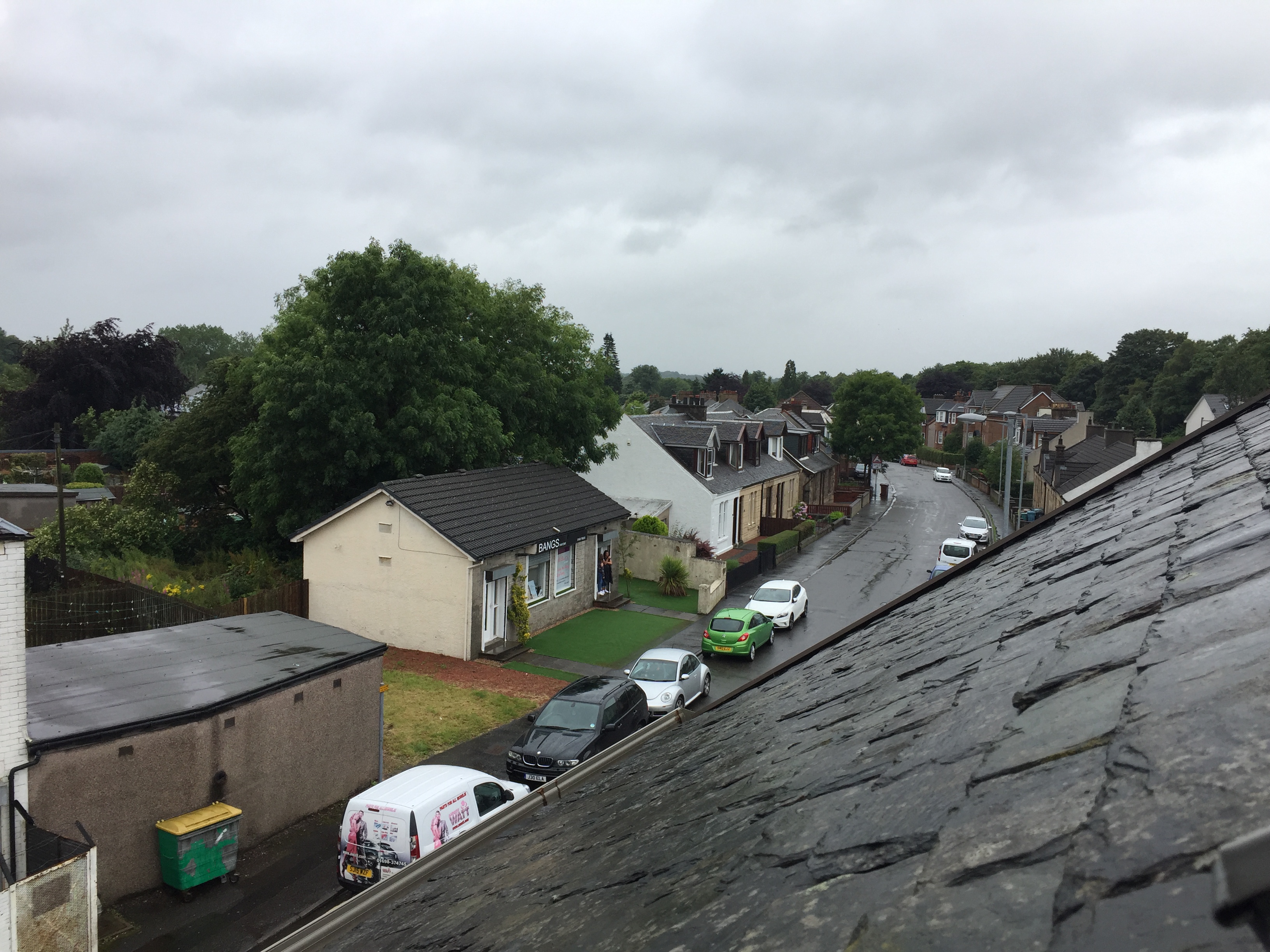 We did have a great dinner at a local hotel/golf course, but once it was Wednesday morning, I was very glad to be out of there and on the road. We made the rest of the trip that morning to Glasgow, checked into the hotel (another ridiculously tiny room. One thing I've noticed in Europe is that many chains pass closets off as hotel rooms…which is something we thankfully never see in the U.S.). 
Although we didn't get to spend any time there, Glasgow looks like a nice old city, with some modern touches here and there. We got the venue to sound check, and met the band members from Gasoline and Matches, the band that we're playing the next string of dates with here in the U.K. Besides being a great bunch of people (AND, they kindly let us use their entire backline for the 3 dates we're doing with them), they are also a terrific band. Great musicians, nice harmonies and really catchy tunes (I woke up with one of their songs in my head this morning). It's a pleasure to get to play with them night-after-night on this UK stint, and we truly could not have done it without them.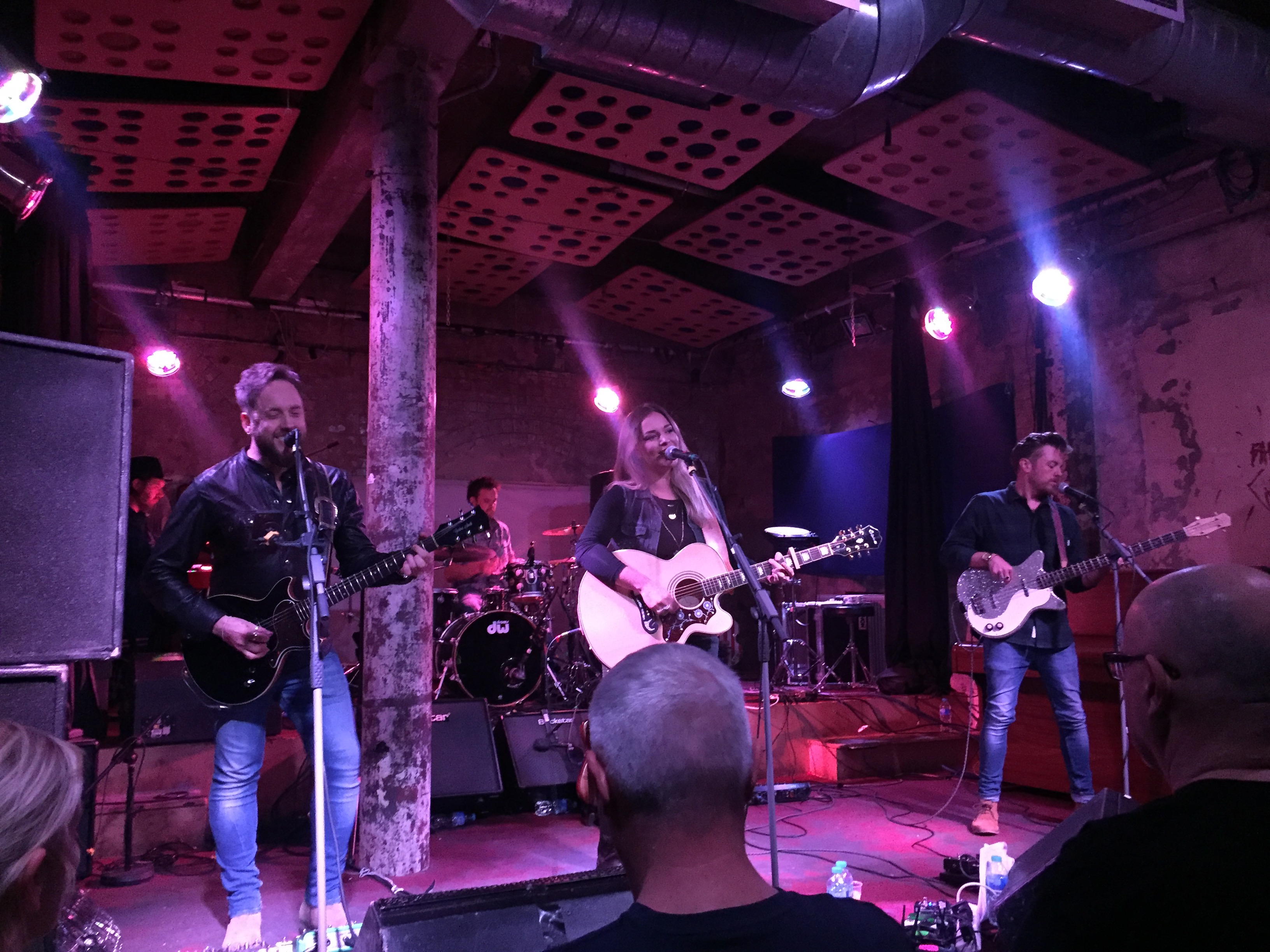 This was another club show, and surprisingly, it was one of the best audiences we've had on this tour. From the very first song, they were singing along and having a blast. The show felt more like a party than a concert, and all of us – bands and audience alike – had a great night. 
Thursday morning we hit the road again for another long drive to head back down south to Wolverhampton. Our show that night was at the Slade Rooms (named after the 70's U.K. glam band Slade, who are from the area). It's a well-known venue that hosts many touring acts, and it was a great room. David, our soundman for the night, did an awesome mix. 
After the show, Jessica did a radio interview in our dressing room with a DJ from a local station, and it's great to see more and more of these types of things happening. Both radio and the press are starting to pay attention, and the reaction has been excellent. Check out this piece that ran in a Glasgow newspaper…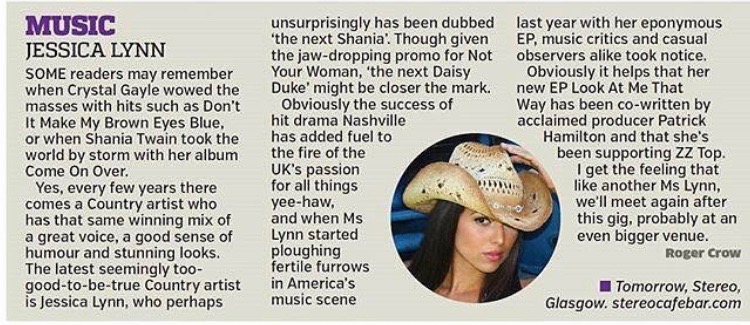 The crowd was a little more subdued at this show in Wolverhampton (and I can never figure out why some audiences go crazy and others are more reserved, when we are essentially doing a similar show each night), but it still was a solid performance. 
If you've seen us live, you might recall that we often end our set with a version of Johnny B. Goode where we trade instruments and solos…it's a lot of fun, and for tonight we asked our tour mates Gasoline and Matches to join us onstage for the tune. We're a big band to begin with, but tonight we now had 13 people on stage for this final tune…and it was a ridiculously good time! It was a great way to end the night. 
Friday morning, we're hitting the road already again, making the drive down to London where we all play together again at The Lexington Club. It's always been a bucket list item for me to do a show in London, which I have not done yet…so I'm really looking forward to this. Will write my next diary entry from there…