As it has been on many days during this tour, the Jessica Lynn Band started the day on Friday with breakfast at our hotel, packed the vehicles and hit the road toward London, where we were playing tonight. The drive was pretty uneventful, and took just a quick break at Starbucks at a rest stop to refuel ourselves. 
After a little while, we finally reached the outskirts of London, and I enjoyed watching the scenery from the window of the van. Each city we've visited has its own personality, and London revealed its own right away from the look of the buildings, the iconic "Underground" signs, and the phone booths. 
Our show was at a club called "The Lexington," which is just outside the heart of the city, and it was a very cool place. Downstairs, it looked like a pub, with lots of people hanging out seemingly having a great time. Upstairs, it's a concert venue that reminded Brian and I a bit of The Bowery Electric in NYC. 
We met up with our UK tour mates Gasoline & Matches and each did our sound checks, during which we rehearsed our final tune "Johnny B. Goode" together, just so we could tighten up the transitions and soloing order. We had so much fun doing that, I knew this was going to be another great show together. 
Before the show, Jessica did a lengthy interview in the dressing room for a new country music TV channel that's launching in the UK, and then it was showtime.  And I was right about the show...we had a great crowd, and it's interesting to see them drop their inhibitions as the set progresses. Yes, they were with us from the start, but by the time we hit our last couple of songs everyone was dancing, arms in the air, and having as much fun as we were. What's been really cool to see is that many people are now coming to our shows and singing along with a bunch of the songs…they've heard the single on the radio, or bought the EP. This kind of international recognition feels really good, I must say. 
During our song "Roadhouse" we each take solos, and we love interacting with the crowd while this is going on. When Steve took his guitar solo, he jumped off the stage and down into crowd. One female fan got so excited she threw her drink, ice and all, right in his face! I have no idea what she was thinking...I've never seen anything like it.  How he kept his composure and kept his solo going was beyond me…guess the man is just a true professional. (Good job, brother!) 
After the show we mingled with fans, and said a sad goodbye to our new friends in Gasoline & Matches. I watched some of their set again tonight, and the more I hear their songs, the more I love them. Please do yourself a favor and check them out…I'm super impressed with this crew, both musically and personally.  Here's a shot of all of us together...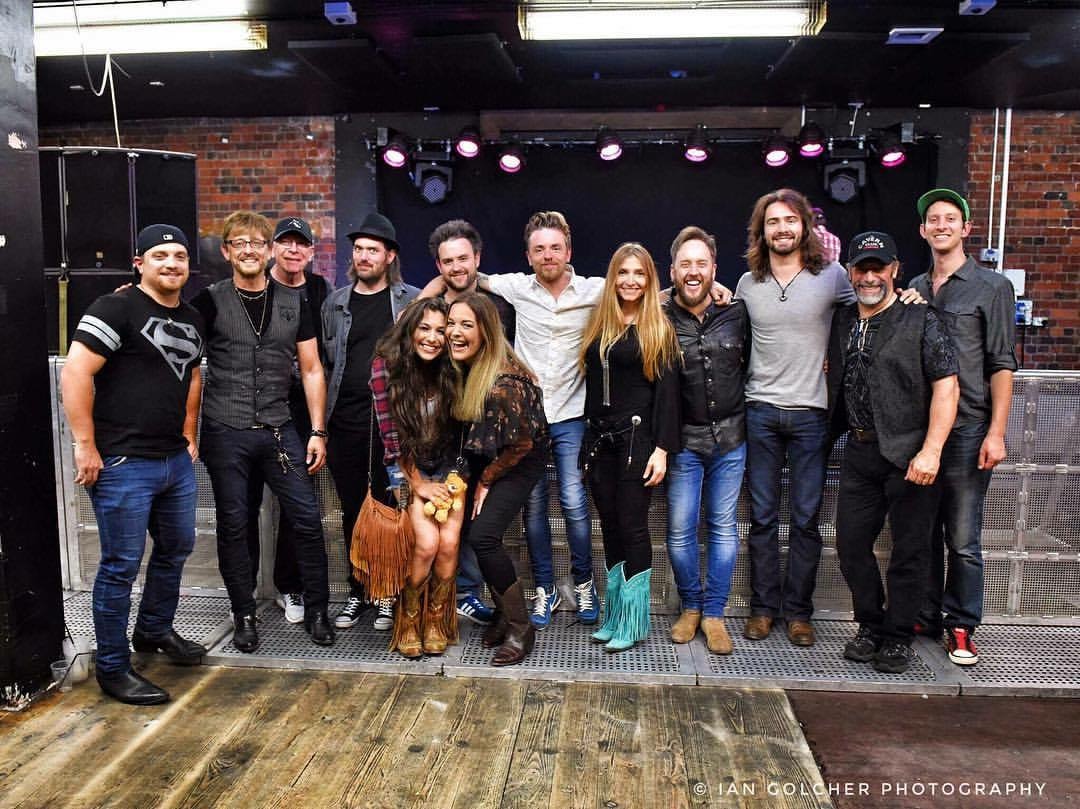 But then it was time to leave and drive to our hotel (we hadn't checked in yet, as we had to get right to The Lexington this afternoon). The route took us through the heart of London, and it was great to see Big Ben and much of the city during our journey. I wished we could have had some time to really explore the city, but I had to remind myself that a tour is not a vacation…so I'll just have to make a point to come back. 
When we arrived at our hotel, we found it was a lovely, old-school place on a golf course. But it's only a short night here, as we once again have to be on the road early to get to the big Ramblin Man Fair in Maidstone, where we're playing the "Outlaw Country Stage" (there are 4 stages at this festival) opening for Kenny Wayne Sheppard. 
I had never played a concert in London before, but have always wanted to…so today was a good day. Crossed something off my bucket list.  Next report from Ramblin Man...