It's our last full day in Italy, and also the day of our first show – playing the Voghera Country Festival. But before our musical duties took over, we had time for some fun, so we decided to go horseback riding here. 
Francesca and Lola (daughters of Carlo, the owner of Cowboy Guest Ranch where we're staying) are both accomplished at barrel riding and roping (see? Told you Western culture was big here), and they saddled us up and guided us on a nice trail that wove through local farmland. It was serene, very relaxing, and the perfect way to start the day. 
But the real reason we're all here – playing country music – brought us together in the afternoon, when we did our first sound check. Normally, these sound checks are pretty straightforward…everything gets plugged in, routed to everyone's individual floor monitor mixes or in-ears, we get the right sounds, we play a few songs as a test, and then we're ready for the show. 
So today, the first challenge was the extreme heat. It was probably around 100 degrees in the large airplane hanger-like building where the concerts are being held. So, we were sweating. And I mean SWEATING. Maybe this is TMI, but by the time we were done, my clothes felt like I jumped in a lake (and I wish I had). 
The other challenge, which is something we'll likely face at other stops on this tour, is the language barrier. Yes, we all use Google Translate on our phones, but that's too time consuming with all we have to communicate and accomplish in a defined period of time. Fortunately, one of the guys associated with the festival, Nick, speaks English well, so we found ourselves with an interpreter who was able to communicate with our monitor engineer. (Thanks, Nick!) 
Still, it took over 2 hours to dial everything in the right way, and when it was done we all retired to our rooms for a little rest. OH – except for Jessica and Brian, who once again did the workout thing. (I already felt I had sweated at least 5 pounds away). 
But after a light dinner, it was time for main event. Today is the first day of the festival, which has many vendors selling clothing, cowboy boots, hats, belts…almost anything remotely Western. And the large dance floor in front of the stage was taken over by groups of line dancers, which transformed the space into something that would have been right at home at a country music festival in Montana. Very cool. 
And at 10:30 pm. – showtime. I'd say it was a very good show…not perfect though, as we did have some monitor issues even after that long sound check. Things kept cutting out of my in-ear monitors, making it difficult to lock with some of the others at times. And Bob, our pedal steel player, was having some strange issues with his amp (it almost sounded like there was a chorus effect on it, but there wasn't).  But then again, we probably notice the little things more than the audience, because we got a great reaction from the crowd of Italian cowboys and cowgirls. Some even chatted me with me afterwards and told me that although they've been coming to this festival for years (this was the 10th anniversary), ours was the best show they've ever seen here. 
As always after the show, Jessica was out at the merch table meeting fans, taking photos with them, and signing autographs. An interesting twist that we didn't anticipate is that we don't know how to properly spell a lot of foreign names…so each person had to first write their name down on a piece of paper, so Jessica could properly sign their CDs for them. Just one more thing you learn on an international tour. 
But then of course, there's the #afterparty! The drinks flowed while we hung out with our new Italian friends, winding up sitting outside having hamburgers, hotdogs, fries and corn-on-the-cob at around 2 am. (I'm going to have to watch this diet so I don't blow up). It was 4 am before some of us got to sleep, and I'm not gonna lie…I definitely have a headache the next morning as I write this. But it's nothing that a little Advil and a lot of water can't fix. 
Day 4 is a travel day, as we fly to Paris and then drive to Caudry, where we play the next day. So…goodbye Italy, and "Ciao" to all our new friends – Gio, Ellie, Carlo, Stefano, and everyone at the Voghera Country Festival.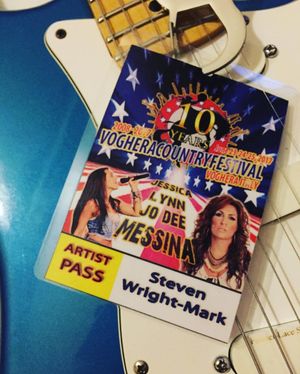 Next post will come from France. Till then…