After last night's show in Caudry, we were already up relatively early and got on the road at 9:30 am to start the drive to our next stop - Amsterdam. First part of the trip was very scenic, winding through little towns, and then we hit the highways that brought us out of France, through Belgium, and finally into Holland. 
As we entered the country, it had a personality all its own that we hadn't seen so far in Europe. There were authentic old-fashioned windmills, rows of little houses facing the canals, and people bicycling everywhere.   We found our hotel (via some "restricted access" unpaved road…I should mention that GPS here takes you to some odd places here), and it's a beautiful spot. The rooms are more like duplex loft suites, and there's a zoo and aviary on the grounds (which we get to visit as guests of the hotel). 
When we checked in around 2 pm we were all starving, so we went to the restaurant that's part of the hotel.  It's situated right outside the aviary in a beautiful setting, and unlike the heat we had in Italy, it's been very nice out, so we sat outside and had a great lunch – the food was excellent. We'll certainly be back.
But after that, we had to get ready to get to the show, and within an hour of leaving lunch we were "show ready," and driving into Amsterdam proper (our hotel is around a half-hour away in the neighboring town of Alphen Aan Den Rijn).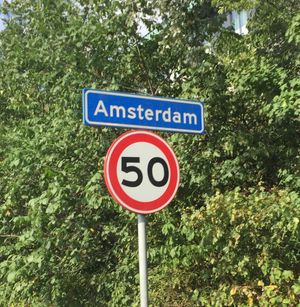 Now, please let me digress for a minute…I'm a born-and-bred New Yorker. I've grown up among crowds on busy city streets, and I even learned to drive (and took my road test) in New York City. I've also driven countless times among crazy LA drivers. But nothing, and I mean nothing, could have prepared me for what I saw when driving there today...not even Wilma Riedel (wife of pedal steel player Bob Riedel, and on tour with us handling the merch sales), who is Dutch, who tried to tell me what it's like. 
Fortunately, I was not behind the wheel…that thankless task was left to Steve and Peter. I don't really know how Peter handled it, but in Steve's car I can tell you that I thought we were all either going to die or kill someone. Why? 
First – as I mentioned earlier, the streets are so confusing here that they even confuse GPS. At one point, it had us DRIVING ON THE TROLLEY TRACKS, praying that we weren't going to get hit by one…but we had to continue driving on them until we hit an opening in the road (we couldn't jump a curb). 
Then, GPS told us that we had arrived and "your destination is on the left." What was actually on the left was a canal. Nope, that's not the club, sorry! 
But the real danger? The bicyclists that Wilma tried to warn us about. Yeah, I see and deal with them on NYC streets, but we arrived in Amsterdam during afternoon rush hour, and they were like swarms of bees coming at you from every direction…and they always have the right of way.  It's almost impossible to anticipate where they are going to come from, and where they are going to go.  And the sheer number of bicyclists was astounding.
And in the midst of all this, there are those trollies. At one point, our GPS was telling us to make a left turn….but there were endless streams of bikes blocking that turn, and a trolley heading right for us. And when we actually got to make that turn, GPS had us heading the wrong way down a one-way street.  We all agreed that it's unbelievable that people aren't regularly injured or killed.  Seemed like a highly-dangerous system of transportation.
But we FINALLY made it  and found a parking spot a few blocks away from the venue, which is in the middle of the busy tourist district, and impossible to drive through. So we dragged our guitars, pedal boards and such through the crowded and narrow streets that were lined with cool little restaurants, cafes, shops and music venues.  It was a very cool scene.
Here's Brian, Matt and I when we finally got out of the car alive..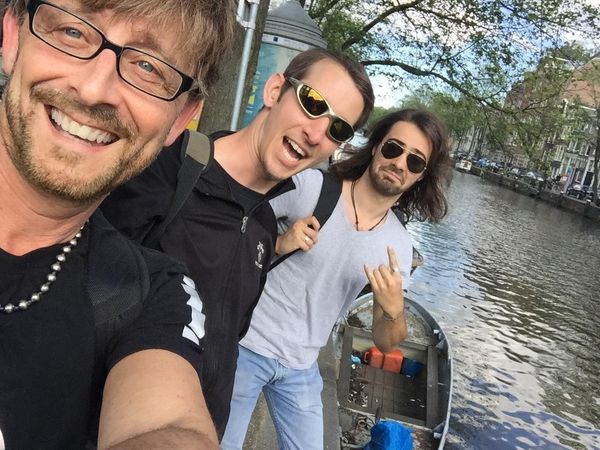 We found our way to The Watering Hole, where we were playing tonight. The place is not unlike numerous rock clubs I've played over the years….a long bar to the left, pool tables in the back, and a room to the side with a stage (one that was a little too tight a fit for an 8-piece band). 
But we squeezed in there, did a quick sound check, and after dinner upstairs we were ready for our 9:15 show. At first, after playing large stages at festivals so far on this tour, this club show in front of a smaller group of people who were essentially out to party, made it feel a little strange.  At first I felt a little disconnected with the audience, but at some point the whole thing just "clicked" - and we were all on the same wavelength. 
By the way – here's a disclaimer…The views expressed on this blog are mine alone, and are my own observations and feelings. The others on this tour might give you a totally different take on how a show went. Or how messed up the driving situation is here in Amsterdam (sorry, Wilma! LOL). We do perceive things differently at times. Good luck getting 9 people to agree all the time!
But anyway – by the time we got to the last few songs of the set, people were singing along loudly, dancing, and having a blast. So were we...another successful show. After we packed up, chatted with everyone, and had a few drinks, we grabbed our gear and walked back to the cars.  All the places near the club were rocking, with people spilling into the street and seemingly having a great time...late on a Monday night.
But as we walked further from the club and closer to where we were parked, those very same streets that were spilling over with bikes and cars in the afternoon, were suddenly quiet, peaceful.  As we walked along a canal, with the lights from the homes that line the canal glistening in the water…it felt incredibly serene. A far cry from the madness of this afternoon.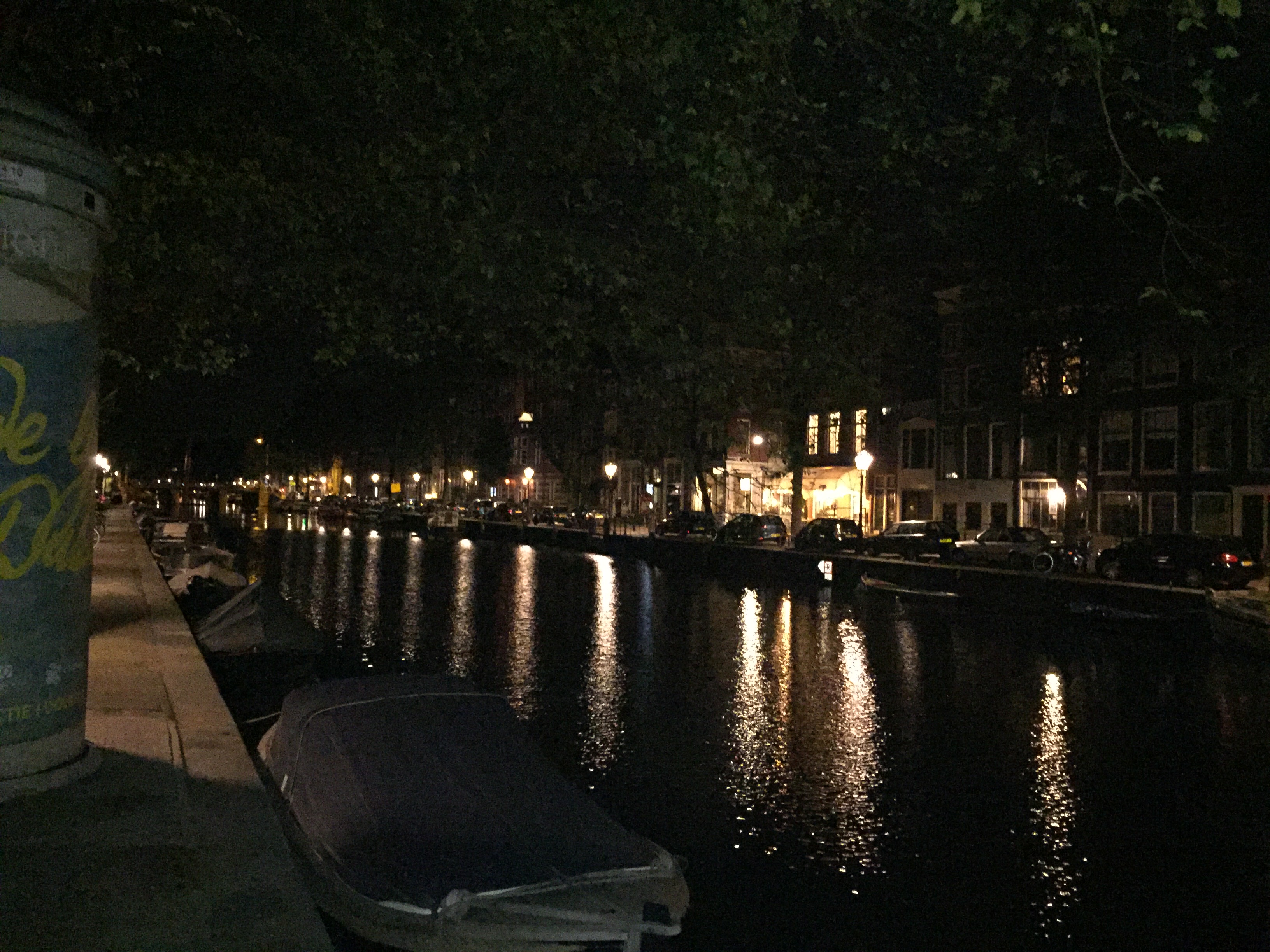 And it was then that it hit me…Amsterdam is an incredible place.  It has an energy, beauty, honesty and personality all its own. And as we have 3 days off in this area, I look forward to exploring it, and getting to know it a little better.
Wilma is going to take us to a couple of places she knows we'll enjoy, but other than that, the next couple of days are a blank slate.  If you've been here and think there's something that we should see or do, please let me know in the comments below!