Week 3 of our tour continues! We awoke Saturday morning to have a delicious homemade breakfast at the Rumpelstilczhen guesthouse, sitting under a canopy right on the edge of the farm. A perfect way to start the day.  
We then made the drive from there to our new hotel - The Kleber Post Romantik in Bad Sangau, which is much more to my liking.  After the industrial wasteland of Neu-Ulm, and the bare-bones stay last night (though charming), I finally feel like I'm a "real" hotel again (but still, the rooms are hot boxes). Very modern design (with Philippe Stark lamps and Panton chairs), which I love. 
After checking in, at 1:30 in the afternoon we were picked up in a couple of brain new Mercedes vans, and ushered to the site. As we got closer, it was impossible to drive directly in to the festival grounds, because of the throngs of bikers riding through the streets. At a biker fest, those who are riding definitely have priority, as it should be. So we parked a couple of blocks away and walked in with our guitars. We went to the stage, got our backline gear sorted out set up, and wired everything up. Sound check went off without a hitch, and then we had some time before our show at 6 pm. 
So we walked around, bought more cool stuff, and started our show about a half hour later than we should have, because it had been raining once again...and raining hard.  Seems we've had some bad luck with weather on this tour. But it all stopped just in time for our new delayed start time, and I have to say…this was an awesome crowd. I thought this was an excellent show, and by the end we had the entire audience dancing, cheering, and having as much fun as we were having.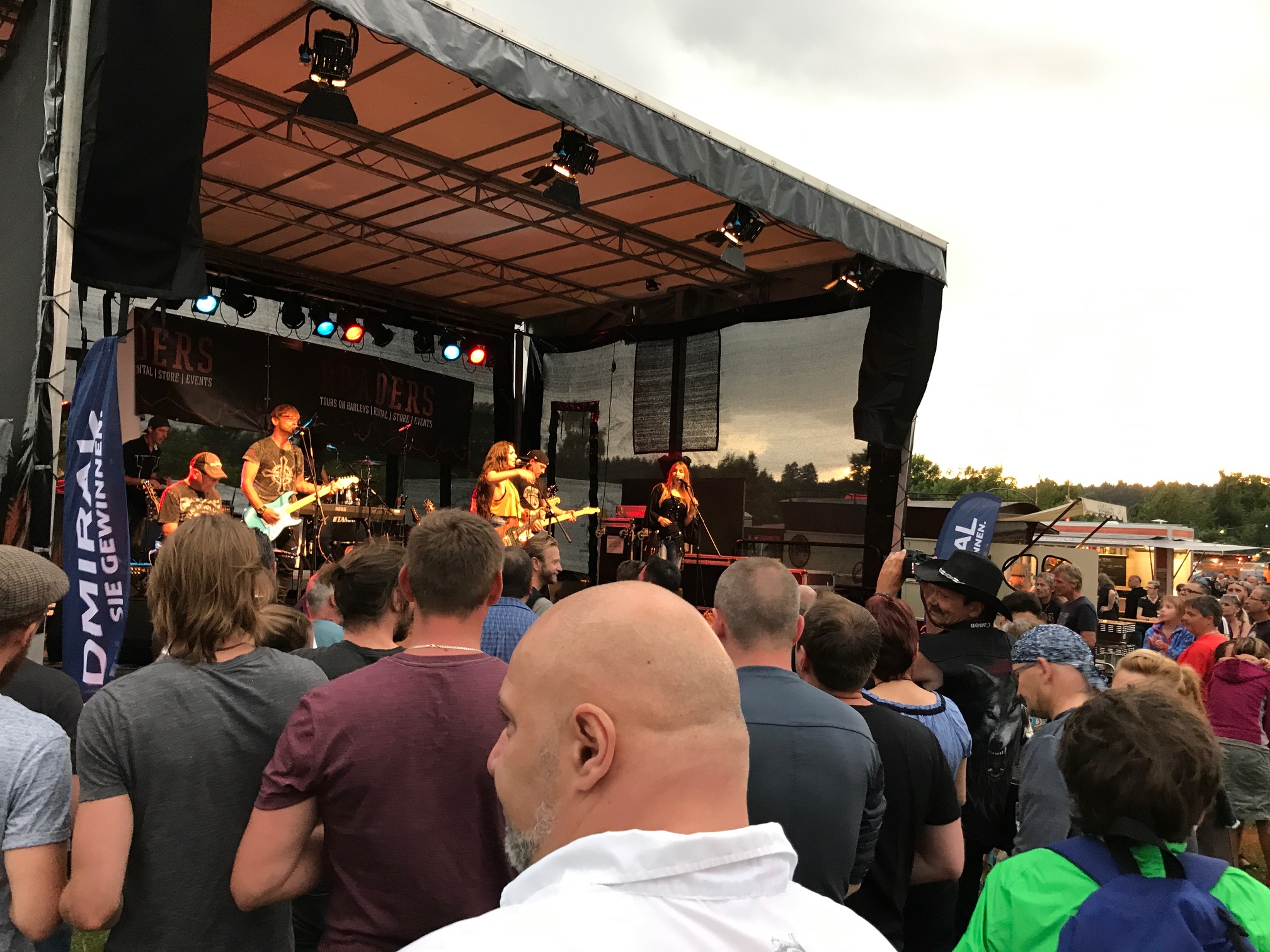 But two songs before the end of our set, the show organizers came onstage to tell us that their weather radar showed a huge storm blowing in, and that we had to cut our set short for safety reasons. We manage to do those two more songs, and even squeezed in an encore because the audience was screaming for one…and who are we to say "no?" We can handle a little bad weather!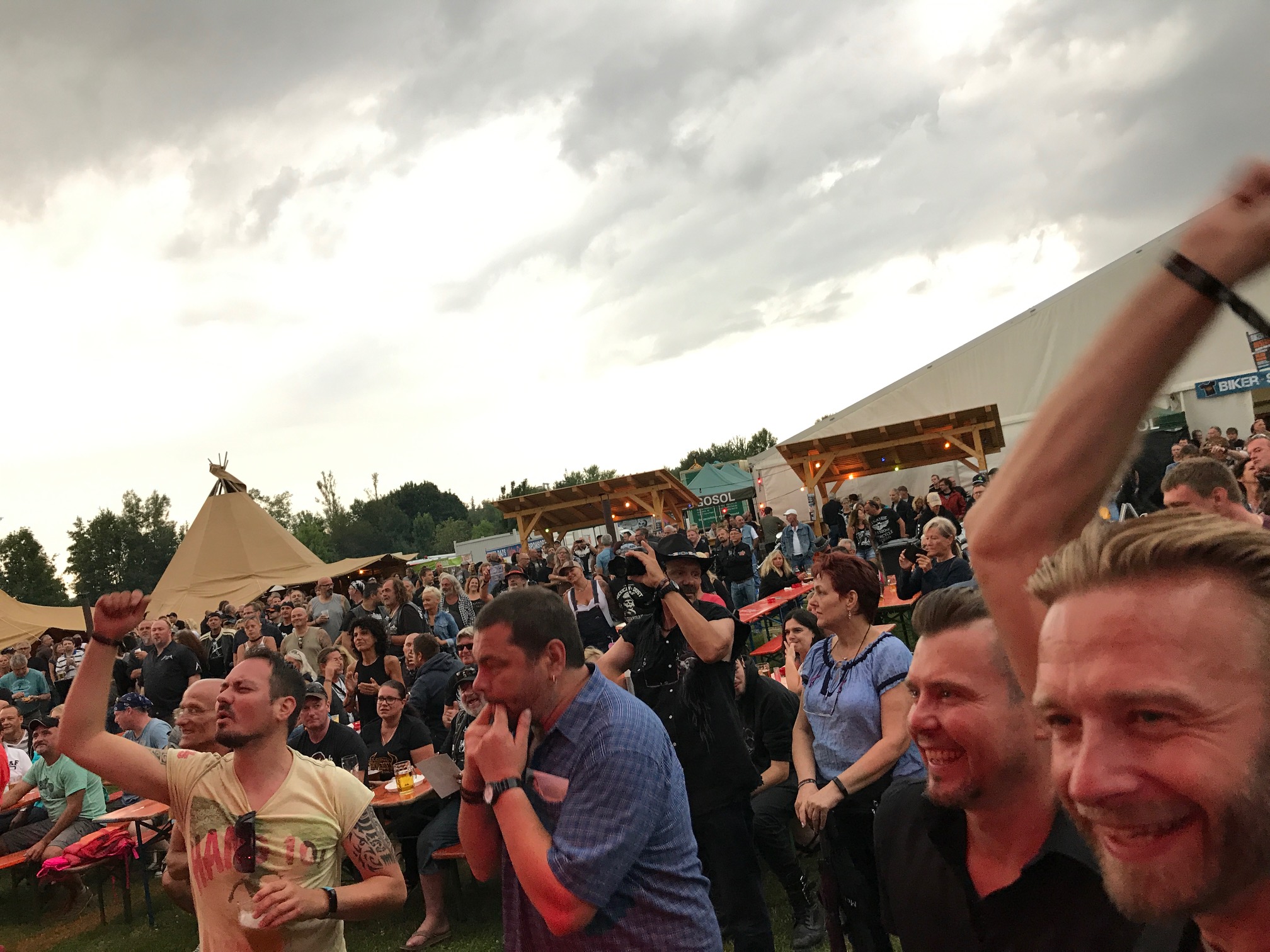 But as soon as we were done…BANG! The heavens opened up, and everyone scattered into the large festival tent where other bands were going to be playing later. We found our way to the same lakeside restaurant where we ate lunch yesterday, and by the time we were seated on the outdoor deck, that storm passed, and clearing skies presented us with a beautiful rainbow over the lake.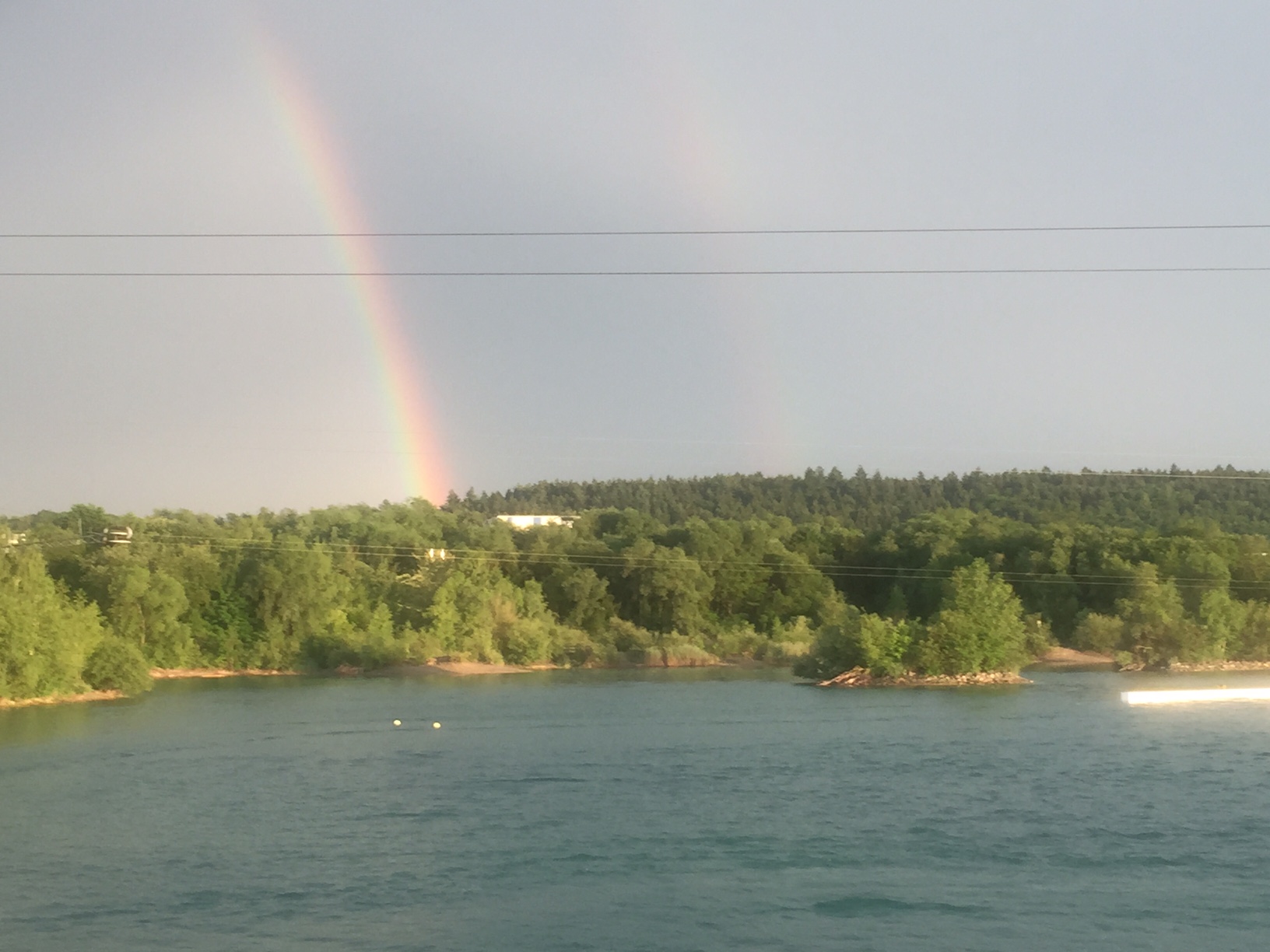 After dinner we went back to join the festival crowd, and took in an awesome 80's cover band in the tent (which is the perfect entertainment for this crowd. They sang along with every song and treated this band like the rock stars they were emulating). It was quite the party - what a great vibe in there. We had a few good German beers (what else would you expect at a biker festival in Germany?), and first got back to the hotel pretty late. 
We awoke on Sunday to the most incredible buffet breakfast we've had on this tour yet. Like I said – I LOVE this hotel. And before too long we were back in the vans heading to the site for day 2 of the festival. 
In contrast to the mobs of bikers yesterday, today was decidedly more family oriented, which gave the festival a very different feel. I thought we did a good show, but because of the different crowd it was definitely more subdued. But we still managed to raise a little hell when we were joined onstage for a couple of tunes by our new friend (and fellow Biker Fest performer) Ski King, and that was a blast.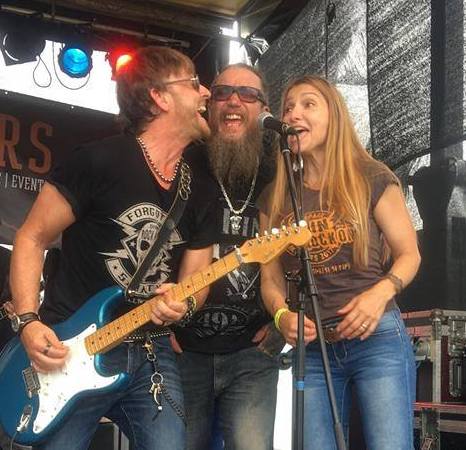 And here were are together after our show...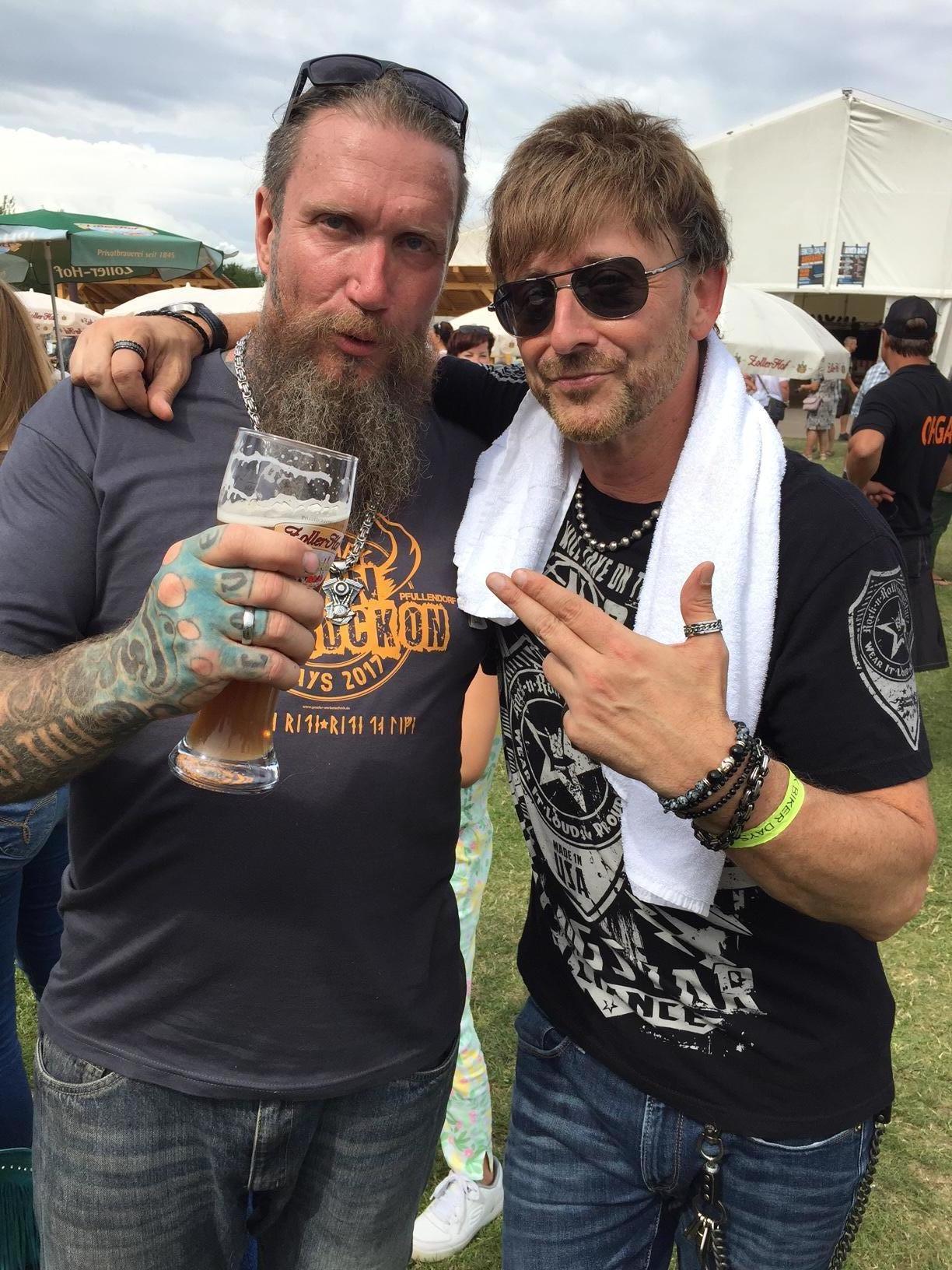 We all had dinner together again, with Ski King, at our favorite new waterfront restaurant, and by the time we were done and walked back to the festival site, we found that everything was being torn down. I always find it slightly sad when you see an event getting taken apart, but all good things must come to an end, I suppose. We met SO many cool people here – too many to mention by name – and we had an amazing time with everyone from the organizers and their families, to the fans and the vendors. 
But it was time to say "goodbye," and so we did, but not before taking a group pic with the guys who ran the event - Henrik, Helgi, Thomas, Robin and Axel - before we were driven back to our hotel...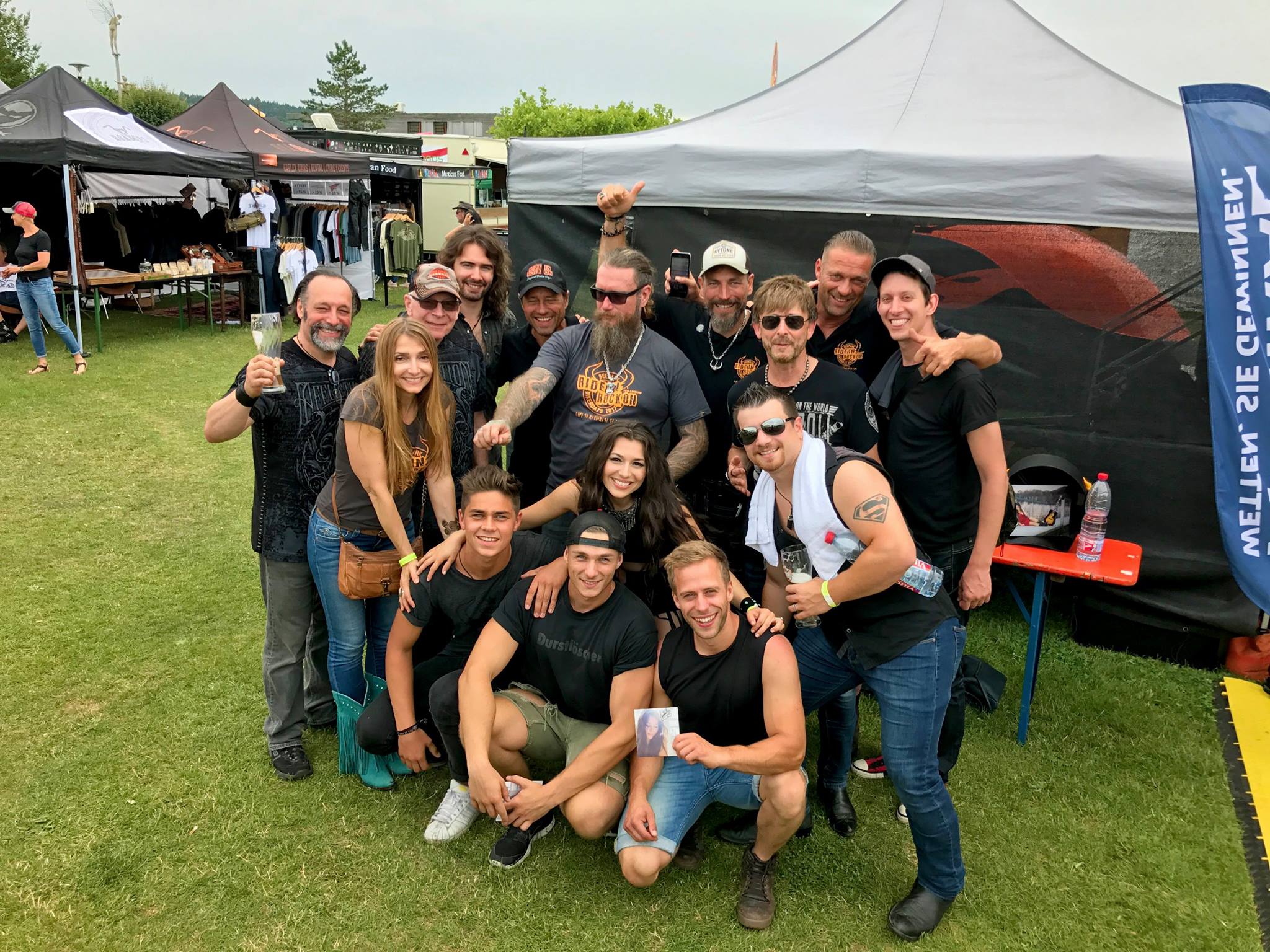 Once we got back, some of us spent a relaxing couple of hours in the spa on the hotel rooftop, in the sauna and hot tub. Not a bad way to end the day.  But just as I thought we were calling it a night, Matt discovered that we could watch Eurotrip online (which is something we've been meaning to do, since we're covering so much of the same ground on this tour).  Yeah, it's a pretty stupid movie, but that's the point.  So we hooked my laptop to the TV, and Jessica, Steve, Matt and I stayed up late watching it my room, and we laughed our asses off. "Mi scuzzi!"
In the morning, we will have to bid a sad "auf wiedersehen" to Germany, as we start the long drive over a few days to the south of France, for shows next weekend. Europtrip!