I'm once again putting a few days in a single diary entry, and which is a mix of the mundane, with an unexpected and exciting twist at the end. But to begin, as you've probably noticed if you've been reading my posts, much of touring is time spent simply traveling, which is nothing more than long hours sitting in a vehicle. And that's how we spent the last couple of days here in France. 
We left Evian-les-Bains on Wednesday morning, and began the long drive to the south of France. The drive itself was quite beautiful and constantly changing. As we left Evian, we had spectacular lake and mountain views that looked distinctly European. As we got a little farther south, we were surprised that it looked almost exactly like the southwest of the United States…large, rocky formations on the mountains…even with an old castle perched on top every now and then…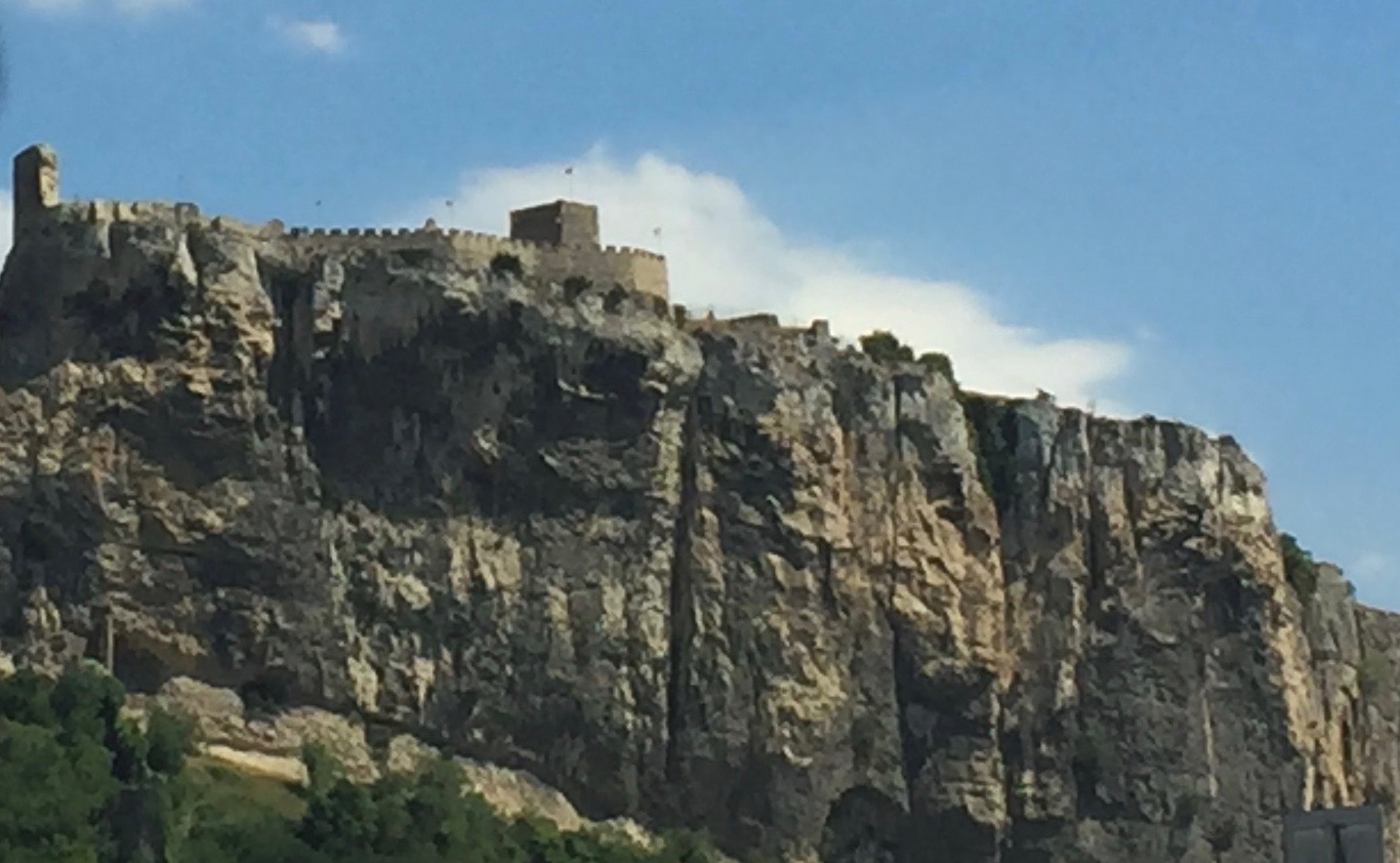 And as we got even further south, it started looking like desert territory - could have been Arizona -  which was something I did not at all expect in France. It took us around 6 hours to reach our destination, just outside of Montpellier. Our hotel was probably the strangest yet – and the smallest yet. We could barely fit our large suitcases and guitars in our rooms and still have room to walk around the beds (Brian smartly started walking on and over the bed to get around).  At one point we had 6 people in one room and it looked like that famous scene from a Marx Brothers movie. But, we were only staying for one night, so we made the best of it. 
We left around noon on Thursday, and had intended to take a little side trip to the Mediterranean Sea, which we discovered was only about a 20 minute drive. It was quite hot, so we thought it would be a perfect place to spend an hour and grab lunch. However, we had some major issues with the GPS in both vehicles right near our hotel location. Something was jamming the signal, and we could not find our way (GPS had no idea where we were).  We quickly discovered we were not heading to the beach, and instead, were heading to our next destination, so we just continued the trip, and unfortunately, never made it to the beach. But the drive was also incredibly scenic, with more castles and old churches on our route, along with the most beautiful large fields of sunflowers…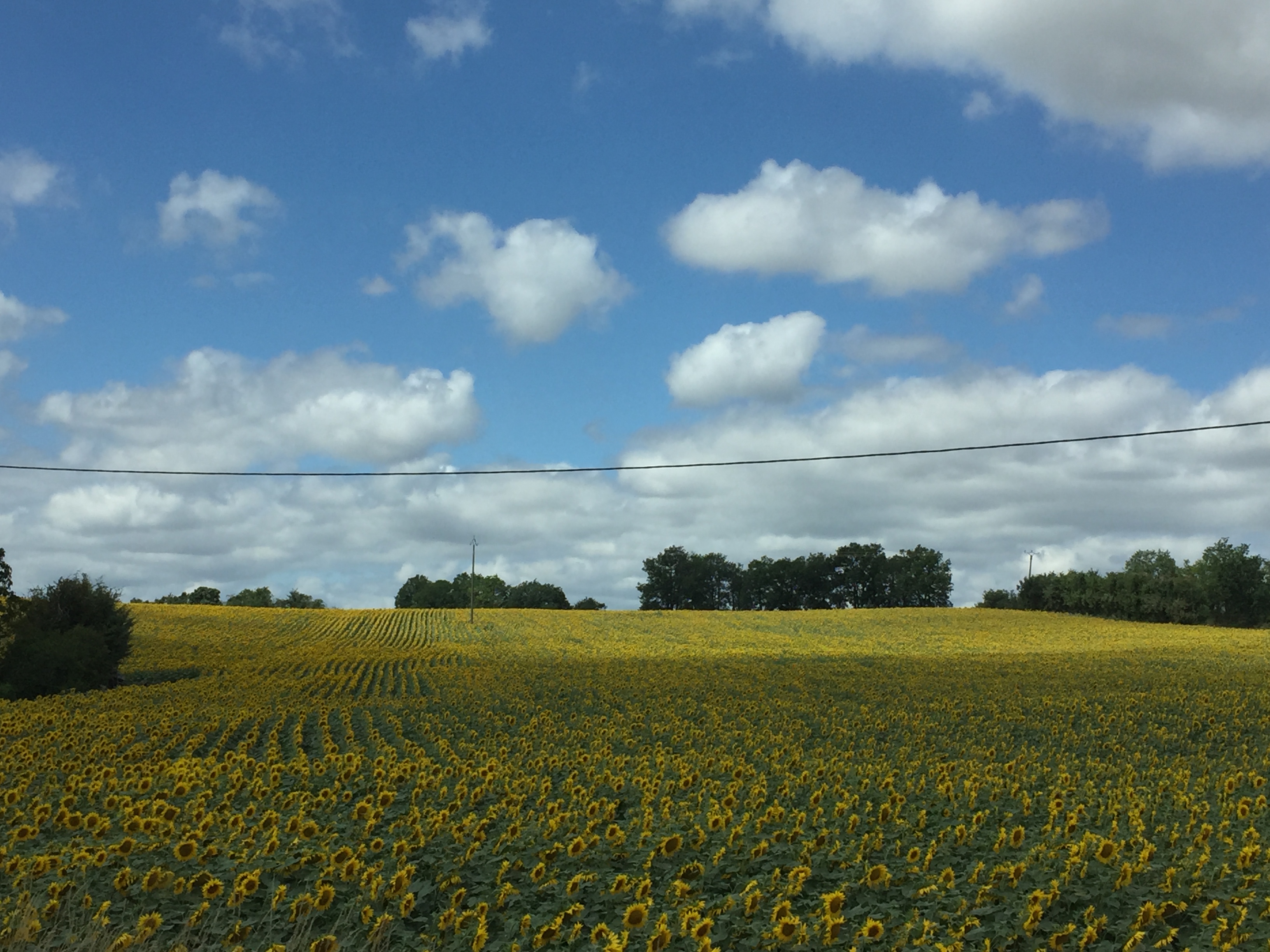 We spent almost 4 hours making the trip, and finally arrived in Auch, France, where we're spending 3 nights. After we checked in to our hotel, we wanted to get something to eat (we were starving and had only had breakfast, since we didn't make it to lunch on the Mediterranean). So we drove into town, which is another pretty little French village. We found a brasserie with an outdoor area that looked nice, so we sat down, ordered some drinks, and then asked for the menu. 
But...we were told that they weren't serving food that day! It seems businesses are run very differently here, and couldn't imagine that a restaurant would not serve food on certain days. But our waiter was a nice guy, and through broken English, broken French, and the help of Google Translate (which has become indispensible on the trip), he suggested a place that had authentic regional cuisine in a beautiful outdoor setting, about 10 minutes away. He called and made a reservation for us. 
We piled back in the car, and had the hardest time finding this place (again, our GPS had us at the destination in the wrong location). But we finally found it, and at 6 pm, after not eating all day, we walked into this very unique spot. It looked like the backyard at a chateau, with a swimming pool, different seating areas, and a very cool vibe. We sat at our table, and the waiter asked us what we wanted to drink. Yes, we wanted to order drinks, but we were starving and asked for the menu. Guess what? He told us that they don't serve dinner until 8 pm. Two hours away. Soooo…once again, we got up and decided to just head back to our hotel, where the restaurant opened at 7 pm. 
We made a brief stop at the grocery store on the way back, and I should mention just how inexpensive everything is here. I bought some snacks (nuts, chips, fruit), a six-pack of bottled water, and two bottles of French wine, for a total of $15. That's less than a single bottle of that wine would have cost in the U.S. But after all this struggle simply to get a meal, we were finally dining outdoors on a nice patio at the hotel, eating freshly grilled steaks, fish, salads, veggies…all fresh and delicious. After a couple of hours, we all retired to our rooms, finally satisfied. 
On Friday, we had a good fresh breakfast at the hotel, and all did our own stuff again – working, guitar maintenance, etc. It was a pretty quiet day until I received an email from GrassRoots Promotions, the radio promo organization that's helping us get Jessica's new single, "Crazy Idea," played on country stations in the US. 
I opened the email, and there was the "Play MPE" chart, which lists the most downloaded and streamed singles for the week…and "Crazy Idea" entered the download chart at #9!  We're up there with names like Darius Rucker, Blake Shelton, Chris Stapleton, and Dierks Bentley, and ABOVE others like Dan & Shay, Kenny Chesney, Gretchen Wilson and Kelsea Ballerini (can't see those names because they're below the Top 10 in the screen grab of the chart). Check it out!...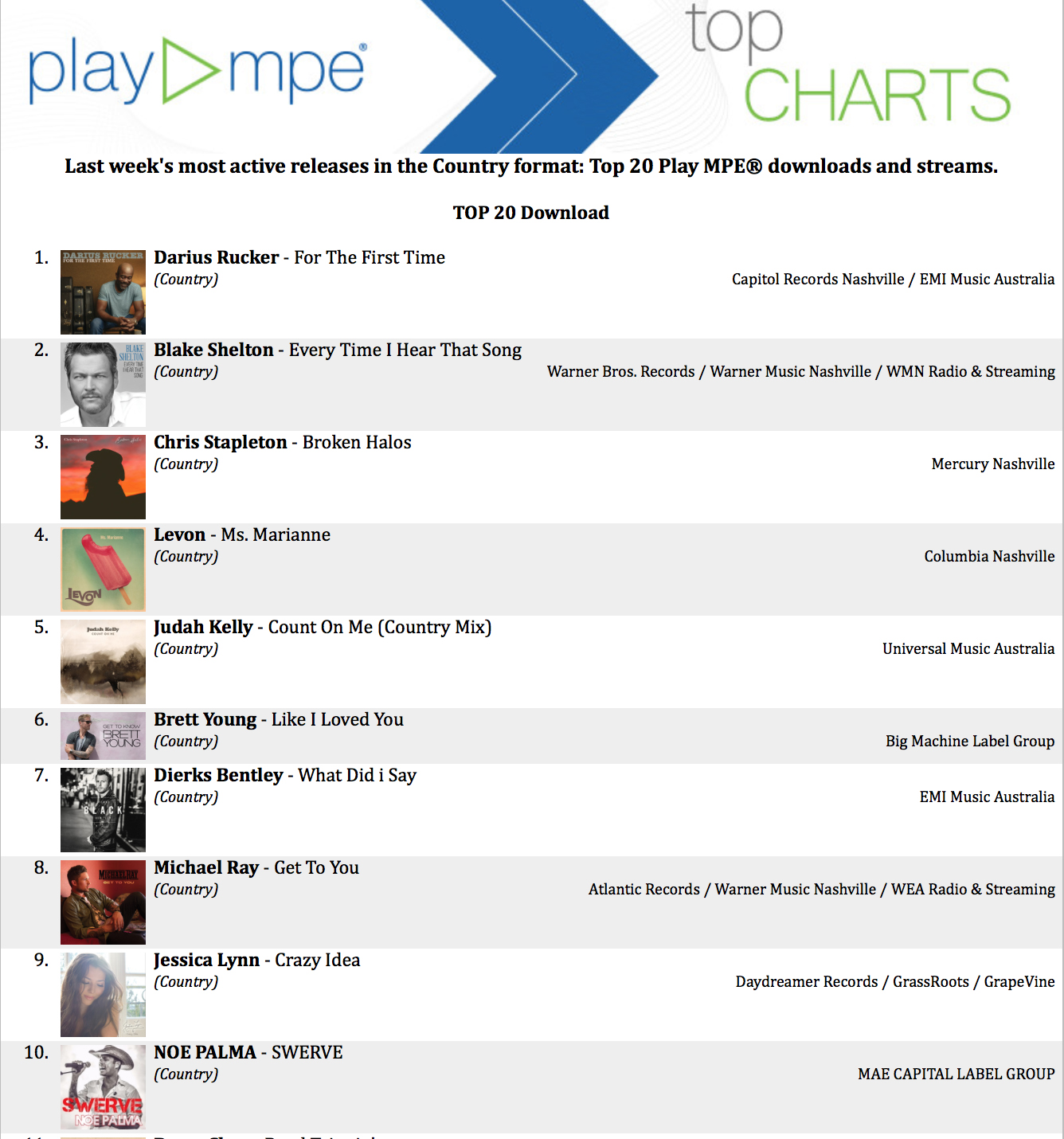 AND, we hit #7 on the streaming charts...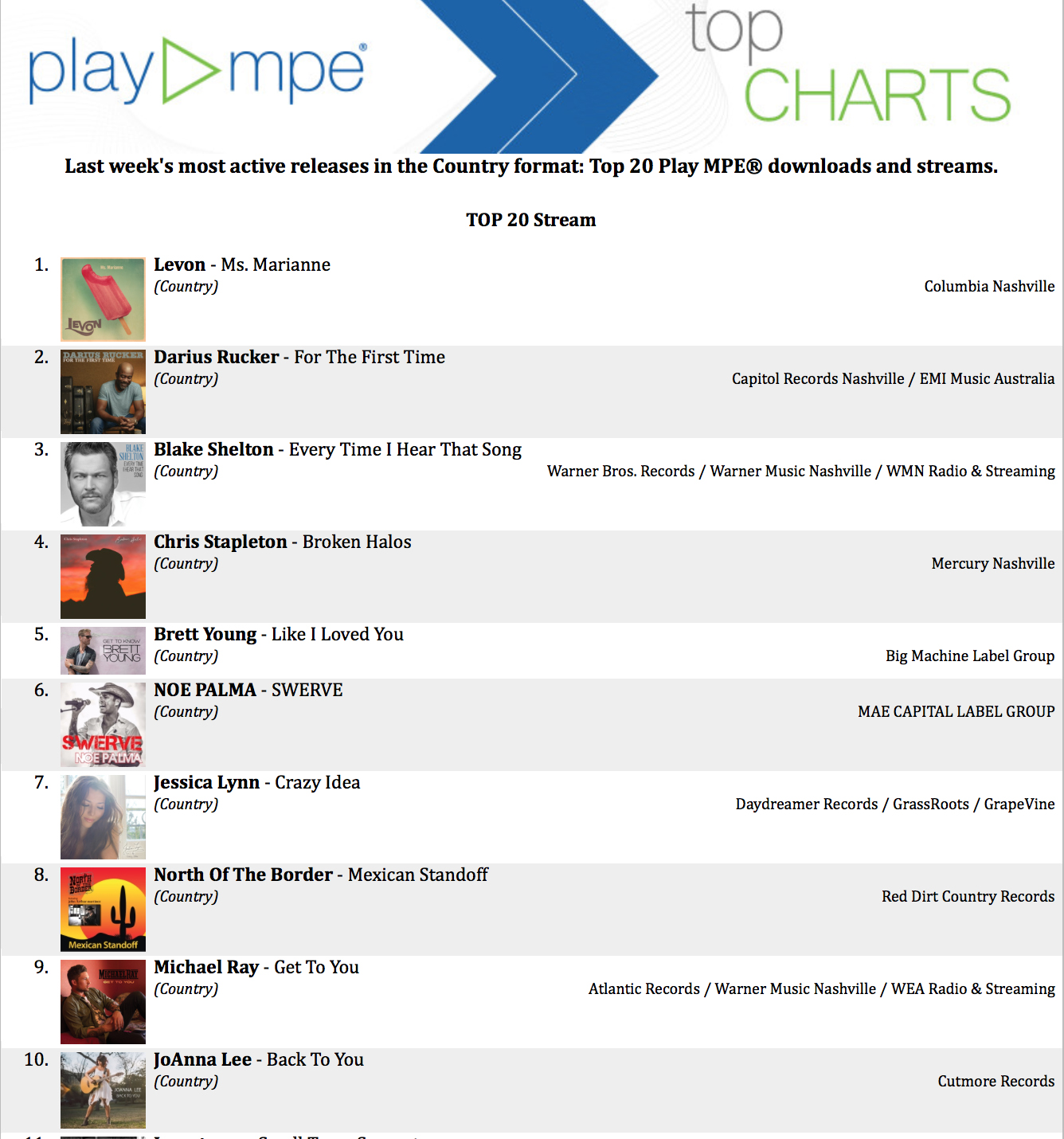 I went around knocking on everyone's doors, and we were all outside our rooms in happy disbelief. Even cooler, Jessica is the only artist in the Top 10 on that list who is not on a major label…the only indie artist. Needless to stay, we're pretty damn stoked and excited for what may lie ahead. 
(BTW – I've been keeping my blog relatively "commercial free" – but if you haven't done so yet, please check the single out and download it on iTunes, play it on Spotify, and also, if you'd be so kind, please call your local country radio station to request it!). 
So after this great news, we gathered for a bit of a celebratory dinner, and after a walk into the countryside afterwards, went back to our rooms to get some sleep.  Because staring tomorrow, we have a big weekend of shows ahead, playing the Mirande Country Festival on Saturday, and then opening for ZZ Top at the Arena du Hainaut in Valenciennes, France.
Reports to come soon…