After last night's show at the Mirande Country Festival, 5:15 am came way too quickly. But that was when the alarm went off on my iPhone, signaling the start of a very long, but quite exciting day. We gathered in the parking lot of our hotel at 5:45 am to load all of our luggage and instruments (which is a considerable amount for 9 people on the road for nearly 2 months), and made the 45-minute drive to Toulouse Airport in France. 
Once we got there, we returned our rented vehicles, and then checked in to our flight to Paris. Unlike the horrible experiences we had with prior flights on this tour (because of the misery inflicted upon us by Alitalia), we were pleasantly surprised that our new airline, Air France, rewarded us with a hassle-free and terrific experience. In contrast to Alitalia, who I never care to fly again, Air France was truly a pleasure. 
We arrived in Paris on time, and after a little difficulty finding the drivers who were dispatched to bring us to our hotel (Charles de Gaulle airport is a huge place, and it wasn't easy to connect), we were on the road for a nearly 2 hour drive to get to our hotel near where were playing tonight with ZZ Top. 
And about our new hotel…I had mentioned that a recent hotel was one of the smallest I had ever seen. Well, this one brought "small" to a new level of absurdity. I'm rather surprised at what's considered to be acceptable accommodations in some places here, but it really wasn't a big deal because we were only here for one night. 
We had around 2 hours to shower and get ourselves together for the show, and then were picked up around 5:30 and driven to the festival site, which was very different than what we first expected. 
When we first learned that we were going to play the "Arena de Hainaut" with ZZ Top, we assumed it was in an arena like Madison Square Garden. But when taking a look at the venue online, I discovered that the "arena" is actually a large exhibition center, like the Javits Center in NYC. So, I thought we'd be playing indoors in an airplane hanger-styled environment. 
But as we were communicating with the production team a couple of days prior to the event, we learned that this was actually another outdoor music festival, taking place in the venue's parking lot. So when we arrived, we saw the huge stage they erected, and the mobs of people who had been there all day to see 6 other bands that had played throughout the day. 
We were driven around to the back of the building, and brought indoors to the makeshift dressing rooms constructed from tents, and were reunited with some friends we've made at other events here in France. We hung around a bit, and got ourselves ready to do our set as the last band to play before ZZ Top. 
At 7, we were able to quickly have our gear set up on stage. Fortunately, every promoter on this tour is providing us with backline (which means that the larger items we can't take on planes – drums, amps, keyboards – are rented for us in each place), so we just had to get our guitars and pedal boards out, test it all out, get a quick monitor sound check…and by 7:30 we were ready to go. 
Although we had been scheduled to play a 40-minute set, everything had been running a bit early here (almost unheard of at a festival), so the organizers told us we could play a bit longer if wanted. Um…YES, of course we would! So we had a quick conversation about what 2 songs to add, and after a brief introduction by the festival's emcee, we were off to the races.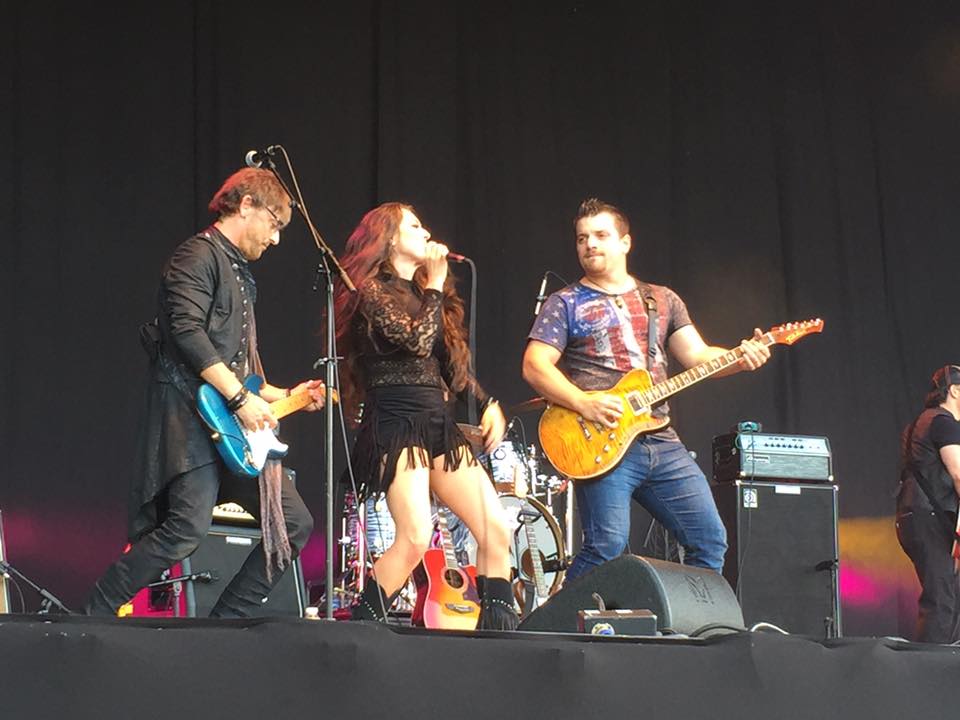 Despite the very quick set up and sound check, I thought the onstage mix sounded great (which always helps with our performance), and there's really nothing like have a huge stage to play and run around on. Looking out at the crowd, I could see that many were getting into the show right from the start, and there were also some familiar faces in the crowd…including our friends Ed and Carol who flew in from NY to be here with us for a few days; our new friend Brandon who we met backstage at the Nurburgring show in Germany; and Didier and his daughter Lise (who was celebrating her 16th birthday today). 
But I could also see that others were watching intently, but still deciding whether they liked us or not. And let's face it…don't we all do that at concerts? When we see a new band that we haven't heard before, there's always some time spent soaking it all in before we form an opinion. 
Fortunately, it didn't take too long before we won everyone over, if I must say so myself. The crowd was responding enthusiastically to everything Jessica was doing – clapping along at the intro of songs, dancing, singing along, raising their fists and waving their arms back and forth in the air. Here's a shot of the crowd from the front side of the stage during our set...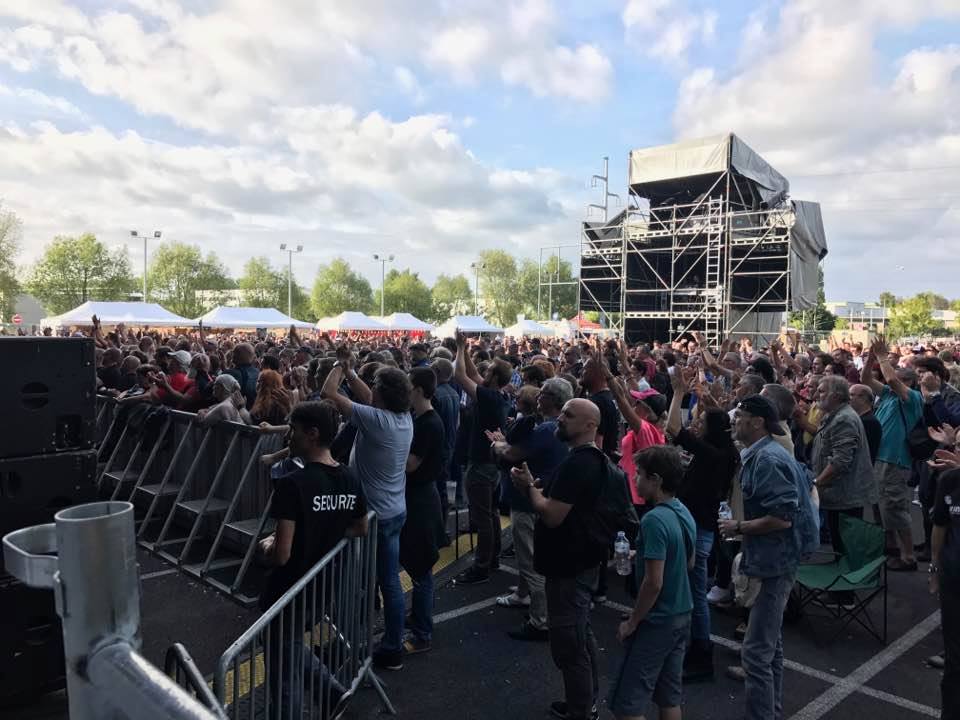 Looking out at the big crowd doing all of this, I actually said to myself…"appreciate this, Steven." After all, it's not every day you get to open for a band like ZZ Top, and a get a reaction from an audience like this. 
The set went off without a hitch, and by the time we were finished with our last song and left the stage, the crowd was chanting for more. The emcee came out to edge them on, and we returned to do an encore cover of Elvis Presley's "That All Right, Mama," which was a fun, upbeat way to end the show.  Here's Jessica with the crowd just before our encore...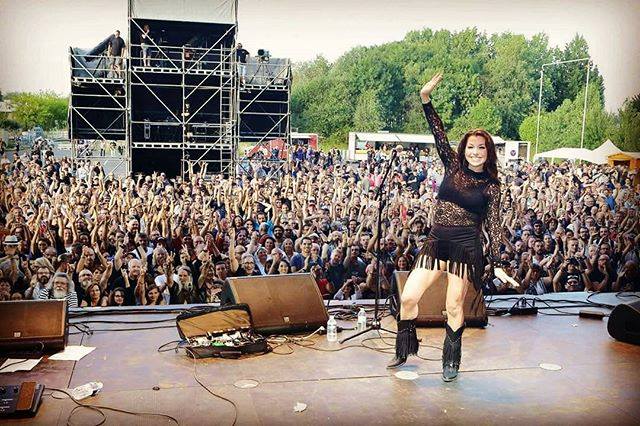 Especially after only around 3 hours of sleep the night before, and also tired from flying to Paris that morning, we were pretty exhausted and soaked in sweat from the show…but we were all on such an adrenaline high. After our gear was quickly packed up, we went back to the dressing room area to have a quick dinner. 
I think many people assume that when bands play together, everyone is hanging out together backstage and having a big party. But in reality, that rarely happens. And in ZZ Top's case, they deliberately kept themselves (and even their crew) isolated from everyone else involved with this show. We've played with other big artists before, like Keith Urban, who keep themselves hidden on their tour buses right until show time, so this kind of behavior is not completely unusual….although I have to admit it was a bit disappointing. I've always been a fan and it would have been cool to chat a bit. 
But when the guys finally emerged from their dressing rooms, they hit the stage with "Got Me Under Pressure" and proceeded to rock the place for an hour-and-a-half, running through all of their hits. Steve and I watched a tune from the side of the stage, and then all of us caught some more of the show from the "pit" up front.  Was rather cool to be onstage (sort of) with ZZ Top...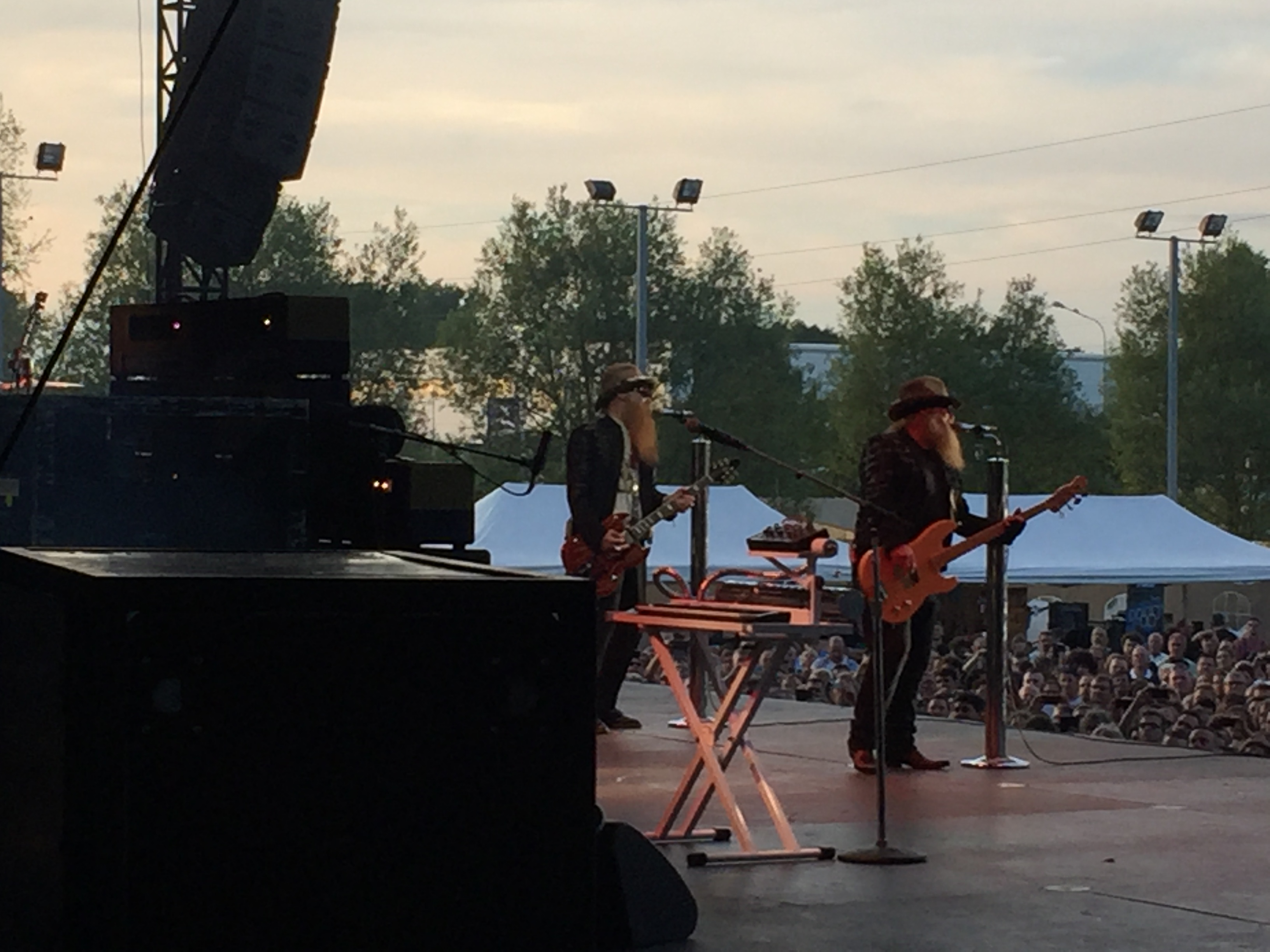 I thought the guys sounded awesome (Billy's still an incredible guitarist), and the audience loved the show. When their set was done and the crowd was starting to file out, many noticed that Jessica was in their midst, and she got mobbed pretty quickly with requests for photos and autographs. Security instantly saw what was going on and rushed in to keep things in order, and it was great to see that kind of fan reaction. So many people told us how much they liked our show…it was a very cool moment. 
After hanging backstage a little longer and saying our goodbyes, we were taken back to our hotel, where we kept the after party on our "After Party Tour" going in the lobby with some friends until 2 am. I honestly don't how we lasted that long on so little sleep, but I think we were all still high from the show we just did with a legendary band in front of thousands of people. Not a bad way to spend the day. 
And after this, there are three days off in the French countryside, which we're leaving for in the morning. And after this hectic, but rewarding, weekend…I'm ready for a little down time before our next shows starting on Thursday. 
Next stop – Masnieres, France!