Although I'm most often associated as a guitarist/keyboardist in a country band these days, I've been in all kinds of bands over the years, playing everything from synth-pop to heavy metal. But I'm also a solo indie rock artist playing music that's often categorized as "power pop" – and like many musicians in that genre (and others, of course) , I've been heavily influenced by the Beatles. 
In fact, it's safe to say that the Beatles are the reason that I do what I do. For me, there hasn't been a band since that has had the same impact on music, culture and society as they have had. Their songs are timeless…I recently listened to the remastered 50th anniversary of Sgt. Peppers Lonely Hearts Club Band, and was astonished at how fresh it still sounded – both musically and sonically - so many years later. 
So when the tour was being routed and Jessica first told me that we were going to have a day off in Liverpool, the birthplace of the Beatles, I was thrilled. I have always wanted to come here, and as Peter is also a huge fan, we decided we were going to go into full-on tourist mode.  He and I started the day alone, and walked from our hotel to Albert Docks on the Mersey River to visit "The Beatles Story" museum. It was a beautiful, sunny day, and a very nice walk through this vibrant town. On the way, we saw the Magical Mystery Tour bus…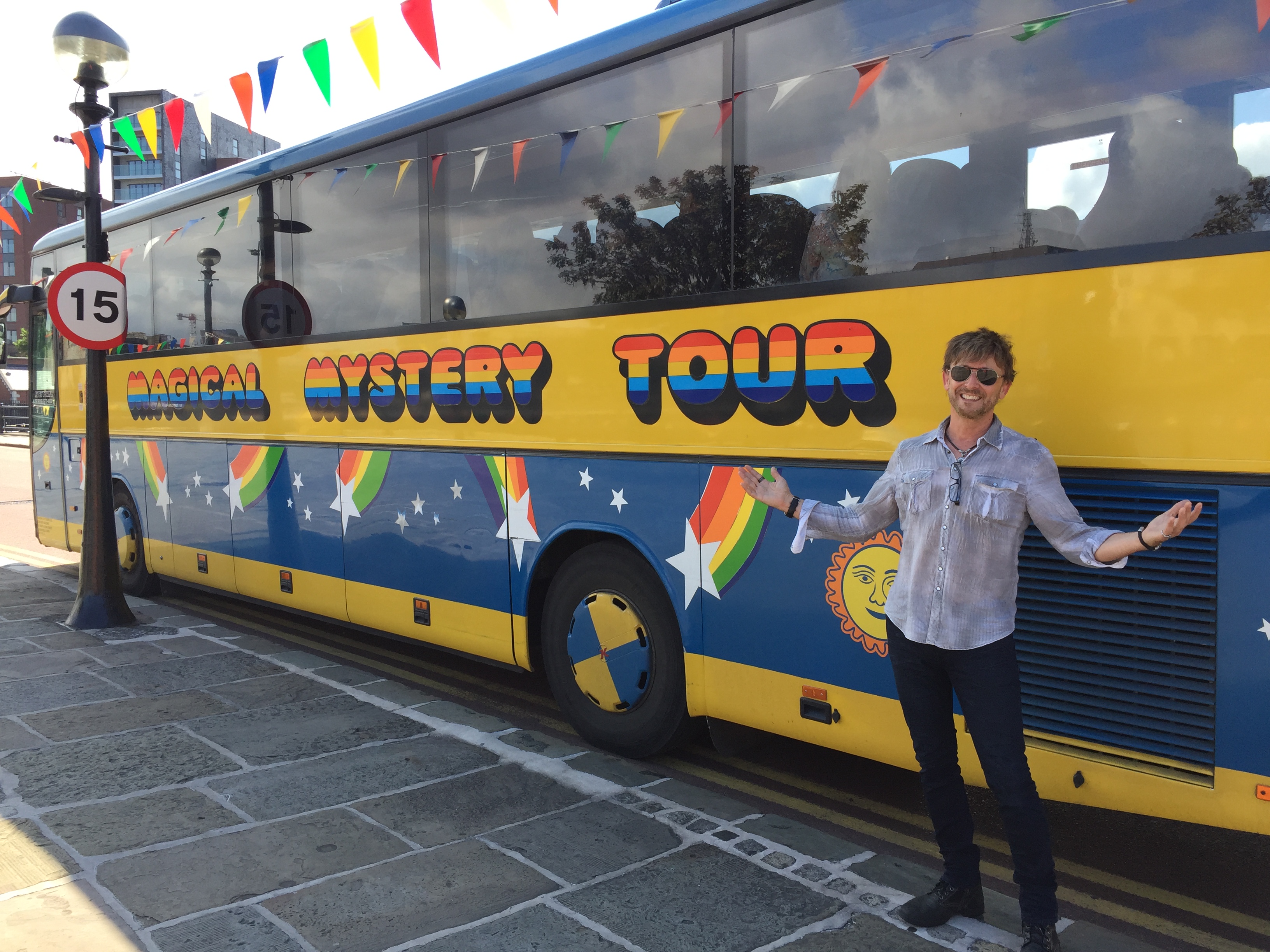 Once at the museum, via a self-guided audio tour you walk through the history of the Beatles…when they met as school kids, their first efforts playing music together, their first club dates and recordings, and all the way through their astronomical success, eventual breakup and solo careers. 
There were many displays that recreated famous places in their history such as The Cavern Club and Abbey Road Studios, but as interesting and well done as it was, both Peter and I wished that they had more original and authentic items….as in a real museum. Some of the guitars on display were only reproductions, for example. But here are some things that were original and very cool to see:
John's piano that was used on many recordings...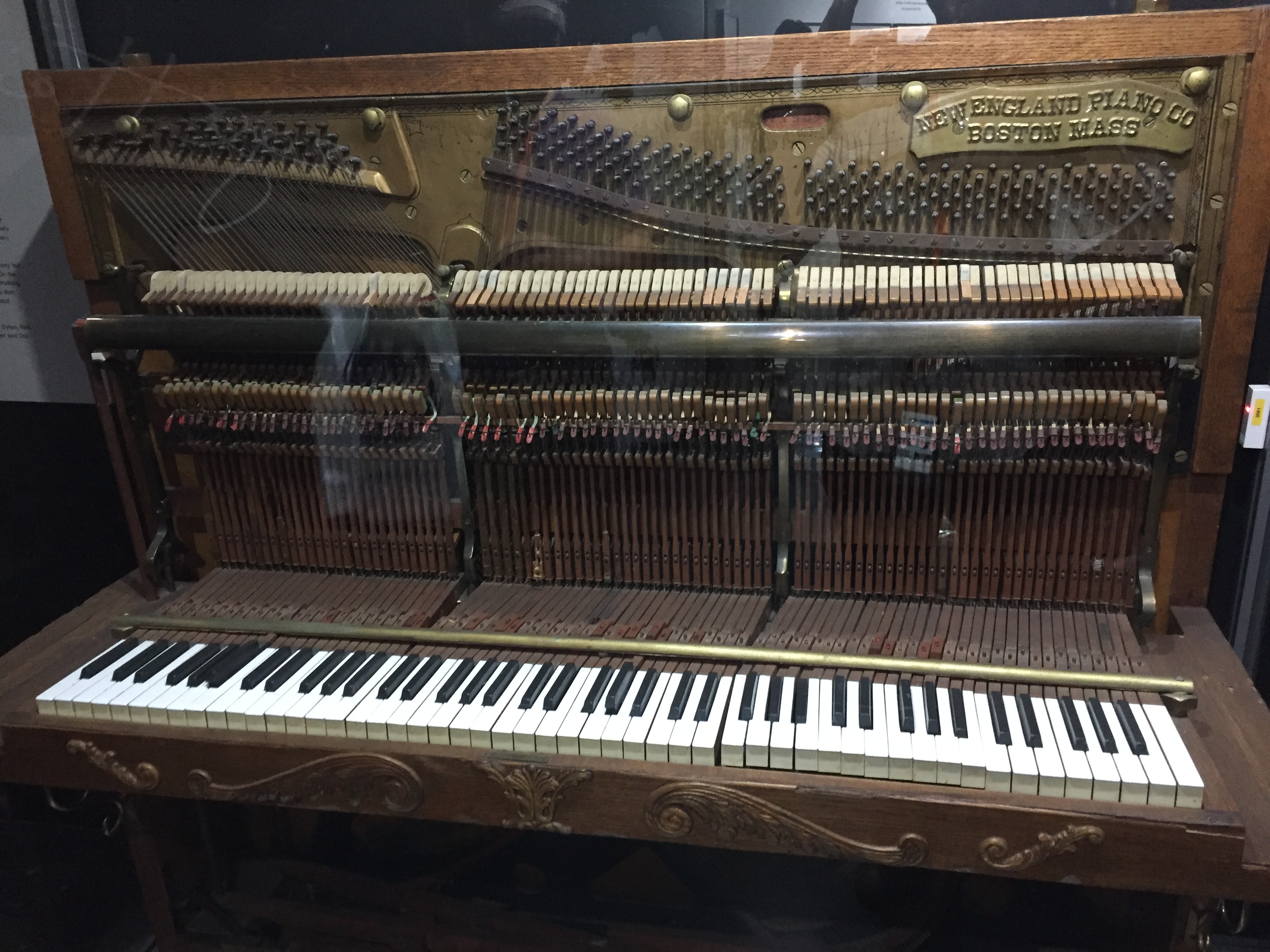 One of George's guitars...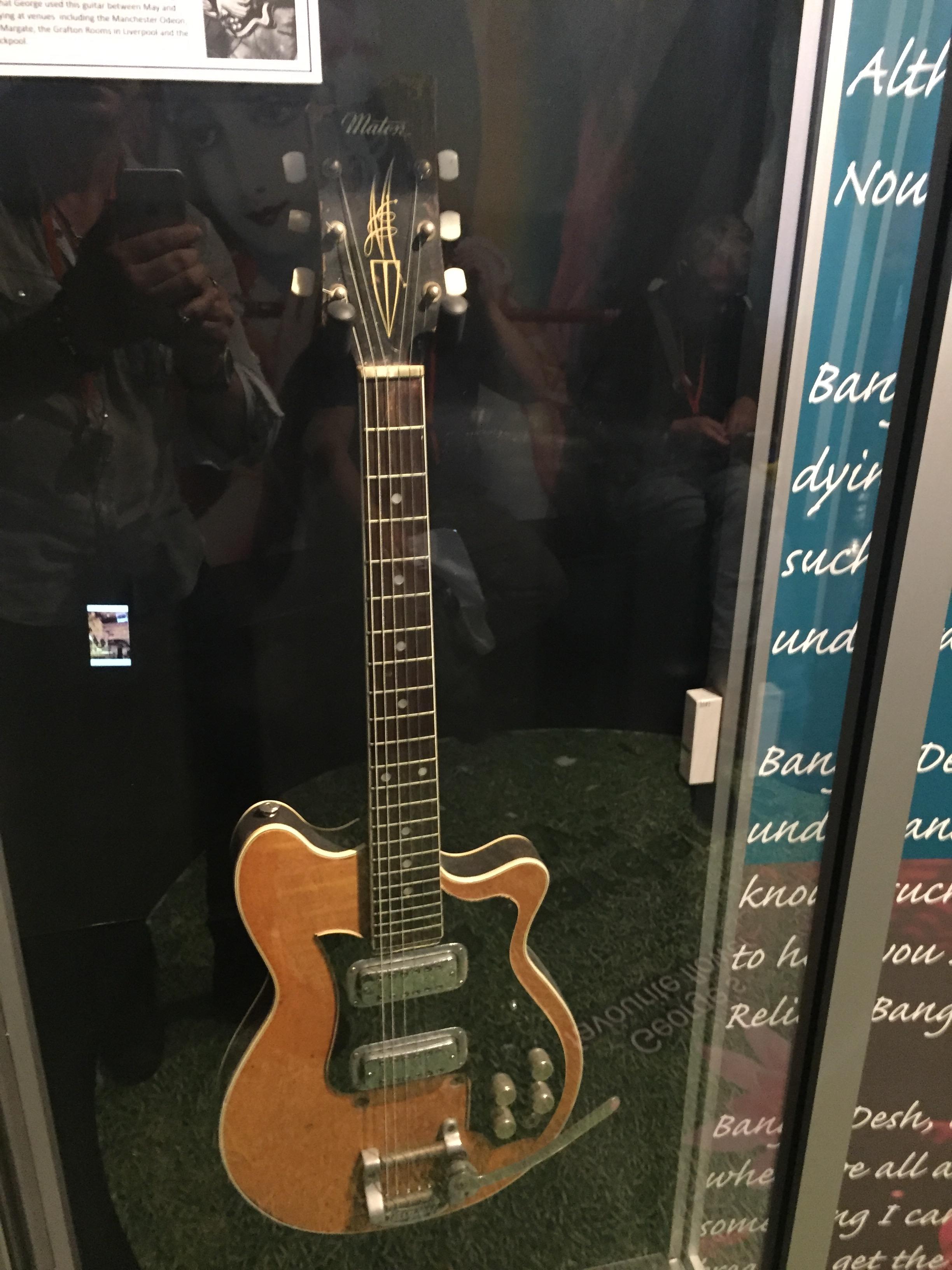 George Martin's handwritten notes from studio sessions for some pretty famous songs...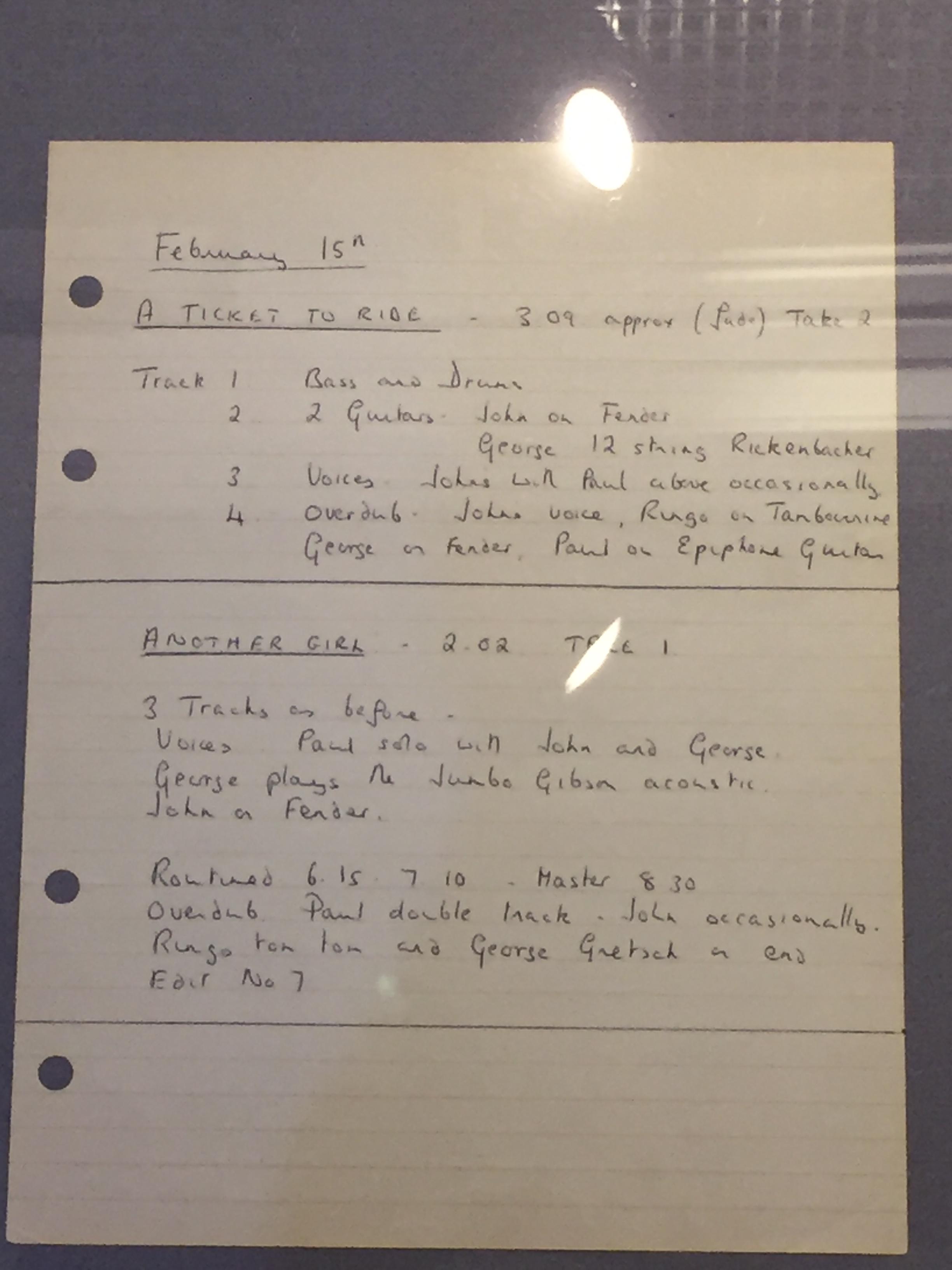 After a short rest back at the hotel, we were then joined by Jessica, Steve and Victoria to take the National Trust tour of John's and Paul's childhood homes, and this is what I was most excited about….you actually get to go inside the homes where they grew up, and for a Beatles geek like me, this is a very big deal. 
Because of street crowding and traffic you're not allowed to drive there directly, so we had to go to a complex run by the Trust called Speke Hall, where we boarded a mini bus to take us to our destinations (like I said, we were being tourists!). The first stop was Paul's house at 20 Forthlin Road, which was modest "council housing" – essentially government-built and subsidized housing for low income families, as homes were scarce back then because so many buildings were destroyed in World War I. Just standing on the walkway that led from the sidewalk to the front door, I could image a young Paul (he moved here when he was 13) coming in from school.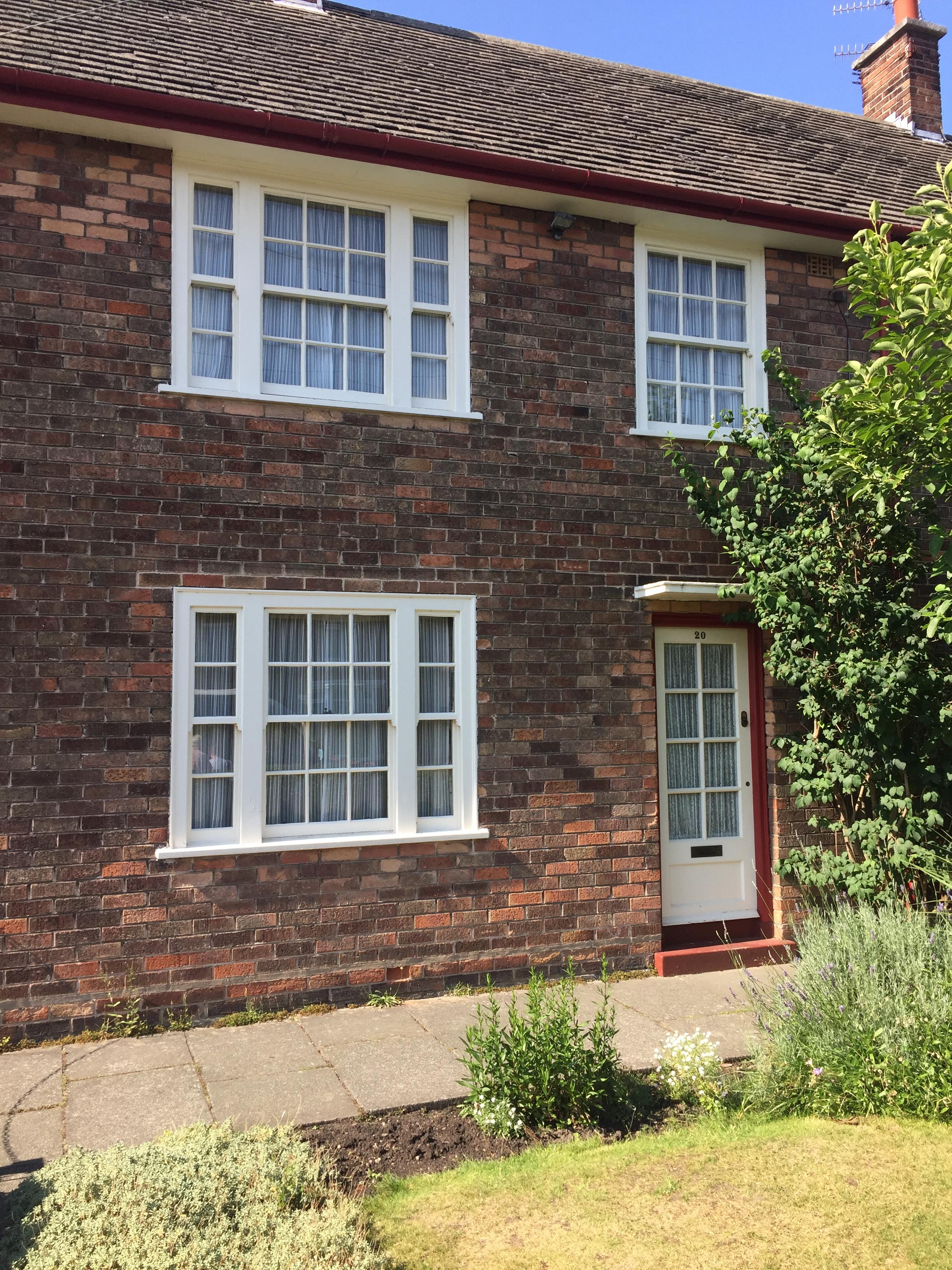 We were brought inside, and were instructed that we couldn't take photos (otherwise I'd have many to post here). The first stop was the "front parlor," which was a small living room with just a sofa, a couple of arm chairs, a little fireplace, a tiny box of a TV, a record player, and piano where the family would gather to sing songs, and where Paul learned to play. Our tour guide, Sylvia, gave us a fascinating look at the life of Paul's family in the house, and told us that in the very room we were standing, Paul and John sat together to write many of the Beatle's classic tunes. 
We then went to what was supposed to be the dining room, but instead was used for band rehearsals with a drum kit set up in the corner. Paul's dad Jim was a musician and songwriter too, and the family was very supportive of their son's ambitions…although Jim did not like rock and roll.  To imagine the young Beatles standing and rehearsing in that tiny room actually gave me chills. This very room played a big part in their musical development, and it was unreal to be there. 
We were then shown the rest of the house and told stories in each – the small kitchen, the backyard (with the pipe that Paul used to climb to sneak into the house through an upper window past curfew), the bedroom Paul shared with his brother Michael until their mother, Mary, died of breast cancer when Paul was just 14…after which he moved to a smaller bedroom at the front of the house. 
When we were ending the tour, Sylvia (who at this point knew that we were a band) said that if any of us knew how to play any Beatles songs on the piano, we could do it. The whole band pointed at me…and at first I was in disbelief. You mean, I can play piano in Paul's living room??!? But of course I jumped at the chance. With all of all of the talk of his family, and his relationship with "Mother Mary," naturally I had to pick "Let It Be," and played a verse and chorus with the other tour members (a small group of 12) singing along. This was truly a special moment in my life - to play one of Paul's songs in the very room where he and John composed many of their early hits. It was an experience I will never, ever forget. 
From there, we got back on the bus and were driven to the house where John lived for around 16 years, from the age of 5 or so. In contrast to the modest, working-class council housing where Paul lived, John's house is in the Mendips section of Liverpool, which was clearly more middle class.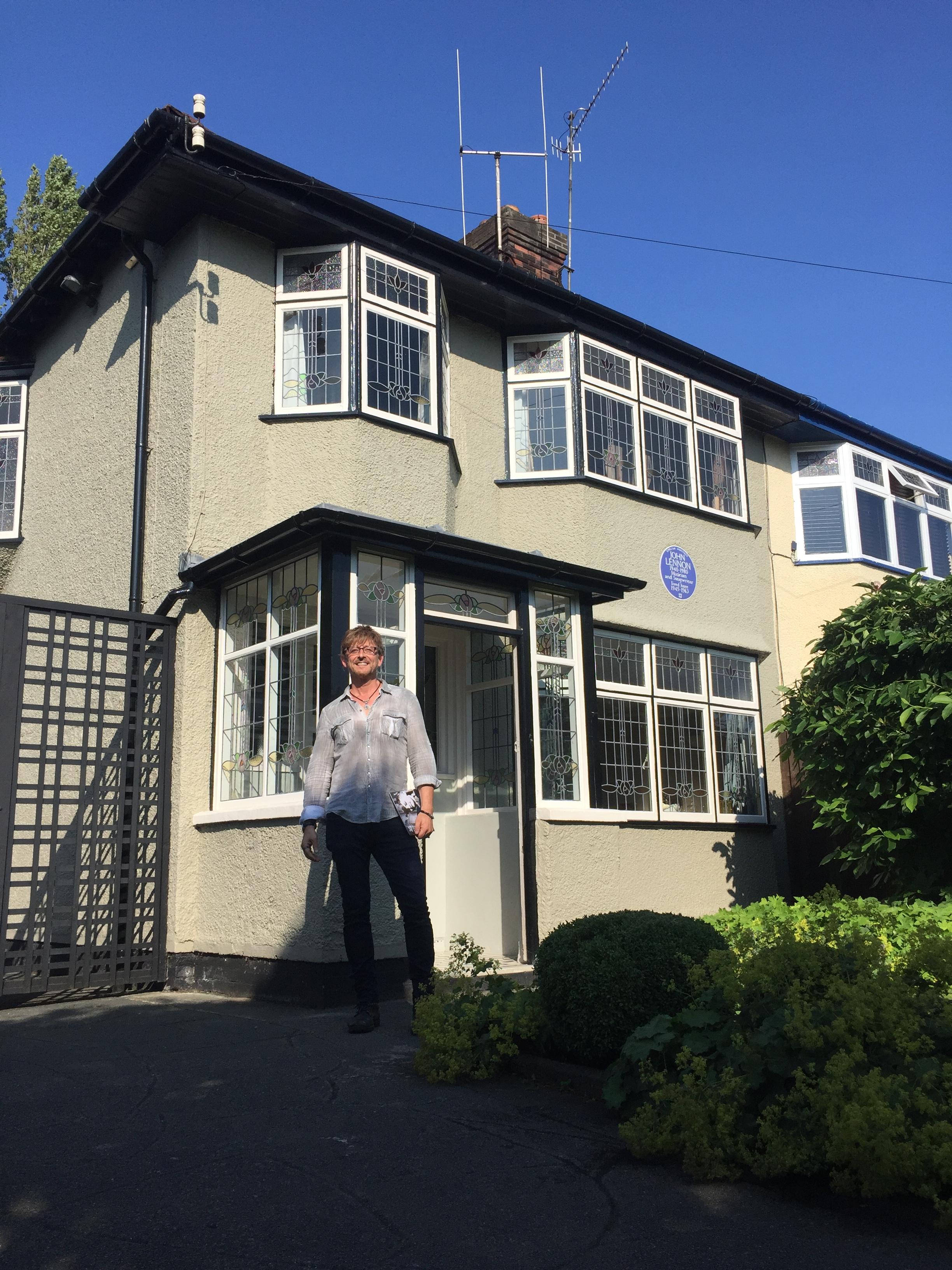 The house actually belonged to John's Aunt Mimi, who raised John during that time. As we entered the house through the back door into the kitchen (because Mimi was a bit of a snob and reserved front-door entry for "important" visitors like doctors and clergy), we were told of the first time that Paul came to the house to work with John, and the intense scrutiny he received from Mimi and the family. However, he was far more polite and well-spoken that what Mimi assumed a council-house kid would be, so he passed the test. 
Unlike at Paul's house, where we learned more about him, his musical influences, and the birth of Beatles music there, the tour of John's house was really more about Aunt Mimi, the sacrifices she made for the family, and her relationship with John. I found Paul's house tour to be more interesting, but still – it was surreal to stand in the living room where John first rehearsed with his first band, The Quarrymen. 
We were left to explore the house on our own, and it was also surreal to stand in John's tiny bedroom, where he developed into one of the greatest musical and artistic forces in modern history. Imagining him there sitting on his bed right there in that room with his guitar, working on his songs, also gave me chills. 
As a huge Beatles fan, I've known a lot about their early days and musical history, but after seeing their childhood homes and hearing these inside stories about their formative years, I walked away with an even deeper understanding and appreciation of who each of them are, and what they accomplished. From these very humble beginnings, they launched a revolution that truly changed the world. It certainly changed my life.
After the tour, we went out to dinner and then made the final stop in our Beatles pilgrimage…the famous Cavern Club, where the Beatles got their start as a young band in Liverpool. The entrance to the club is not the same as where it used to be, but much of this underground space is still the same...and after seeing old black-and-white films of the Beatles playing there, it was incredibly cool to be standing there in front of that famous stage. 
There was a guy playing guitar and singing, doing some Beatles songs of course. The place is honestly rather touristy now, but we embraced it…and while Steve and I threw back a pint of bitters we bought some t-shirts and such. We then made the walk back to our hotel, and marveled at this hip, lively town, even on a Monday night.
Perhaps because of its musical heritage, and also because of the great surprise this city turned out to be, I have to say that Liverpool was one of my very favorite stops on this tour. I'm so grateful to Jessica for routing the tour through here, so we could experience everything. and I hope to return one day to spend even more time exploring. 
But in the morning, we hit the road again….making a 4 hour drive north to Glasgow, where we play on Wednesday.